The Sunday Business Post's editor is on the way out as the paper searches for a buyer
Ian Kehoe announced in a rare tweet that it was 'a privilege' to work for the title.
THE EDITOR OF the Sunday Business Post has announced his plans to resign as the paper continues to hunt for a buyer.
Ian Kehoe, who took up the reins from now-Irish Times managing editor Cliff Taylor in 2014, announced today that he has "decided to move on" from the role.
He will remain in the position until his successor has been appointed.
In a tweet – the Enniscorthy native's first – he said: "After four years as editor of the Sunday Business Post, I have decided to move on.
"I can't speak highly enough of the team or the newspaper. I will remain in situ until a new editor has been appointed. It has been an absolute pleasure and a privilege."
Fora contacted the Sunday Business Post but no one was available to provide a comment at the time of publication.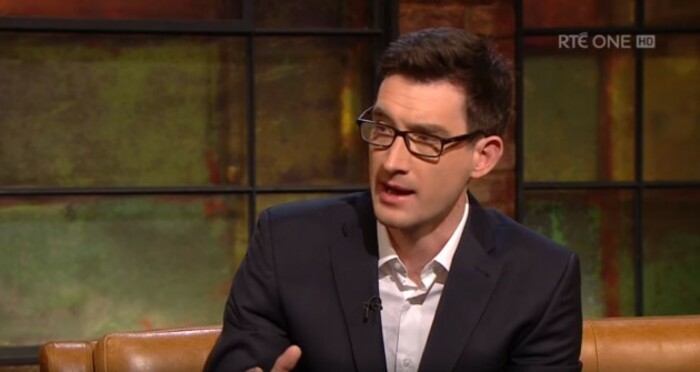 Source: The Late Late Show/YouTube
Sale
The newspaper's publisher, Sunrise Media, was put up for sale at the end of last year by its current owners, private equity firm Key Capital, which has been on the lookout for a suitor ever since.
Key Capital, which was founded by Conor Killeen, acquired the title in 2013 and rescued it out of examinership when its previous parent, Cork-based Thomas Crosbie Holidings, went into receivership.
Ian Kehoe was appointed editor four years ago when he was just 34 years old. A journalism graduate from Dublin City University, he first joined the Sunday Business Post in 2004. He also spent some time working for RTÉ on its Prime Time programme.
Last year, he presented the Great Irish Sell-Off, a documentary about the vulture funds and private equity firms that acquired distressed assets and debts in the country.
He also co-authored a book about businessman Sean Quinn with Sunday Times journalist Gavin Daly, 2013′s Citizen Quinn.
Under his watch, the Sunday Business Post – which has been in print since 1989 – rolled out a website and mobile app and underwent a layout redesign.
Post Publications Ltd, the company behind the newspaper, reported an operating loss of more than €525,500 for the 12 months to the end of June 2017. It booked an operating profit of about €262,000 the previous financial year.
Sign up to our newsletter to receive a regular digest of Fora's top articles delivered to your inbox.