John Collison: 'Could Stripe be started in Ireland now? It depends. Certainly in Europe'
The founder of the $9bn payments company said you needed to be in Silicon Valley when they first launched.
IT WASN'T AN option when they launched in 2010, but Stripe co-founder John Collison has said the scene is now set for small tech firms to scale to massive heights in Europe.
Stripe builds tools for companies to process payments online and counts Facebook and German software giant SAP among its customers. It was founded by Collison and his older brother Patrick, who are originally from Limerick.
However, the pair didn't set up their company in Ireland and instead founded it in San Francisco. It is now valued at around $9.2 billion making the Collison brothers the youngest Irish billionaires.
At Bloomberg's Sooner Than You Think event in Paris, the question was put to Collison, "Do you think you could have started Stripe in Ireland if you were growing up right now?"
Collison stopped just short of saying yes, but he hinted it would be possible in other European tech hubs.
"It depends. If it's now, certainly in Europe, I think you have questions on where in Europe. Would you choose Dublin? Would you choose London? Would you choose Paris or something like that?
He said companies looking for tech hubs in Europe are spoilt for choice at the moment.
"There are plenty of spaces where the market leader within a technology sector now is a European company so that would seem to argue that you could (build Stripe in Europe)."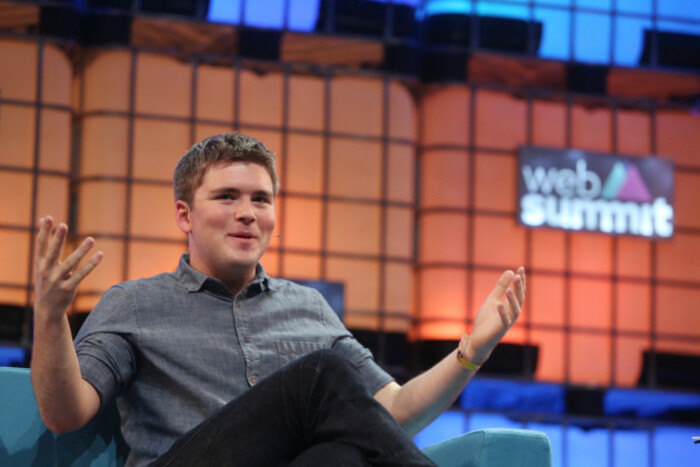 Source: Flickr/Web Summit
Collison was discussing the topic of Europe's tech sector taking on Silicon Valley's dominance at the Bloomberg event.
He said it used to be the case that startups needed to be based in Silicon Valley to raise a meaningful round of investment.
"That used to be a fact of life. When I left Ireland originally in 2007, you could barely raise a seed round there."
A recent report showed that despite a bump in startup funding in Ireland last year, there was a slight decline in seed rounds.
However, since Stripe was founded in 2010, the investment environment in Europe has improved with Collison pointing to Deliveroo's $385 million round last year.
"(Europe is) not there yet. In particular, Silicon Valley has a foundational bedrock of talent and talent that's comfortable with the risks that go into an early-stage startup.
[embed id="embed_2"]
"I think we should still be looking to encourage the development of that in Europe and other places."
Unintended consequences
At the Paris event, Collison also stated that it was a "ludicrous idea" that all of the best ideas in tech have already been done.
However, he expressed concerns over the sector becoming too concentrated with a small number of large companies making it harder for startups to break through.
He added that the General Data Protection Regulation (GDPR), which will come into effect this Friday, and other regulations may have unintended consequences where only bigger companies are capable of being fully compliant.
"I think we have to be very careful that we don't accidentally make life easier for the incumbents and harder for new people who are entering. Sometimes you get intentions with adverse consequences."
Sign up to our newsletter to receive a regular digest of Fora's top articles delivered to your inbox.