'If you thought about setting up a business too deeply, you mightn't do it'
As part of our new weekly Startup Spotlight series, we profile Sligo's StoryLab.
THREE YEARS AGO, Martha Kearns and her husband Ciarán Byrne decided to ditch their careers as journalists to set up StoryLab, a 'storytelling agency' that provides public relations and marketing 'content' services.
The idea for the Sligo-based company came about while Kearns was heading up the Sunday Business Post's news desk and Byrne was associate editor of the Irish Independent.
"We could see two things," Kearns tells Fora. "We saw that companies were struggling to get their messages across in plain language.
"There was a lot of jargon and corporate speak that was just going over the heads of journalists because they weren't interested in it."
They also spotted the emergence of so-called 'brand journalism', where companies pay ex-reporters to cover the goings-on of a company. Think Inside Intercom or Van Winkle's, a website about sleep by US-based mattress company Casper.
Although popular in the States, the concept of 'brand journalism' had yet to take off in Ireland at that time.
"We wanted to get ahead of the curve," Kearns says.
Although they both had good jobs, the couple decided to turn their backs on their 20 years in newspapers and in 2014 took a punt on setting up StoryLab.
"We decided to just see if it worked, which was a bit foolhardy in a way," Kearns says. "We just trusted ourselves."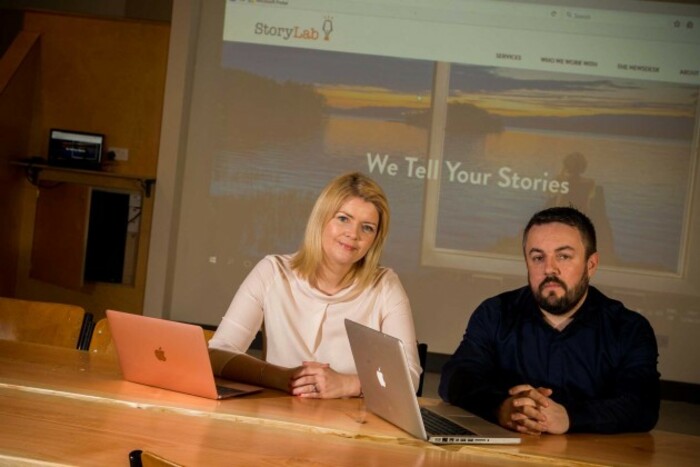 Source: James Connolly
Costs
StoryLab's set-up costs were relatively low. The biggest expenses were designing a website, paying for office equipment and buying branded stationary. The company was self-financed and it cost about €10,000 to get off the ground.
Six months into the venture, StoryLab secured a €15,000 stipend from Enterprise Ireland through its 'new frontiers' programme for early-stage startups. That helped keep things ticking over.
The firm quickly secured a lucrative one-year contract with Independent News & Media (INM) – Ireland's largest newspaper group – to create supplementary magazines and special pull-outs for its best-selling title, the Irish Independent.
That contract has since expired, but INM remains one of StoryLab's biggest clients. At times the startup has produced as many as six magazines in a single month for the media group.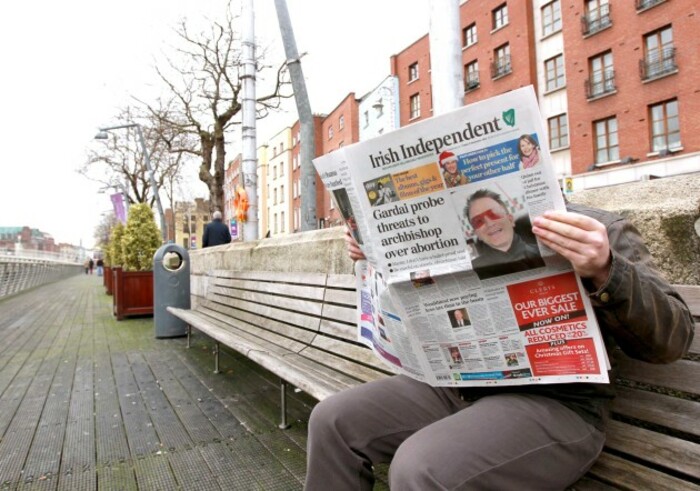 Source: Sam Boal/Photocall Ireland
"They give us an idea for a magazine and we go and plan it out, commission all the articles and work with designers. We then send back a finished product."
To help share the workload, StoryLab has recruited two staff and commissions work to freelance writers. As well as producing magazine content, StoryLab offers a PR service with a twist.
Instead of churning out press release after press release, StoryLab tries to secure media coverage for its clients by pitching one-off stories to journalists.
The company deals mostly in contract-based work, rather than single projects, although it makes an exception for young firms that don't have the money to put in place a three- to 12-month PR strategy.
Kearns says StoryLab mostly competes with traditional PR firms for "middle-tier companies", although it has worked on projects for larger firms like the Guinness Storehouse and healthcare multinational Abbott.
A lot of work comes from public bodies like Bord Bia, Mayo County Council and the Northern and Western Regional Assembly.
Competition
When asked what makes StoryLab different to other communications companies, Kearns says: "It's our background in journalism … we know how to get coverage.
"We've changed career, but kept all the principles of journalism."
The company hires ex-reporters instead of PR execs who may have less of an understanding of what it's like to work in a newsroom.
[embed id="embed_2"]
While it's not unusual for journalists to pursue a career in PR, Kearns says many of them end up setting up single-person agencies or work for traditional firms.
"There's no one company doing all of what we're doing. There are content writers, there are PR companies, but there's nobody who's really doing both."
StoryLab's ambitions are relatively modest compared to most startups and Kearns is hoping to see slow but steady growth in the company over the next five years.
"We definitely want to build the agency and create a newsroom-type atmosphere where we're creating content for various different companies," she says.
The immediate goal is to recruit more staff and the startup is currently on the hunt for another full-time employee. The company currently has four people on its books, including the two founders.
Kearns and Byrne have no ambition to fundraise at the moment, but they are open to seeking outside investment at some point. Kearns says she has already been approached by two firms interested in acquiring StoryLab, but that move is unlikely to happen.
"I don't know how serious those offers were," Kearns says. "We decided that we want to keep control of what we're doing at the moment. Maybe we're control freaks. It would be different if we had a huge debt to pay."
Although she doesn't wish to share any exact figures, Kearns says StoryLab has been profitable since the beginning and has seen its turnover increase each year.
She says its tough running your own business: "If you sat down and thought about it too deeply, you mightn't do it."
But the experience in the deadline-driven world of journalism prepared StoryLab's founders for the enormous workload required to get a company off the ground.
"It was the same on a Friday in the Sunday Business Post, when I'd work 10am to midnight," Kearns says. "You're always on. We're talking about work constantly, especially because we're married."
This article is part of a new weekly series featuring Ireland's most promising startups. If you would like to see your company featured email news@fora.ie.
read more on