A hung UK parliament has sent the pound into a dive
Analysts say the UK is "stepping further into the unknown".
THE POUND HAS plunged 2% this morning as Prime Minister Theresa May lost her majority in Britain's general election, fuelling political uncertainty just days before the start of Brexit talks.
May had called the snap vote in a bid to boost her party's hold over Westminster and give her a stronger hand in talks with EU leaders over the country's detachment from the bloc.
However, the leftist Jeremy Corbyn's Labour Party slashed the ruling Conservatives' lead, leaving the country with a hung parliament and political instability for the second time in seven years.
The pound dived this morning after it was confirmed the Conservatives had lost their majority – although it has risen slightly since the result first became clear.
Against the euro, sterling has gone from a high of €1.155 yesterday evening to €1.136 this morning.
The UK currency had already been tracking down from above €1.19 at the start of the month as pre-election polls showed May's party falling in popularity.
Analysts at brokerage firm Davy said this will add even more pressure to Irish businesses exporting to the UK after export growth between the two countries last year hit its lowest level in four years.
Goodbody chief economist Dermot O'Leary said the election outcome will mean the UK has an even weaker negotiating position in the Brexit talks.
He added that the UK has "stepped further into the unknown" and that an even-weaker sterling was to be expected over the coming weeks as the economy reflects fresh uncertainty.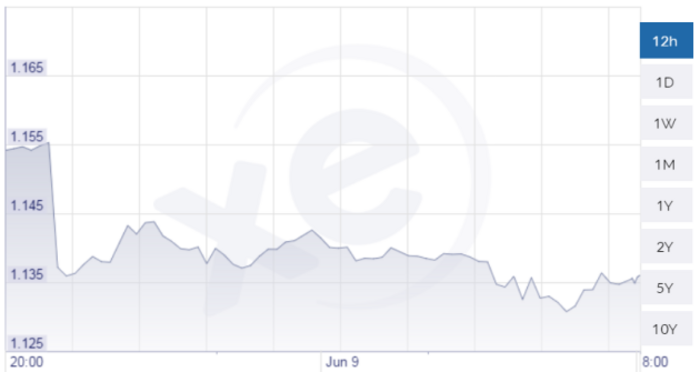 Source: xe.com
Craig Erlam, London-based senior market analyst at OANDA, said: "A hung parliament is the worst outcome from a markets perspective as it creates another layer of uncertainty ahead of the Brexit negotiations and chips away at what is already a short timeline to secure a deal for Britain."
The outcome will throw Britain once again into upheaval less than a year after the country's decision to leave the EU, which led the pound to collapse about 15% against the dollar between June and October 2016.
However, Minori Uchida, head of global market research at Bank of Tokyo-Mitsubishi UFJ, said: "May's setback could lead to a soft Brexit, which is not so bad for the British economy in the long run."
Additional reporting by Killian Woods.
Sign up to our newsletter to receive a regular digest of Fora's top articles delivered to your inbox.