'Sales are like a drug for retailers': How Stephen's Day shopping took hold in Ireland
Until about a decade ago, the 26th was a day of rest for retail staff.
IT'S THAT TIME of the year again: when people will queue up at 4am to get into their favourite shops the second they open.
We've become accustomed to pictures every Stephen's Day of eager shopper forsaking their warm beds so they can get a huge telly at half price.
The holiday is now one of the main shopping days of the year, when Ireland's retailers kick off some of their biggest sales.
But when did this start? For years, virtually no major shops in Ireland opened the day after Christmas Day. Unions had agreements in place that staff would not have to work the days after Christmas.
"Not only was Stephen's Day protected, but the 27th was protected too," says Gerry Light, the assistant general secretary of Mandate trade union, which represents workers in many of Ireland's most prominent shops.
"They were seen as trade days off for workers. In the run up to Christmas retail workers are generating huge profits (for their employers). They deserved the break, but we've seen the demise of that and Stephen's Day."
UK move
It's hard to pinpoint the exact year when that began to change, but it seems to have been about 10 years ago.
Huge numbers of UK retailers were setting up outposts in the Republic to take advantage of the boom-era spending power of Irish consumers. They brought with them their culture of starting their major sales right after Christmas Day.
"It became a thing about 10 years ago when companies invested lots of money in it and gave it a big media focus," says Thomas Burke, a director at business group Retail Ireland.
"It was in the UK for a number of years and was adopted in Ireland as an idea to move Christmas stock and drive some excitement in the retail calendar, to create an event for consumers that would get them out shopping."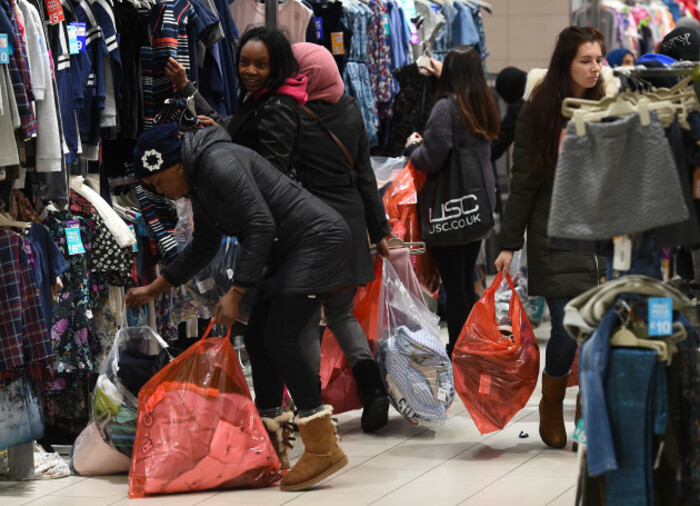 Source: PA Archive/PA Images
"British operators always viewed Boxing Day, as it's called there, in a different way – it was traditionally the commencement of their sales. Their influx had a heavy influence," Light says.
Most unions had agreements with Irish retailers that went back "decades" not to open on Stephen's Day, says Light: "Stephen's Day was sacrosanct".
However, shortly after many UK retailers came over to Ireland, the country went into recession. Many indigenous shops started opening on Stephen's Day, saying that they needed the money, and the old agreements fell away.
The year 2009 seems to have been the first time that Stephen's Day sales took off across the industry. Arnotts, Clerys and Brown Thomas, major Irish retailers who had previously closed on the 26th, all opened in a major symbolic break from tradition.
Growth
And people were buying, so the stores kept opening. By 2011 hundreds of dedicated shoppers had started queuing since the morning outside their favourite outlets, waiting for them to open.
Since then the sales have grown and grown, and now the snaking queues for Brown Thomas have become almost as linked to Christmas in Ireland as Santa Claus.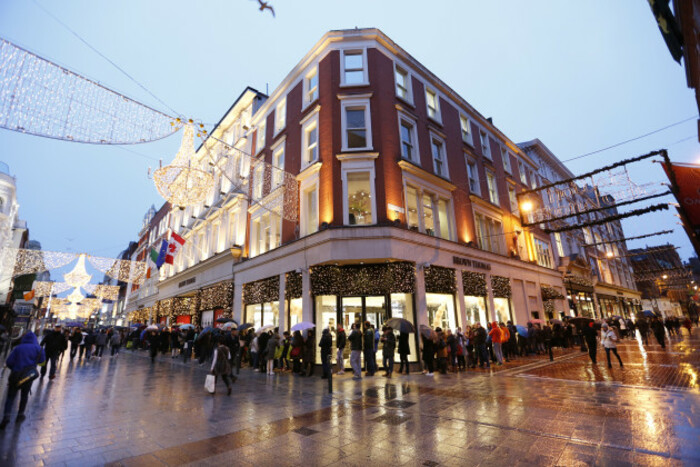 Source: Sasko Lazarov/RollingNews.ie
Where does Stephen's Day go from here? While people are eager to shop, Light and Burke suggest that the sales on the 26th don't do much good for either workers or retailers.
"Black Friday and Cyber Monday have probably reduced the importance of sales like Stephen's Day a bit," says Burke. "Until a few years ago products were full price until Stephen's Day, now discounts start in the last weekend of November.
"With rising costs and margins, your margins get squeezed. If it was to continue I think you would see retailers going under.
"(Sales) are a challenge because if you don't do it you risk the consumer walking out the door, but it's become almost like a drug for the industry, which has become reliant on promotions to drive footfall."
[embed id="embed_2"]
When it was put to Burke that the damage may be self-inflicted, as many retailers have driven sales days such as Stephen's Day, he says: "I think it's very much both parties, consumers and retailers.
"You have to react to what consumer want or you won't be in business very long. Consumers are more savvy now and it has necessitated this constant promotional cycle. It's where we are."
Closed?
Light says that he would love to see a reintroduction of all retailers closing on Stephen's Day to give workers time off, arguing the day is of little net benefit to stores anyway.
"(Stephen's Day sales) don't generate anymore money or gift vouchers: shoppers have the same amount of disposable income," he says.
"It's also more expensive to trade anyway. Employers have to compensate for public workers and many pay time and a half or double pay."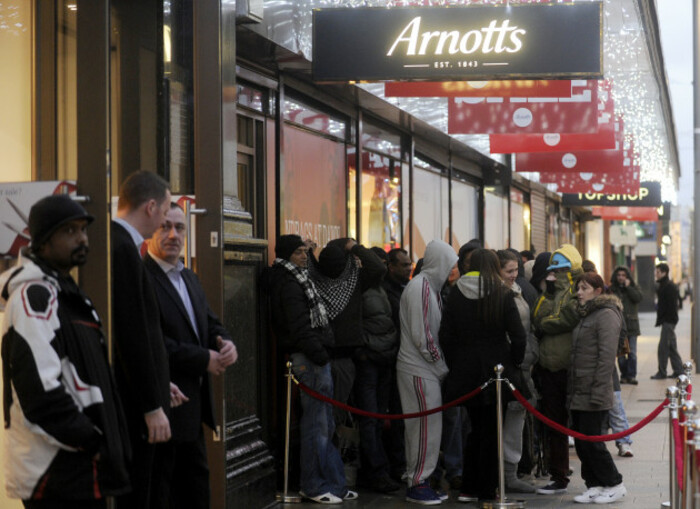 Source: Laura Hutton/RollingNews.ie
However, he and Burke concede it's unlikely to happen. Fora asked about half a dozen retailers if they were planning to open on the 26th this year. Most didn't respond, however a response from Arnotts reiterates Burke's point.
"Due to customer demand, Arnotts will open on St Stephen's Day, offering all our customers an unrivalled product range," a spokesman said.
The stores will open because consumers want them to, even if, as Light says, it's a false economy due to the heavy discounting on offer.
"Retailers know it doesn't add massively to their bottom line but no-one will be the first to close because if they do, and their competitors remain open, that would impact them," he says.
Sign up to our newsletter to receive a regular digest of Fora's top articles delivered to your inbox.
read more on