Sonia Deasy: 'Ireland is not known for cosmetics - but I think we have a good chance'
The woman behind Pestle & Mortar talks about her international expansion plans.
SONIA DEASY DIDN'T  know much about the skincare industry in Ireland when she started Pestle & Mortar back in 2014, except that it was difficult to break into. 
That didn't stop her taking the plunge and five years on it seems to be going rather well. Her company has just won overall business of the year at The National Enterprise Awards and is on the expansion trail. 
About two weeks ago – on an EY entrepreneur of the year delegation to Hong Kong – Deasy told the Irish Times that she plans to double to company's revenues to €6 million this year. 
It's a Friday morning when Deasy takes a call from Fora - she's barely a day off the flight home from Hong Kong and is already heading back to work. 
"We'll be launching in a couple of weeks in the Harvey Nichols in Hong Kong. I think that the Asian market will be really good, lucrative market for us. They're very much into their skincare," she says. 
She's also gearing up to launch a '.cn' website, the domain for China, in the next few weeks – to side-step local laws requiring animal testing on any products sold in bricks-and-mortar stores. 
"In the next couple of months we're signing with distributors in Russia, UAE and Australia as well," she adds. 
While Deasy may self-declare her lack of skincare credentials, she does come from six generations of medicine men and an entrepreneurial engineer father, whom she credits with bringing Clarke's shoes to Kildare, where he ran a store for 40 years.
"My grandfather, he was a medicine man in India, and my uncle still practices in the same spot today," she says.
 As a result. Deasy grew up having injury and illness tackled with natural remedies first.
"It's a form of medicine; it's handed down through talking. That's the only way those traditions are handed down, through word of mouth. That's the way I grew up," she says. 
"It was this heritage that inspired my basic goals for all of my products – combining science and nature to create effective skincare formulations. Once I had this structure in which to formulate my products, my goal was really clear."
Her first line launched in 2014, called Pure Hyaluronic Serum, "and we kind of never looked back", she says. It took 18 months and the input of her biochemist sister to get it right. 
The brand now carries eight products, and is about to launch a ninth – a new vitamin C serum.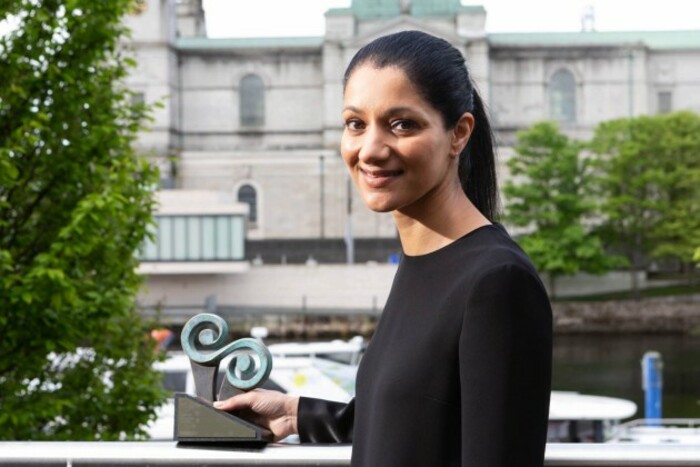 Source: Pestle and Mortar
'Never looked back'
Back in 2014, Deasy and her husband, Padraic, worked as portrait photographers. They traveled extensively for years, speaking at photography conferences.  
"Both of us had a portrait photography studio. It was here when working with models in studios that I noticed a lot of skincare problems came to light under the lens. Mainly dry, and flakiness and patchy skin," she says. 
"I realised that a lot of the women had the same problem, but they didn't seem to have a simple skincare routine figured out. From travelling myself my skin was also suffering. I decided to create my own skincare solution, because I couldn't find one that was suitable on the market."
From the start, major brands were getting in touch – Arnotts, Brown Thomas, and later Liberty in London, Harvey Nichols and Avoca. 
Next month, the brand will be rolling out in 45 Marks and Spencer stores. 
"We never looked back and we've been expanding ever since. We're also in all of the Bloomingdales in America, and I regularly appear in QVC in the US," says Deasy. 
On her lack of skincare market knowledge, Deasy says that "sometimes you're better off not knowing," and "a lot of competitors might have said to us, 'do you understand how competitive this market is, you're never going to get anywhere,'" she says.
"We had nothing to go from because we didn't know the market. All we wanted to do was create the best skincare brand or products and sell them, and that's what we've achieved."
'Not known for skincare'
Deasy has noticed a move towards "smaller, indie kind of cult brands", as opposed to bigger names. 
"I think a lot of women were confused when they went to buy a cosmetic product, that there were so many options and so much choice. As a small brand, we're very agile. We can change, we can follow trends, we can research new ingredients and come up with new products and it doesn't take us as long to get there," she says. 
The brand emphasises is its use of natural ingredients – and Irish where possible, she says. Deasy also believes a big part of the brand's appeal is her own relatability. 
"I'm a mother, I've got five children, so I think that I'm completely relateable to our customers. A lot of our customers would be like myself, in their late thirties, forties, maybe have children or they're busy professional women," she says.  
Even with so much expansion in the cards, Deasy isn't worried about production, the company just set up in a new space in Naas. The old office was 1,500 sq ft – the new one is 10,000 sq ft. 
In five years, Deasy sees the company as a global skincare brand. 
"I think there's more and more brands coming on board. Let's face it, we're not known for cosmetics in Ireland," she says, laughing. 
"But I think that we have a good chance. We've got a lot going for us here. There's a lot of Irish ingredients we can use in products. I think if we can be more clever about our brands and marketing, Irish brands can do well globally."
Get our NEW Daily Briefing with the morning's most important headlines for innovative Irish businesses.