UK fintech startup Soldo has secured an Irish e-money licence as a shield against Brexit
The approval makes Soldo only the third company to get the nod from the Central Bank.
UK FINTECH STARTUP Soldo has become just the third company to secure an e-money licence from the Central Bank of Ireland in a bid protect itself from Brexit shock.
The company, which has offices in London, Dublin, Rome and Milan, creates an expenses management platform and card service for businesses. Soldo has 50,000 business users around Europe and the UK.
It said the Irish e-money licence, which allows for the issuing of electronic money payments, will ensure that Soldo's operations continue to run smoothly after Brexit, whatever the outcome.
The move makes Soldo only the third company to ever receive e-money accreditation with Facebook and PerfectCard, which was acquired last year by Australia's EML Payments, being the other two.
The company, which has raised more than €28 million from investors, said it plans to migrate more than half of its business from its UK e-money institute – it also holds accreditation from the UK's Financial Conduct Authority – to Ireland "with immediate effect".
As part of the plans, Soldo will be adding to its office in Dublin to continue supporting the business.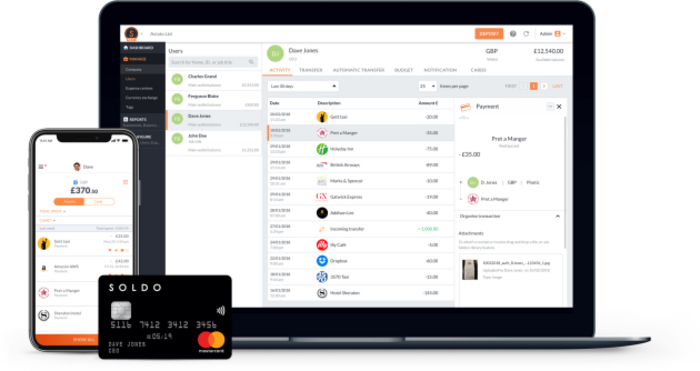 Source: Soldo
Brexit solution
Brexit and the potential end to passporting rights for financial services has led fintech firms to seeking licences and approvals elsewhere in the EU to safeguard their European operations.
Last year blockchain firm Circle told Fora that it was seeking an e-money licence in Ireland to offset any Brexit repercussions.
With Ireland often tipped as a place for financial services firms to shack up post-Brexit, when it comes to e-money the reality is rather different. Facebook secured a licence here in 2016 with Soldo now being just the third entity.
According to Soldo, it spent 18 months working on the application and that the central bank maintains a high standard before issuing e-money licences.
The scene is different in Lithuania, which has made a big play for the fintech industry, and more than 50 companies have secured e-money licences there.
The Lithuanian authorities recently granted approvals to Google and fintech firm Revolut.
Get our NEW Daily Briefing with the morning's most important headlines for innovative Irish businesses.