Large-scale solar farms are coming to Ireland as plans for over 20 projects unveiled
Work on the farms, to be built in the south and east of the country, will start in 2018.
AN IRISH DEVELOPER has struck a deal to build almost two dozen solar farms worth more than €220 million across the south and east of the country.
Dublin-based BNRG Renewables and French renewable energy group Neoen today announced a joint venture to develop, construct and operate a portfolio of solar projects in Ireland.
The companies said that a joint venture vehicle,  BNRG Neoen Holdings Limited, will co-develop 23 projects totalling over 200 megawatts (MW).
They did not specify where specific projects would be located, although they said that the farms would be in the "south and east" of the country.
As a rough average, the solar farms would each have a capacity of just under 10 MW. Anything over 5 MW is generally regarded as a commercial-sized solar farm.
The announcement is a major one for the Irish solar industry. As previously examined by Fora, commercial solar farms are virtually non-existent across the country, although that looks set to change in the near future.
The announcement follows BNRG director David Maguire saying last year that the firm was planning to build up to several-hundred megawatts of solar capacity across the Republic.
Large-scale solar
When the farms have been constructed, the companies said that the "planned total investment in renewable energy infrastructure will exceed €220 million".
An estimated 2,000 people will be employed during the construction phase of the projects, while 60 people will be employed on a full-time basis in the operation and maintenance of the farms.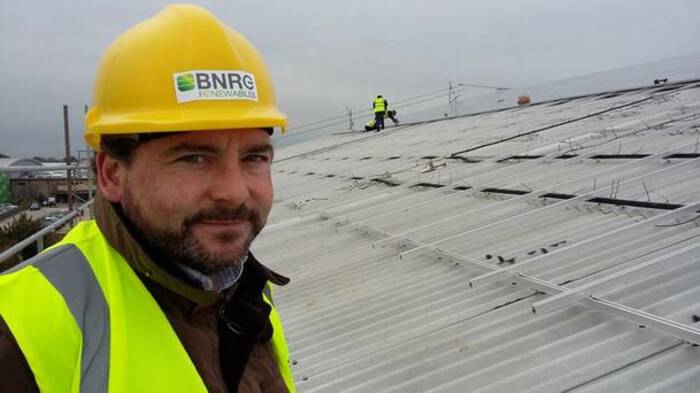 Source: BNRG
Construction is expected to commence in mid-2018, with the final projects to be built by 2020. The companies said that "multiple projects" will be submitted for planning over the coming months.
They added that "it is widely expected that large-scale solar projects will be support under new renewable energy support policy to be announced this year", although Communications Minister Denis Naughten has been less than enthusiastic in announcing state support for the solar industry.
It is expected that the solar farms will connect to the distribution grid network "and will meet the electricity demands of around 80,000 homes locally".
BNRG is one of Ireland's most prominent solar companies and has developed and constructed more than €230 million of solar projects in Europe since 2007.
This includes more than 20 MW of projects that it owns and operates in the UK, where work was completed last year.
Significant investment
The company has also recently entered the US market and says it has a pipeline "of more than 140 MW at an advanced stage of development".
BNRG director Maguire said that the company's partnership with Neoen "represents a significant investment in renewable energy in Ireland and will be well positioned to deliver first-class projects".
"We are delighted to partner with Neoen on our Irish portfolio and look forward to working closely together. There is an excellent strategic alliance between the two groups as both continue to expand their activities in Ireland and internationally," he said.
Neoen develops, finances, builds and operates renewable energy plants and is active in a range of countries across Europe and Africa, including France, Portugal and Zambia.
The company has installed 1,000 MW and built Europe's largest solar farm, a facility with a capacity of 300 MW near Bordeaux, in 2015.