A Japanese tech giant wants to help fix Dublin's traffic snarls with sensors and AI
The agreement marks SoftBank's first smart-city venture outside its home country.
DUBLIN IS ON track to become a sensor-driven, artificial intelligence-powered city if Japanese telco and tech giant SoftBank has anything to say about it.
Yesterday, the conglomerate signed a memorandum of understanding with Dublin City Council to start working on smart city solutions to improve how the capital functions for its residents.
The agreement sees SoftBank join Dublin's smart-city programme and the Smart Docklands District test bed for internet of things (IoT) technologies.
The Smart Docklands District is the council's test bed for smart city and IoT technologies that takes advantage of the area's technology companies and high density of buildings, workers and residents.
First established as a telecommunications company in Japan, SoftBank is now more known globally for its massive investment vehicle, Vision Fund.
The near-$100 billion fund, whose backers include Apple and Saudi Arabia's public investment vehicle, has invested in Slack, Uber and WeWork as well as pumping hundreds of millions of dollars into startups.
It's all part of the vision of chief executive Masayoshi Son to shift and diversify SoftBank's business. The firm had revenues of around $80 billion last year.
Vice president of global business strategy Hidebumi Kitahara said SoftBank had existed through the different stages of the internet from dial-up to smartphones and it had now identified the internet of things, or "internet 3.0″, and smart cities as the next big efforts.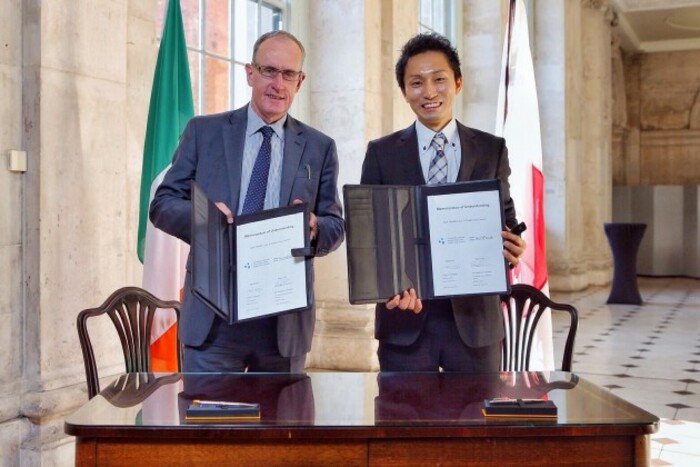 Source: Karl Hussey
Dublin marks its first smart-city endeavour outside of Japan, where it has worked with 18 cities to deploy its IoT platform.
In one example in Japan, SoftBank and its partners struck a deal with bus operators, taxi companies and truckers to use sensors on their vehicles that would actively scan the surfaces of roads and bridges to identify repairs needed.
In another case, artificial intelligence is used to inspect traffic camera footage, rather than the human eye, to identify congestion spots. Data collected through these use cases is presented and analysed in a dashboard for city officials.
Kitahara told Fora that the IT giant approached Dublin City Council to get involved in the test-bed programmes. He hopes that SoftBank's first phases will be up and running by the end of the year.
Problems
The company has identified three initial problems in Dublin that it believes IoT technology can help with – flood prevention, people movement and traffic control.
Using sensors, GPS and artificial intelligence SoftBank said it can help city councils manage their cities better.
"We picked those examples because we have the same experience in Japan," Kitahara said.
"We just want to bring our experience we had in Japan to other countries. Of course we have to localise the technology, but we have experience that we can bring quickly and help Dublin city."
SoftBank's system has a two-pronged approach. The first part is the sensors that can collect the necessary data. In one potential use, sensors are placed along rivers to keep tabs on water levels so city authorities can stay abreast of any flood risks.
The company pointed to the recent floods in Japan, where more than 200 people died, as the kind of worst-case scenarios communities had to safeguard against.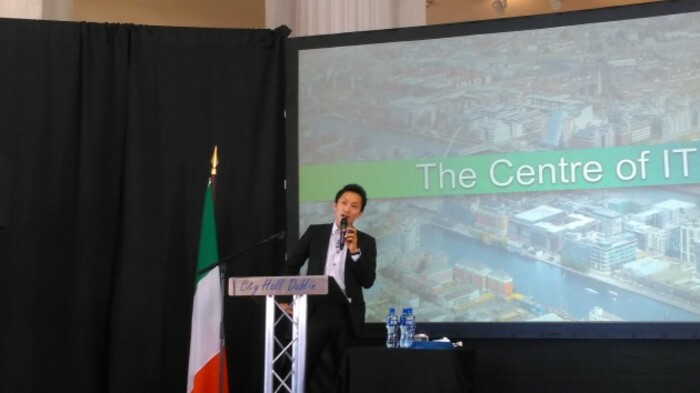 The second side of the platform utilises GPS data and our day-to-day apps, which will be more ubiquitous than sensors, Kitahara said.
"We just have to let people download the apps and then collect the data. It will be much easier than installing the sensors."
In this case, he explained, SoftBank's software development kit (SDK) would be used by third-party app developers so their apps can collect data for analysis.
"We ask (developers) to embed the SDK into the application; they don't have to install our unique application, but just a regular common application. In the background the SDK is running with secure privacy so we can collect the data."
A partner taxi app, for example, could feed data to SoftBank's IoT platform to help the Japanese company track people and traffic movement and determine where bottlenecks and jams were being created.
Security
For now, Kitahara is tight-lipped about how much it will invest in the Dublin project. "That we don't know yet," he said.
While the cash-laden wallets of SoftBank haven't made any deals with Irish-based apps yet, the approach to getting people's GPS data inevitably raises concerns around privacy and security.
"From the platform to sensors, the connectivity, we provide an end-to-end solution so everything has to be secured."
SoftBank is bullish that its systems have the most secure mechanisms in place to protect citizens, with Kitahara adding that any location data is anonymised.
"End-to-end means we have a responsibility otherwise there's no security. If we provide a sensor platform and connnectivity end-to-end, that means secure," he said.
"With security cameras, people feel, 'Oh my God we're being monitored', but we are not monitoring."
As well as working with the council, SoftBank said it is meeting with Irish companies that may come into the fold to collaborate.
"We are very open. We believe that SoftBank cannot do everything by ourselves so we are always looking for the partners or our alliance and maybe investment opportunities. We are open."
Kitahara and his delegation in Dublin this week will also look to hash out more possible use cases based on successes in Japan.
SoftBank wants to scale its smart-city ambitions across Europe with Dublin being the first salvo, which means it's important that it gets things right here, according to Kitahara.
However its endeavour to help city councils isn't purely altruistic. Some cities in Japan that are more advanced in the rollout of the IoT networks are now paying SoftBank for access to data analytics tools.
"We can make money from the IoT sensors so by analysing the data we show that this is the way you should change it. We show the way and direction," Kitahara said.
Sign up to our newsletter to receive a regular digest of Fora's top articles delivered to your inbox.