One in five Sligo shops are empty - but locals insist the town hasn't 'gone to hell'
The western county has the highest rate of vacant units in the country.
SLIGO'S MAIN URBAN hub has one of the highest rates of vacant commercial units in Ireland, but locals say it is far from becoming a ghost town.
According to a recent report by buildings database GeoDirectory, Sligo county has the highest rate of vacant properties in the country, with 18.7% of units empty.
Sligo town featured in the top-10 most vacant urban locations in Ireland, with nearly one-quarter of units empty at the end of 2017.
In recent months, two big retail chains – Next and Flying Tiger – announced in quick succession that they would be exiting Sligo.
Certain locations, particularly High Street, have been left largely vacant for years after a plan to develop property on the street's upper end was stalled following the crash.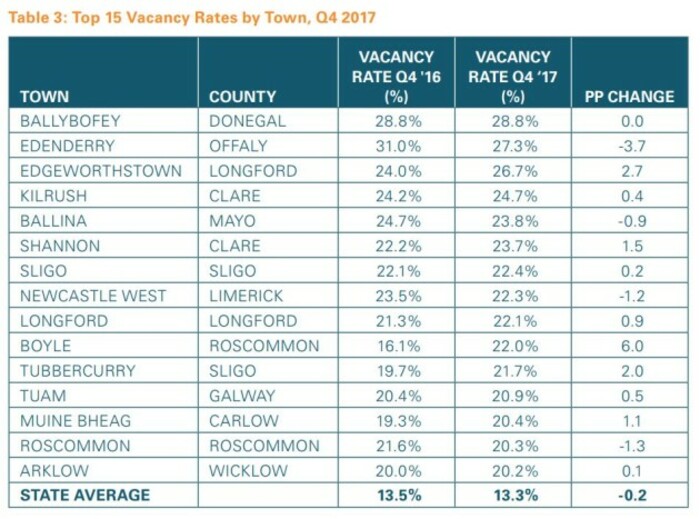 Click here to view a larger version
Owner of Café Fleur and ex-Sligo Chamber of Commerce president Des Faul describes the area today as "a bit of a disaster zone" and "a no-man's land". He has counted 16 empty units on the street.
But he's quick to point out that business in Sligo town doesn't appear to be suffering, despite the high vacancy rate.
"I'm not pessimistic about the future of Sligo whatsoever," he says.
Faul says the likes of upper High Street and a large, dilapidated unit on the main O'Connell Street – which has been deserted for about eight years – somewhat "skew the figures".
"You don't drive around town thinking, 'This street has gone to hell,'" he says.
Locals have had trouble identifying the owners of vacant units but some are convinced financial firms are hoarding buildings in the hope that property prices will continue to rise.
Independent councillor Declan Bree claims there are "banks, building societies, people who are fairly wealthy" sitting on units in prominent parts of town.
Bree is compiling a list of property owners and hopes to see the local authority penalise them through the tax system.
"I believe we should be imposing rates on empty buildings. If the building isn't being used, encourage property owners to rent out their buildings," he says.
While derelict sites can be subject to a 3% levy, only those properties assessed as being in a "ruinous", neglected or debris-strewn conditions qualify for the penalty.
'Dilapidated'
Sligo Chamber CEO Aidan Doyle believes legal issues may have prevented some sites from being made available for rent – a short-term problem, he says.
A number of retailers have moved into larger premises in other parts of town while their existing leases are still in place "which is restricting onward sale", he says.
But Doyle's former chamber colleague, Des Faul, says there's little point in trying to find new tenants for many of those units.
"Let's call a spade a spade; they're not going to be used as retail units. They're not suitable for modern retail," Faul says, noting that many premises are old-fashioned 'mom and pop' shops.
"The units that are empty in town are generally dilapidated, old stock from the 1920s, 1940s. They all need to be stripped out and started again," he says.
Faul thinks the properties should be repurposed for housing, which he says is more badly needed than extra retail space, especially with two large shopping centres in the town.
"Every single day, loads of people drive into Sligo town," he says. "Our domestic population is out of town and our jobs are in town.
"We need more people living in town. In order to do that, we need to increase the housing stock. One way to do that would be to get these old retail units back into residential. That's the future."
It's also hoped that a long-awaited council plan to give O'Connell Street a facelift will help enhance the town centre and create "a vibrant core", according to Doyle.
"Hopefully delivery of that will begin by the end of this year and it will take 12 months to complete," he says.
O'Connell Street was closed to traffic from 2006 to 2009 but re-opened on a one-lane basis thereafter. Sligo County Council ultimately hopes to pedestrianise it again.
In the meantime, it plans to widen the footpaths and provide better street furniture for punters.
Faul agrees that the main-street improvement plan – which has yet to be finalised – should help give the town a boost: "I've been hearing about this since 2005, we opened in 2007. Finally, we're actually getting the work done."
Tourism
In addition to the O'Connell Street works, business owners say a newly launched, five-year tourism strategy for the county could also revitalise quieter streets in Sligo town.
Fergal Quinn, who owns a number of pubs and nightclubs and co-founded Hen and Stag Sligo, thinks additional business from tourism would help bring life back to the more dilapidated parts of town.
"I personally think tourism is going to be a massive contributor to Sligo going forward," he says, adding that the region's association with poet WB Yeats hasn't been "fully capitalised on".
"There is a lot of work going on to position us in the same way Stratford-upon-Avon is a Mecca for Shakespeare."
Unsurprisingly, Faul – who sits on the board of Sligo Tourism – also believes visitors would help encourage overall development in the town.
"Things are turning around. There are 450 tourism-related businesses in Sligo as it is … It's something we can do for ourselves," he says.
"It is about being more positive about Sligo. We know how attractive it is; we've just been underselling it."
Sign up to our newsletter to receive a regular digest of Fora's top articles delivered to your inbox.