Despite millions put into the Wild Atlantic Way, it took a 767 to put this Sligo town on the map
But funeral director David McGowan isn't stopping there with his plans for Enniscrone.
AT ONE POINT in May, a Sligo funeral director and his pet project were trending alongside two of the most powerful people in the world as the biggest talking points on social media.
David McGowan's left-field plan to move a decommissioned Boeing 767 from Shannon to his in-development 'glamping' site in Enniscrone captured the world's attention. But he was only just getting started.
Next month, the local businessman will install a three-carriage train he recently purchased in London to the same location, his Quirky Nights Glamping Village, to join the plane as converted accommodation for visitors.
McGowan, who also owns a funeral director business in Ballina and an academy that teaches the embalming profession, said he created the glamping site to spread the benefits of the Wild Atlantic Way to Enniscrone.
Some €10 million in state funding has already been put into the country's flagship tourism project, while the Programme for Government has pledged a share of another €100 million in capital spending on the initiative.
"They've spent millions putting the Wild Atlantic Way out there, but it was doing nothing for the people between Sligo and Ballina," McGowan told Fora.
"The little villages had people just pass through to have a look and not stop. We need people to stop, and to go in and buy a bun and a cup of coffee."
The stunt has definitely put Enniscrone on the map. The process of moving the aircraft, which involved shipping it by barge up the coast, garnered plenty of media attention. McGowan claims 40,000 people have since come to visit Enniscrone to catch a look at the plane.
"Fáilte Ireland and Tourism Ireland should be taking a leaf out of my book because this is what's needed in rural Ireland.
"I always knew it would work, it's not rocket science. If you put in something like that into a site, it grabs the imagination of people.
"I told everybody I was working with that I would make prime news with this idea, and I did. The night I landed the plane I was on Sky News and ended up as the third most talked-about thing on Twitter.
"There was the Russian president, Donald Trump, then the plane, me and Sligo. You can't buy that advertising."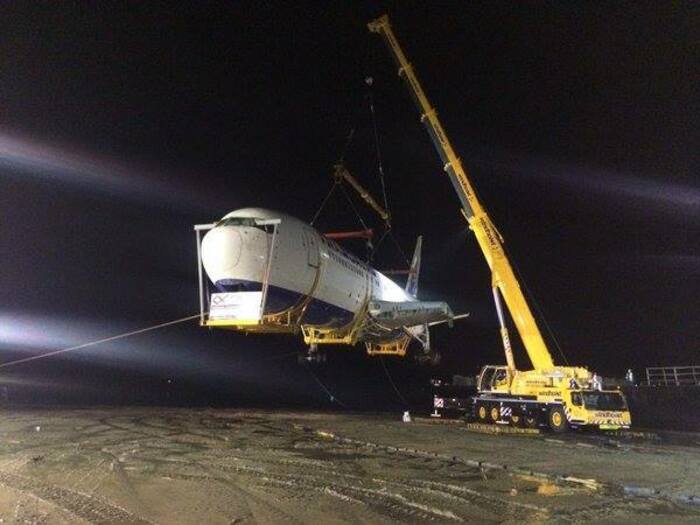 Source: Discover Enniscrone
Hauling a Boeing 767
So far, McGowan has used his own company funds to get Quirky Nights Glamping Village set up because "no banks would talk to me" – and it hasn't come cheap.
Although he got the plane for only €20,000, he said hauling it from Shannon Airport by road, river and sea cost over €80,000.
However, despite further investment being needed to renovate and convert the inside of the airplane into accommodation, McGowan is expecting a big return.
"If I can get eight or nine rooms in it, I would imagine that there would be a turnover there of easily €300,000 a year.
"There's also people who want to have their wedding in it, a guy wants to record music in it and a lot of the schools in the area are ringing me to see if it would be open for tours for kids. That's why I took two bedrooms out of it and I'm making a tour area out of the plane as well.
"The space created means you could have a wedding with 35 people in there or even a conference. I could have put 14 rooms in it, but I also wanted to make it wheelchair accessible and for that reason I lost four bedrooms."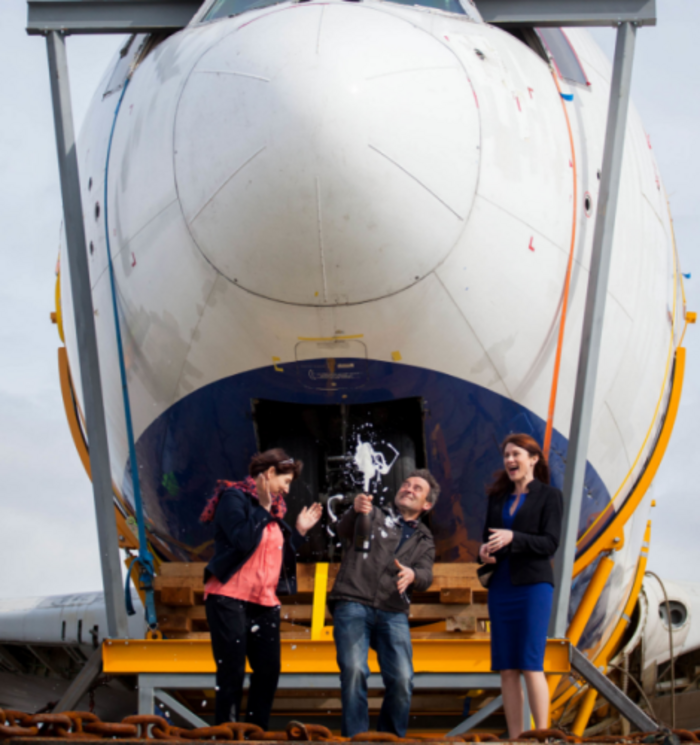 Source: Alan Place
Next move
With the Boeing 767 installed in Enniscrone, McGowan plans to go through the process again with his newly purchased train – while a helicopter he bought in Mullingar will also be moved to the Sligo site shortly.
He said the three carriages cost a scrap value of £20,000 each and the owner of the train refused a more lucrative offer from a film company in favour of McGowan's proposal.
"It won't be easy getting the train over. We're talking three coaches that are 63-foot long each and 30 tonnes each, while the one with the engine will probably be 40 tonnes.
"The height of the train on the back of the trailer will also mean we can't go under a lot of bridges. So we'll have to go out and find a trailer that can bring it out of London and then up to Hollyhead, then on to the ferry and then coming out of Dublin."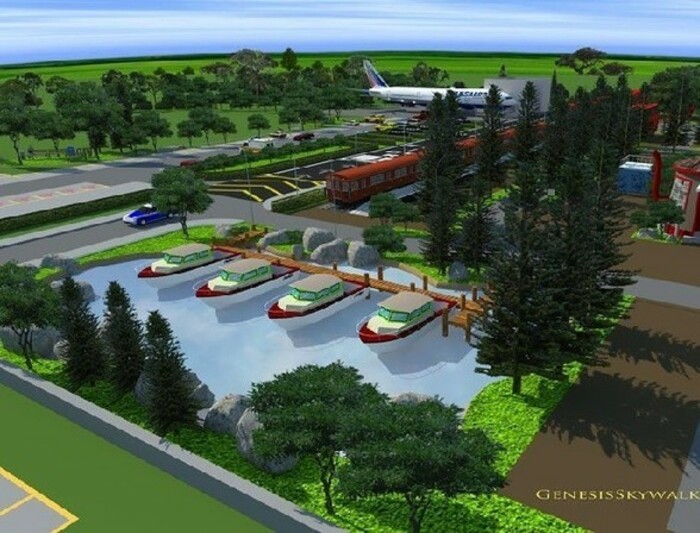 Source: Facebook
Summer 2017
The camp, which has a waiting list of 500 people in line to be the first guests, is currently under development, and McGowan said he would be "awfully disappointed if I didn't have something open by next May".
He added that there are plans to set up a shop and forecourt at the site and get more vehicles to convert into accommodation.
"My imagination doesn't stop with the plane. There is the train, the helicopter and I have boats. I'm going to make a marina in the middle of the site with 10 boats.
"And then there's one more item in particular that will put Ireland on the map, but I won't talk about that just yet…"
read more on