Ireland has talent, but when it comes to tech and science it needs to tackle gender imbalances
Ireland's smart economy ambitions stem from its educated youth, it needs to be nurtured early
IF THE THRONG of teens and teachers at this year's BT Young Scientist Exhibition in the RDS was an illustration of the interest science and tech, the stock of talent to fill skills in the workforce looks strong. 
Yet while the future looks bright, it might not be so simple. Earlier this week medical technology firm Cook Medical warned that the engineering industry "faces further gender imbalance and future skills shortages due to lack of access at school". 
In the same few days, the European Wild Code School launched its first Irish campus in Dublin's Digital Depot to address the skills gap in the tech sector and to promote jobs for women in tech.  
In the RDS this week, students showed off complex projects ranging from 'Electrical cars: A statistical investigation into what is holding us back' to an investigation into a 'compact electromagnetic satellite launch system' and of course 'an investigation into electroencephalography and how it can help emulate human empathy and emotion in artificial intelligence'.  
This year, as in previous years, more than half of entries were submitted by girls. Two young students told Fora that in their all-girls school of roughly 300, nine entries were accepted into the Young Scientist competition this year. 
The school also has a system which allows students to attend classes in the neighbouring boys school, such as wood technology, technical graphics and metalwork, while the boys school students are welcome to attend home economics classes next door. 
For Ireland to continue to achieve its smart economy ambitions, these type of forward-thinking schools could prove vital. As it stands, according to Cook Medical just 7% of Leaving Certificate engineering students in 2019 were female and the fact that the subject is rarely offered in all girls' schools isn't exactly helping. 
The state is well aware of how important it is to support young students in getting into science and tech, with Minister for State Helen McEntee in attendance last week to meet students from across Ireland. 
At the event, An Taoiseach Leo Varadkar said that it is the government's ambition is not only to nurture talent but also to tackle inherent gender bias in these critical areas of research.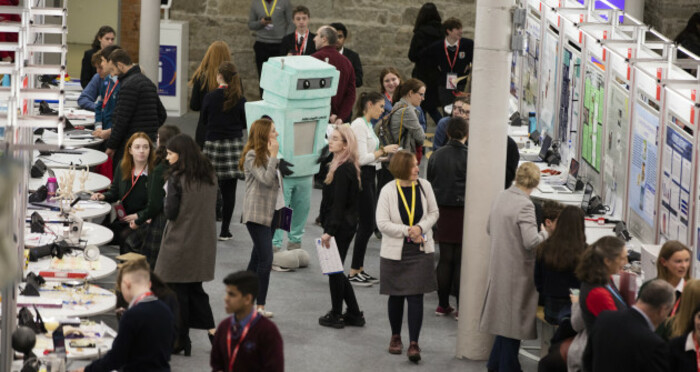 Source: Eamonn Farrell
'Not fit for purpose'
Matching education priorities with corporate demands is a tricky balancing act and some private colleges are stepping into the breach. 
One of those is Wild Code School, the school founded by Anna Stépanoff in France in 2014, which launched its first Irish campus in Dublin's Digital Hub this week. Marek Wystepek, campus manager for Dublin told Fora at the launch that he regularly speaks to students who "tell me that what they've learned is not even going to be usable".
"People aren't really work-ready and companies see it's easier to train people in skills than in soft skills. Every company wants to hire a senior web developer. There are no senior web developers," he added. 
"I'm seeing a real problem in the traditional sense of teaching coding in university – it's leaving people with old skills."
The school is offering five-month intensive courses, based within real companies and working on real projects, to provide a "practical approach to teaching".
Wystepek pointed out that he doesn't think the current education model is wrong, but "for this type of skill set, I don't think the modern way of teaching it through university is fit for purpose anymore."
During the launch, Stépanoff and Wystepek participated in a panel discussion which included designer Sonya Lennon and Alec McAllister, a senior executive at Ibec's Technology Ireland. The speakers agreed that when it comes to teaching young people coding – and especially girls – we need to be starting at a much earlier age. 
As a serial entrepreneur, Lennon called it a "common sense approach to a big problem". 
From an industrial perspective, according to McAllister, "we're not providing enough graduates from traditional colleges and we're not getting enough from second level. The interest has to go right back to primary school."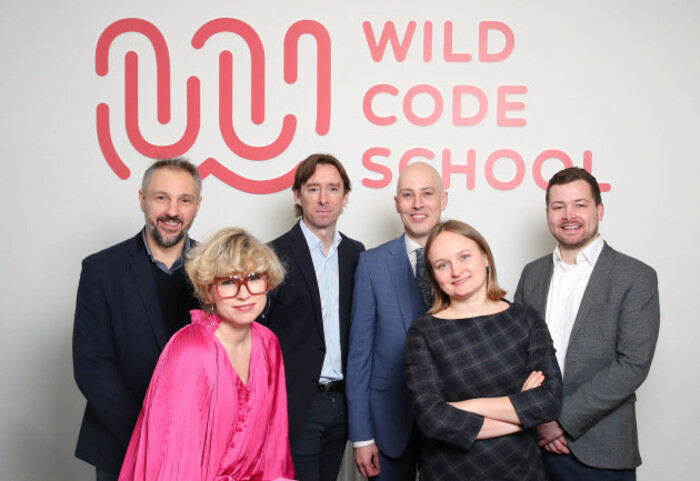 Source: Marc O'Sullivan
'Really rare'
Sarah Abbot, a chemistry teacher in Pobalscoil Inbhear Scéine in Kenmare who runs the school's science club, the issue "isn't necessarily that girls aren't doing STEM. I think they're going into particular areas of STEM".  
Many of her female students opt for chemistry and biology with a view to doing medicine, for example. This is reflected in recent Department of Education figures which showed that there is an improving interest in STEM with all students – but girls' interest lies predominantly in maths and biology. 
One of her students is one of the 7% of girls doing Leaving Certificate engineering in the country. The student's entry was economics-based – though one of her favourite subjects is physics. 
The student told Fora that she believes the statistics on maths in the Leaving Cert can skew the picture -  when more boys do higher level maths, they appear to do better at higher level maths which in turn makes it looks like they are generally better at maths. 
But there's change afoot. "In my Leaving Cert physics class there are more girls than guys – that's really rare," she said. 
"I could not imagine myself not being able to do engineering – it's one of my favourite subjects."
As part of the government's plan to increase female participation in STEM, Cook Medical has said that "engineering should be a priority."
In a statement, the company added that "school subjects play a significant role in shaping the interest of younger generations and if the educational structure continues to restrict access to engineering for some girls, then the prospect of pursuing a career in the field is limited at a very early stage."
Get our Daily Briefing with the morning's most important headlines for innovative Irish businesses.