'Success has many metrics. Seeing our team and their families grow is really satisfying'
Simon Lynch, the co-founder of Wicklow Wolf brewery, talks bees, rugby and hops.
EVERY WEEK, FORA gets inside the heads of some of Ireland's top entrepreneurs to gain insights into what got them to the top of their trade. This week we meet Wicklow Wolf co-founder Simon Lynch. 
Simon Lynch always has a secateurs to hand, just in case something needs pruning. The co-founder of Wicklow Wolf brewery spends a lot of time on the company's hop farm in the Wicklow mountains, where his love of horticulture keeps him busy. 
Set up by Lynch and his business partner, Quincey Fennelly, in 2014, the brewery is about to open its new facility in Newtownmountkennedy in Wicklow.
It has recently switched from bottle to can packaging, re-branded and plans to be carbon neutral in the near future. The business, which employs about 20 people, is also exploring new export markets. 
As part of our weekly Tools of the Trade series, Fora spoke to Lynch about bees, hops and running.
Here's what he had to say:
What drives you to keep going?
I have a love of the outdoors and I like being hands-on in nature. I suppose that's why I chose horticulture. 
As a father of three girls I want to set a good example and demonstrate that hard work coupled with passion can pay off. Clint Eastwood once said "don't let the old man in" and I think that's a great line. It's belief in what I'm doing. 
What makes you feel under pressure and how do you deal with it?
Balancing work and life is the biggest challenge and that's what puts me under the most pressure.
In terms of the business, Wicklow Wolf has been going very well since we started five years. I've increased the hop farm over that time and continue to increase it. Finding a home for our new brewery has taken over the last three years and overseeing the construction on our new site in Newtown Mountkennedy – that's all been very difficult. 
Business will colonise every hour of every day if you let it. Trying to get the balance is the most difficult and most pressurised bit. 
I run, not as much as I used to, and I do quite a bit of walking. The hop farm is up on Djouce mountain in the Wicklow hills. After a day's work I go off with my dog Monty for a walk and the same at the weekends. 
What differentiates your company from the competition?
The quality of our product and the provenance of our locally sourced ingredients, which includes hops from our hop farm, ten minutes from the brewery.
We're the only commercial hop farm in Ireland – growing hops in Ireland is challenging. It's expensive and it's very time consuming. Having the hop farm demonstrates the Wicklow Wolf is rooted to the land.
People often forget that beer is made from the harvest of land and I think we demonstrate that. 
Sustainability would be at the core of our philosophy. We're on the journey to becoming carbon neutral and we're planning to be carbon positive at some stage. We plant trees, we have a hop farm and we encourage biodiversity. 
Where would you like to improve?
Every day brings a new challenge and you can't know everything. Those challenges have to be met head on and overcome.
I think I am improving every day but I also think it's important to up-skill. Technology is part of my business life that I could improve on. There's plenty of courses and stuff that I will probably try and investigate more fully over the next few years when things calm down.
How do you deal with conflict?
Sitting down face to face, having open conversations, understanding as best I can the position of the other person or people involved. 
I think also addressing a problem as quickly as possible is very important and not letting it fester. I'm not always right and the person who comes with a problem isn't always right either.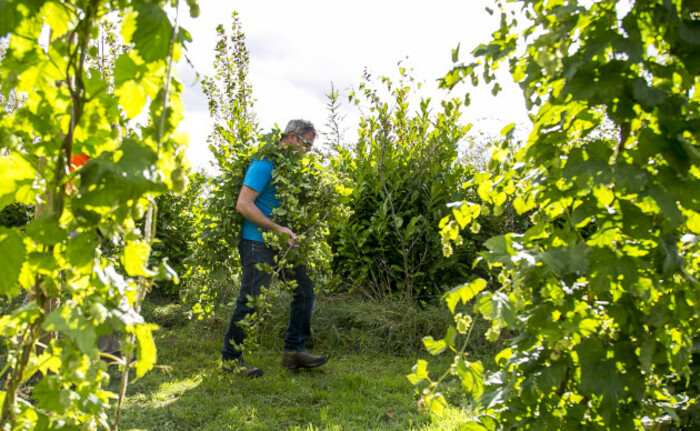 Source: Wicklow Wolf
What work relationship matters the most to you?
With my business partner in Wicklow Wolf, Quincey. The business is built on the work that we laid down and I think it's important that we work together and move forward with real purpose.
We have an excellent relationship – we certainly don't always agree but I think that makes for better results because we challenge each other.
What tool could you not do without?
I'm rarely at a desk, my mobile phone is my computer and, as much as it drives me mad sometimes, it's something I couldn't do without. 
I always have a secateurs close to hand because there's always something that needs to be pruned. 
What helps you switch off?
Tending to my bees. I've a few apiaries in a few different locations. While it's time consuming, it does help me to switch off. 
We've six weeks ahead of the Rugby World Cup and I will certainly be glued to any match I can over that time. 
How do you manage your time?
I try to squeeze as much activity into my day as possible and I can often over-stretch myself. I have a bit of a reputation for running a couple of minutes late – I like to finish the task that I started so I can cross them off my list.
At the beginning of each week I try to map and plan where I'm going to be. When you're dealing with elements of nature and weather it's not always possible to do what you set out at the beginning of the week so those plans do change. 
How do you manage your money?
Within the company … we have a great finance team, we have budgets, realistic targets and we're good at sticking to the programme. 
Personally, I like to enjoy myself but my pursuits don't really involve a whole lot of spending. I do enjoy good food and beer but when you have a wife who's an expert in finance, I've always got someone in work and at home to report to on matters of money. 
How do you judge success?
Success has many metrics. I think generating jobs is definitely fantastic and in turn seeing our team and their families grow is really satisfying. 
We're in business five years and we're travelling further down the road in our journey of sustainability which will lead us to being carbon neutral and I think in time carbon positive. 
What book would you recommended the most?
A book that I loved from an early age and have read several times is The Lord of the Rings by J.R.R. Tolkein. The determination, never-say-die-attitude, fight against all odds and never give up – I think we can all learn from that.  
Get our Daily Briefing with the morning's most important headlines for innovative Irish businesses.