Virtual-reality house viewings could become the new normal in Ireland
Sherry FitzGerald is going to use VR tech for house showings.
HOUSE-HUNTERS IN Ireland could soon be using virtual reality technology to scout out their dream home.
Irish property firm Sherry FitzGerald has today announced plans to launch Europe's first virtual reality (VR) platform for viewing houses.
Digitally profiled by an environmental artist, the virtual version of the house gives potential buyers the chance to check out a property without ever stepping in the door.
Sherry FitzGerald IT director Brian Dooley said the plan was to build on this new service and allow clients to virtually customise a home.
"We want to allow people to pick their kitchen finishes or wall colour finishes… Matching tile with a kitchen finish and a wall colour can be difficult," he said.
"If you have a representation of that in virtual technology then you can make the decision in comfort."
The real estate outfit's foray into VR comes as most of the world's major tech players, such as Google and Microsoft, make billion-dollar plunges into what many see to be the next big consumer technology.
This year, the race to command the market is expected to hit new heights as the Facebook-owned Oculus Rift and rival HTC launch their first products.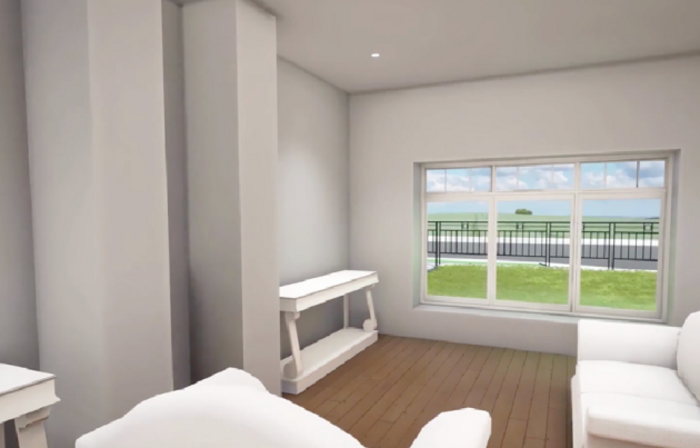 Source: Sherry FitzGerald
View a finished product
For the initial launch, a very limited range of properties, such as the Rokeby Park development in Lucan, can be viewed using VR headsets in a select number of Sherry FitzGerald branches. However, if successful the plan is for each branch to have its own kit.
Sherry FitzGerald head of new homes Ivan Gaine said one of the main benefits of VR from a commercial point of view was being able to market an undeveloped property earlier than ever before.
"The principle reason for using the technology in Lucan was really to start the marketing campaign very early," he said.
"(The clients) might have been aware of the floor plans and had some visualisation of what was to come, but given that we are a season or more from having a physical showhouse, (VR) gives them a sense of the house."
Gaine said he doesn't expect buyers to sign on the dotted line based on a VR viewing alone and that people will still want to see "the bricks and mortar" before making a decision.
Looking beyond the new home market, Dooley said the main challenge the company faces is adapting the VR technology to cater for houses that have already been built.
"The challenge is trying to make it mainstream, because 95% of what we sell is existing as opposed to new homes," said Dooley.
"We're working with various parties and introducing some 360-degree camera technology that we can use in existing builds.
"Perhaps we will have virtual negotiator or voice overs talking you through various features, such as where the sun shines in and other key selling points."