Every Irish airport has enjoyed a bump in passenger numbers - except for Shannon
The Clare hub is looking to reimagine itself as a 'challenger brand' to rival airports.
SHANNON AIRPORT WAS the only main hub to record a decline in passenger numbers for the period of April to June 2017, according to new figures.
The latest CSO aviation statistics show that the County Clare hub handled more than 454,900 passengers during the three-month period, down 5.5% on the same period last year.
The news comes shortly after Shannon Airport tendered the contract for a business consultant to help it become a "challenger brand" to other airports in Ireland.
Unsurprisingly, Dublin Airport took the biggest chunk of all air passengers, accounting for 85% of the total 9.4 million passengers that travelled through the main airports during the three-month period.
The capital's hub handled just over 7.9 million passengers from April to June, a 7.3% increase on last year's figure.
The number of passengers travelling through Cork Airport increased by nearly 2% year-on-year to just over 637,490 passengers.
During the three-month period, Wow Air launched its Cork-Reykjavik flights, which will be suspended at the end of next month.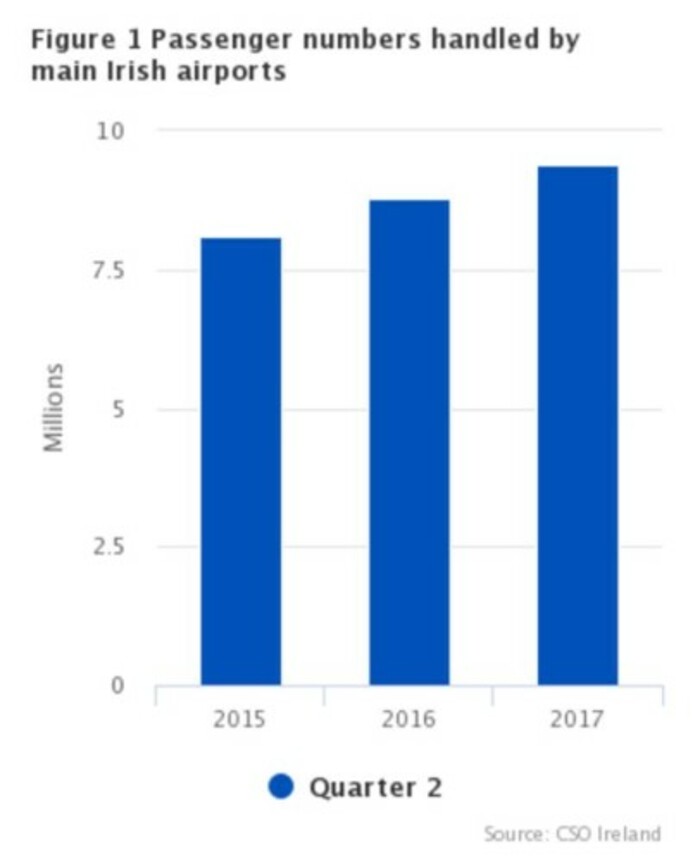 Source: CSO
Click here to view a larger version.
Not surprisingly, routes to Britain dominated the top-10 arrival and departure destinations for the main airports – Dublin, Cork and Shannon all reported that London-Heathrow was their number one destination.
Some 3.2 million passengers arrived or departed from the UK during the April-June period. This comes at a time when Ireland's tourism trade has reported a troubling drop off in British tourists coming here in the wake of last year's Brexit vote.
Branding exercise
Shannon Airport's 5.5% decline in passenger numbers comes shortly after it tendered a contract for a business consultant to help create "a renewed commercial strategy and brand framework".
It is hoped the new strategy will help "improve overall competitiveness" and help the airport become a "challenger brand" to rival airports in Ireland.
Airport management wants the new branding strategy to serve as "a North Star" to Shannon Airport and its sister brands under the wider Shannon Group umbrella.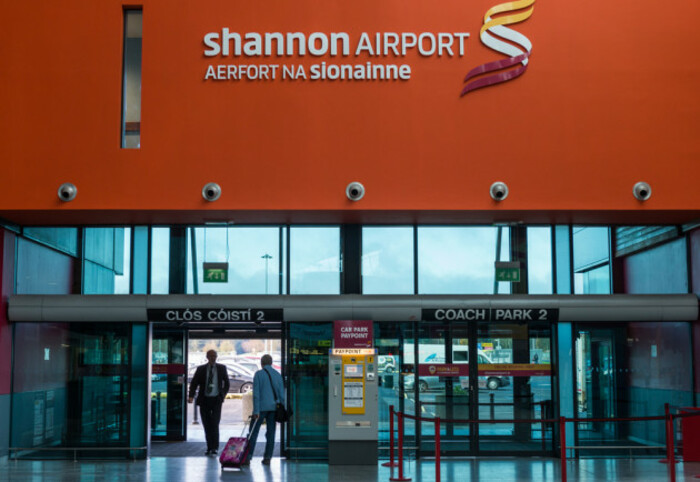 Source: Shutterstock/gabriel12
Although annual traffic has increased at Shannon in recent years, figures remain a long way from the 3.6 million passengers it handled a decade ago under DAA ownership – last year it handled just over 1.7 million passengers in total.
The branding exercise will commence in October, which is when the airport is expected to begin work on a new duty-free section that also recently went to tender.
As previously reported by Fora, Shannon Group retail boss Darren Smyth said the airport will be given a makeover to mimic the success of the parent company's new souvenir shop brand, Shannon Irish Design Store.
Other figures from the CSO's latest aviation statistics:
Knock Airport handled 208,655 passengers from April to June, up just over 4% on 2016′s figure.
Kerry Airport handled 98,536 passengers, an 8.2% increase.
London-Heathrow, London-Gatwick and Amsterdam-Schiphol were the most popular routes for Dublin Airport passenger.
For Cork Arport, the top three routes were London-Heathrow, London-Stansted and Amsterdam-Schiphol.
Meanwhile, Shannon Airport's most popular routes were London-Heathrow, London-Stansted and New York-JFK.
Sign up to our newsletter to receive a regular digest of Fora's top articles delivered to your inbox.
read more on