'I'm an optimist - life is a wonderful gift': Welcome to the world of Seán Gallagher
The one-time presidential candidate explains why he's so bullish on the future for Ireland.
SEÁN GALLAGHER IS a relentless optimist.
On Brexit, there are challenges – but also a green field of opportunities. Ask him about how US tax policy might interfere with foreign investment here and he'll tell you that Ireland is well able to look after itself.
When it comes to regional development, all rural businesses need to thrive are better roads, broadband and services.
In the world of Seán Gallagher, everyone has untapped entrepreneurial potential and the power to make useful contributions to society.
"I've learned in life that you should never worry about the things over which you have no control. You should focus instead on the things we do have control over," he tells Fora.
When writing about Gallagher, it's hard to pin down his most appropriate job title because of the myriad roles the businessman fills. He's the CEO of a multimillion-euro real estate firm, he's a founder and he sits on numerous company boards.
He's also an investor, a mentor, a motivational speaker, a writer, an ex-Dragons' Den star – and was close to becoming the country's president.
Perhaps he is best summarised in his own words: "I'm an unapologetic champion for SMEs."
Throughout the 2011 presidential campaign, Gallagher was positioned as 'the business candidate', the one who would help Ireland get its mojo back at a time when the country was on its knees.
He envisioned the recovery that would later be dubbed 'the Celtic Phoenix' in the intervening seven years.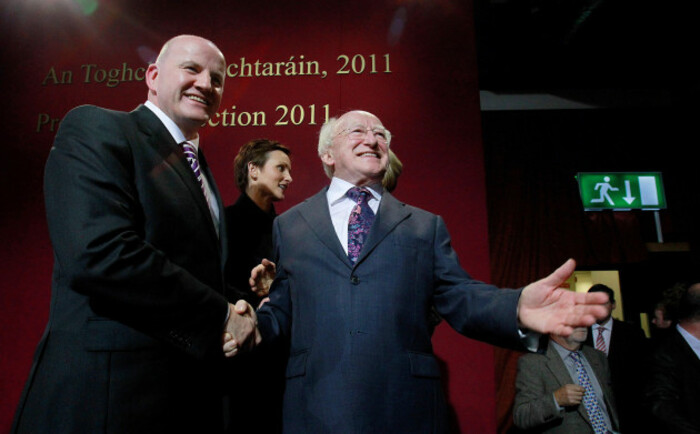 Source: Julien Behal/PA Archive/PA Images
While Gallagher's glad to see that we're in much better shape now, the Cavan man hasn't lost the spirit that helped carry him to second place in a race to Áras an Uachtaráin that ended in that controversial final debate on RTÉ's Frontline.
"I love to see businesses developing and I love to see individuals growing and making a contribution. I find that energising," he says.
Earlier this week, Gallagher was appointed president of US pharmaceutical and health company Nutribrand. He also sits on the board of pharma engineering firm Team Horizon and is chief executive of Clyde Real Estate.
When asked how he manages to juggle his various roles, Gallagher says his secret is to simply get up early and go to bed late: "I don't do a lot of downtime because I enjoy all the various things I'm doing. They're all forms of relaxation for me."
Every week in the Sunday Independent, Gallagher profiles an Irish SME. He's written about everything from Teeling Whiskey to frozen food firm Strong Roots, a collection which will soon be compiled into a book, Secrets to Success.
He says the collection will "celebrate and recognise the role of entrepreneurs and showcase to others the lessons learned by entrepreneurs".
"I'm a great champion of SMEs and I know how lonely and challenging it can be for an entrepreneur to get up and running and start to grow their business."
Small- and mid-sized firms make up 99% of all Irish enterprises, but Gallagher believes entrepreneurs are "totally under-acknowledged and recognised for the effort and they risks they take".
"They not only contribute to the economy and provide all the wealth and tax that goes to running the public sector … but they are also important for creating jobs for people to have dignity and the ability to contribute to society," he says.
"SMEs employ people in regions of the country where multinationals never can and so they are really the glue that holds many of our communities together."
Politics
Gallagher peppers his speech with inspirational, self help-style advice – "the degree to which you succeed in business is the degree to which you're willing to fail" – and likes to make big, sweeping political statements.
For example, when asked what policies he would like to see the government introduce to make life easier for the SME sector, Gallagher says "there are a variety of things that would help develop and nurture a more entrepreneurial culture".
"I think the earlier we get young people having the conversations around business and looking at how to become problem solvers rather than information collectors, the better," he says.
"Have more role models that people can identify with in their own communities as opposed to always look to the big, international Richard Bransons of the world.
"We need to highlight the role of the local engineer or local food factory, whatever it might be. Education is where it starts."
It comes as no surprise that Gallagher hasn't ruled out a career in politics – and it's fair to say that many people would happily buy into his vision of Ireland as a utopia for "flourishing" small businesses and "a vibrant, thriving FDI sector".
Dragons' Den
Even when it comes to backing the wrong horse, Gallagher is an immovable optimist.
He doesn't have a figure for how much money he invested – or lost – throughout his three years on RTÉ's Dragons' Den, but that doesn't matter:
"The real investment is not so much in the money as in spending time and trying to nurture the companies.
"I think the most important thing about Dragons' Den is that it did start a whole conversation about people seeing regular individuals and couples as entrepreneurs.
"It creates something that people can emulate. I'm a great believer that people cannot be what they cannot see. If they see people who are like themselves starting a business, it gives them the confidence to grow themselves."
[embed id="embed_2"]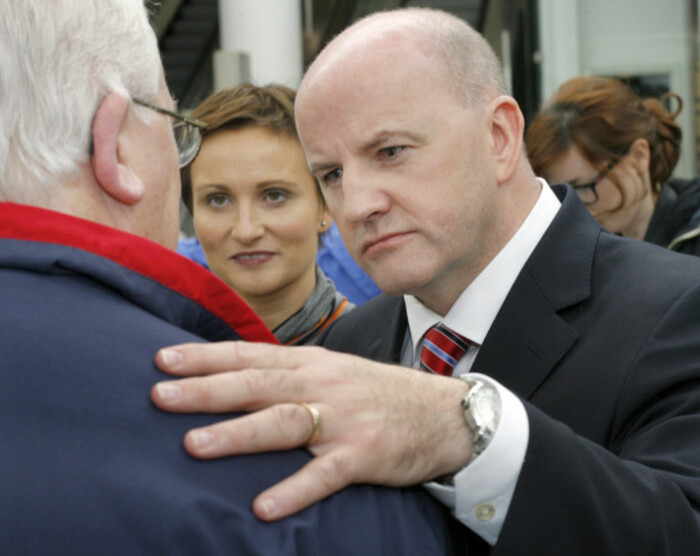 Source: Mark Stedman/RollingNews.ie
Even when asked if there are any duds he wish he'd never sunk his money into, Gallagher only sees the upside:
"Some of the ones I backed ultimately didn't work out, but it's like everything in business: entrepreneurs go through experience, there is no such thing as failure – there is only feedback. If things don't work out, you learn from that."
Failure
Gallagher's ultimate dream for the Republic is to turn it into a playground for entrepreneurs to try to test ideas – and if those ideas don't work out, so be it.
"We sometimes think when people fail that it's unnatural, but failure is a natural process of being an entrepreneur. If you're in America, it's a badge of honour. You're on your way to ultimate success. We need to see that here," he says.
"We have to stop this whole attitude in Ireland of criticising people who fail. If you criticise your children because they fail at something, they'll never learn, they'll never try new things, they'll never innovate.
"We need to see failure as a natural stepping stone to success and to risk-taking. That's at the heart of being an entrepreneur."
It's clear that in the world of Seán Gallagher, the glass can only ever be half full. He attributes that positive attitude to his teenage years spent in his local Foróige youth development club.
"It was there I learned about what would now be called life coaching where you are not a passive recipient in your life, that life doesn't happen to you, but that it is in fact created by you," he says.
He was also heavily influenced by his time in America, where he was mentored by Jack Canfield, the co-author of the famous Chicken Soup for the Soul book series.
"I've always been focused on personal growth," Gallagher says. "I have a simple policy I live with, which I call my three Gs: goals, growth and gratitude. I set goals all the time so I have things to achieve. It's all about becoming the best person you can be.
"I'm an optimist on the basis that life is a wonderful gift. I start every single day of my life with 10 or 15 minutes of gratitude before I meet the day. To say all the things I'm grateful for: my health, my faculties, my abilities, my family, my community, my work.
"That sets me up to see that everything I meet in life are challenges to overcome, but in the context that we already have so much to be grateful for."
Seán Gallagher will be speaking at the 'Creating Success' event in Kilkenny on Monday.
Sign up to our newsletter to receive a regular digest of Fora's top articles delivered to your inbox.