'A little confusing': Commentators respond to Salesforce's second refusal for a taller tower
Some say relaxed height rules would improve the 'quality of life' in urban areas.
DUBLIN COUNCIL'S DECISION to reject a request to increase the height of Salesforce's docklands 'tower' has been described as "disappointing", with property experts reiterating their support for taller buildings.
The council yesterday refused – for the second time – developer Johnny Ronan's request to secure permission for an additional two storeys at Salesforce's new European headquarters at Spencer Dock.
Ronan's Spencer Place Development Company previously tried and failed to increase the size of the property from nine to 11 storeys.
The latest refusal, first reported by the Irish Times, comes at a time when there have been calls for the relaxation of height restrictions to reduce urban sprawl and housing shortages. Housing Minister Eoghan Murphy released new guidelines recommending taller buildings across Irish cities last December.
Dublin Chamber's head of communications, Graeme McQueen, has called the council's decision to refuse permission a second time as "disappointing" and "a little confusing".
He noted that the nearby Exo building will be 17 storeys high and will become the tallest building in the city once completed.
"The docklands area is one of the last tracts of really good development land that we have in the city centre and it's important that we maximise its potential," McQueen said.
He said Murphy's height cap guidelines last year were supposed to have "brought clarity"  to building guidelines in the city, and questioned whether current strategic development zone regulations for the docklands area "are still fit for purpose".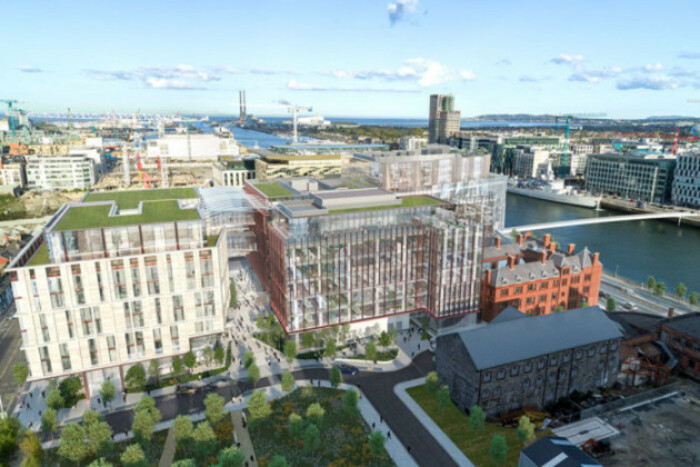 Source: Salesforce
Chartered planning and development surveyor Michael Cleary told Fora the challenge in any planning decision is trying to get the balance right between different regulations – which for the Salesforce tower included the strategic development regulations and other guidelines regarding urban density and light analysis.
Cleary, who sits on the Society of Chartered Surveyors Ireland's planning development committee, said the body is always in favour of height, particularly in urban locations where there are good public transport links and road infrastructure. 
David Duffy, director of Ibec group Property Industry Ireland, said taller buildings in general "would make a telling contribution towards improving the quality of life in our urban centres".
He said taller buildings would aid competitiveness, make housing more widely available and affordable, and address the issue of urban sprawl. 
"We must balance the requirements of commercial and housing developments within our cities. People should be able to choose to live close to where they work. Well-designed taller buildings can provide office space and much needed housing," Duffy said. 
Get our Daily Briefing with the morning's most important headlines for innovative Irish businesses.