Salesforce thinks the housing crisis will ease by the time it brings 1,500 new jobs to Dublin
The company is building a new 'urban campus' in the docklands to open during 2021.
US TECH GIANT Salesforce is confident that Ireland's housing crisis will have waned by the time its new offices in Dublin are fully operational.
The enterprise software firm today unveiled plans for its new base in the capital, dubbed Salesforce Tower Dublin, which will see an anticipated 1,500 new jobs added to its payroll over the next five years. The office is slated to open its doors in 2021.
The company already employs 1,400 here, it revealed, after previously being skittish on providing exact figures for its workforce in Ireland.
However with the significant jobs pledge – one of the largest IDA-backed announcements in the State's history – comes the inevitable concerns about how the influx of workers will gel with the still-worsening housing crisis.
Other large tech companies, like Irish-founded Stripe which has a base here, have voiced concerns about the crisis.
David Dempsey, Salesforce's Ireland country leader, said that the company hasn't had any talks with the government about the housing issue.
"We've been here since 2000. Over that time – the two decades that we've been here – we've seen the Irish economy has shifted and gone through cycles," he said.
"The cycle we're in now is one of those cycles that we've seen before, and we're very confident in the ability of our government and of the country to resolve this cycle."
Dempsey added that Salesforce is "confident that this will resolve over time" and it hadn't been lobbying on the issues of housing or rents.
"We don't have direct discussions with government over matters like that," he said.
"They're very well aware of our growth plans and how we plan to grow over the years. It's not a surprise to anyone, they know we're expanding here."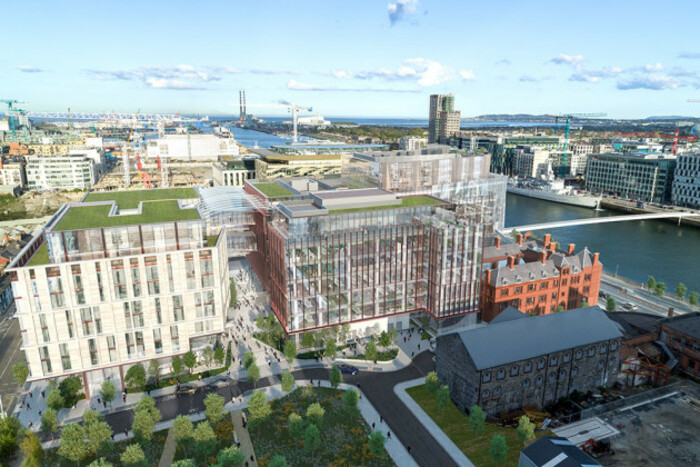 Source: Salesforce
Despite what the name may suggest, Salesforce Tower Dublin will be an urban campus made up of four interconnected buildings spread over 430,000 sq ft and reaching eight storeys, rather than a single skyscraper.
It will be situated on North Wall Quay, next to the Central Bank, in a docklands area that is already home to several major tech firms. The development is being headed up by Johnny Ronan's firm and US real estate investment group Colony Capital.
The campus is expected to be completed by the end of 2020 with new and existing staff starting to move in around mid-2021.
Salesforce's existing Irish offices are in Sandyford and Leopardstown. It has had a presence in Ireland since 2000, the first operation it established outside the US.
The 'tower' branding on the new offices has been adopted by a number of other Salesforce bases globally.
The flagship Salesforce tower in San Francisco – the city's tallest building at 61 floors -  houses the company's HQ and was completed last year. The complex also contains tenants like WeWork and Accenture.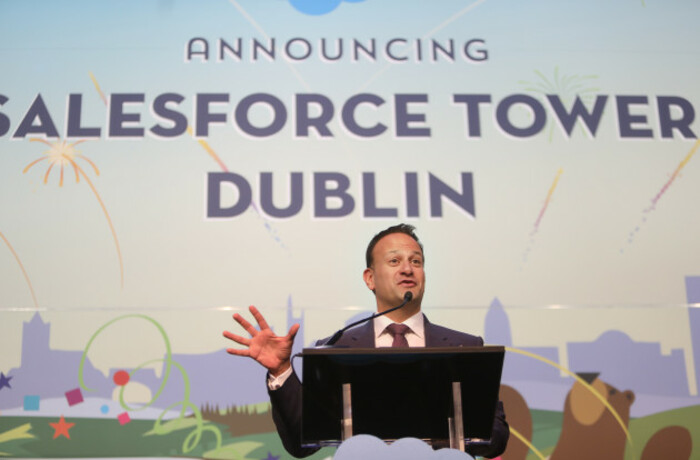 Source: Rolling News/Leah Farrell
The company has re-branded other offices with the 'tower' name, including one in London and the recent addition of Salesforce Tower Atlanta for its regional headquarters in the city.
Europe push
San Francisco-based Salesforce makes cloud-based software for enterprises to manage functions like customer support, marketing and analytics. It was founded in 1999 by Marc Benioff and is tipped to reach $13 billion in annual revenues.
The Dublin announcement is the latest significant move by Salesforce to bulk up its operations in Europe as it currently generates a sizeable chunk of its revenue in its native US market.
Last year, it announced fresh investments in its UK and French arms with each expansion worth over $2 billion.
Accounts for Salesforce's main Irish company, which handles both its EMEA and Asia-Pacific territories, show the operation recorded turnover of $971 million in the year to 31 January 2018, a 52% increase on the previous year. It recorded a net profit of $13.9 million from the tally.
Chris Ciauri, general manager for EMEA, said the roles in the new Dublin campus will span engineering, customer support, sales and business services.
"We expect the growth to be in all of those functions," he said. "As an employee population and a centre for Salesforce, in terms of the breadth of roles that we have in Dublin, it's second only to San Francisco. It's really got a diverse set of employees."
Get our NEW Daily Briefing with the morning's most important headlines for innovative Irish businesses.