In Youghal, one businessman prays for storms to test his high-speed 'stealth boats'
Cork firm Safehaven Marine sells its vessels as far afield as the Middle East and Asia.
NESTLED AWAY IN Youghal, a company with a disarmingly placid name is earning a growing global reputation for producing military-grade 'stealth' and gun boats.
Safehaven Marine, which has been trading for nearly two decades, builds specialist high-performance craft from start to finish in its Co Cork factory.
The company currently has one 'stealth boat', the Barracuda, on the market, but after 18 months in the factory and €1 million in investment it has a new, high-performance stablemate to show off – the Thunderchild.
Last year, Safehaven Marine made use of Storm Barbara's testing conditions to prove the 18m-long high-speed boat's resilience. Next, the craft, which is designed for military and law enforcement use, will be demonstrating its speed.
Frank Kowalski, the Thunderchild's developer and head of Safehaven Marine, said the company plans to circumnavigate Ireland in 30 hours via the North Atlantic islet of Rockall in the vessel to attract the attention of potential clients.
Equipped with two, 1,000-horsepower engines, the boat is capable of reaching speeds of around 60 knots (111 km/hr).
"For any new design like this, you need to build a prototype, but then you need to start thinking how I can make the best use of this investment. That has led us on to setting a new record, which will prove the capabilities of the boat," he said.
"If we can go to clients and say we have set a new record, it will give them confidence in the design and improve the reputation of the company."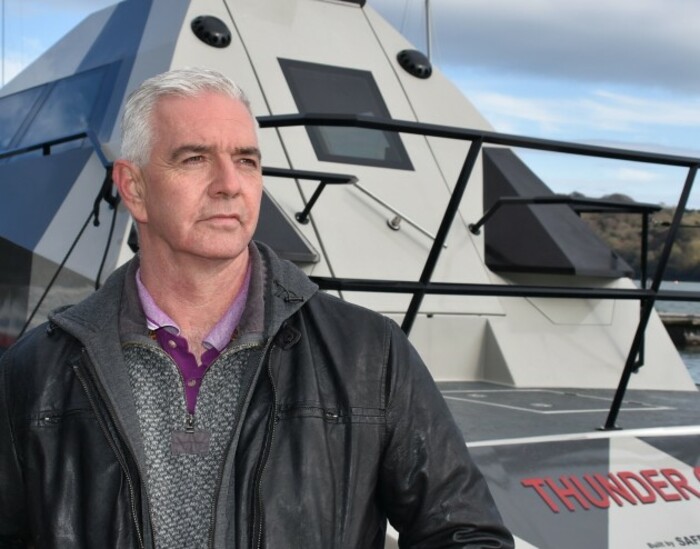 Source: Safehaven Marine
Humble beginnings
While Safehaven Marine has found itself a lucrative niche – the firm recorded a profit of more than €400,000 in 2015 and employs around 30 staff – the former fisherman's business had humble beginnings.
"I was a commercial skipper and had a charter angling business," Kowalski said. "I had a small boat with limited seating and decided I needed a larger boat, and the only way I could get one was by building it."
The company began developing vessels for specialised tasks, such as pilot and patrol boats for harbour authorities.
However, the market for these pilot boats, which ferry harbour-based captains out to vessels to guide them to shore, was very small.
So Kowalski gambled on military hardware – investing €1 million into the development of the first stealth boat, the Barracuda.
The vessel's shape and materials give it a low 'radar cross section' – meaning it is much harder to detect using radar than a traditional patrol boat.
"It was a natural progression … We had built a couple of normal commercial boats for a navy and were turning over around €5 million a year," Kowalski said.
"But we couldn't really see that increasing unless we broke into another market. So we decided to branch out into the military sector.
"We took a gamble that there would be a requirement for something like Baracuda. With anything like that, you can't go along to an organisation and say this is an idea. You need to build a prototype to prove the design."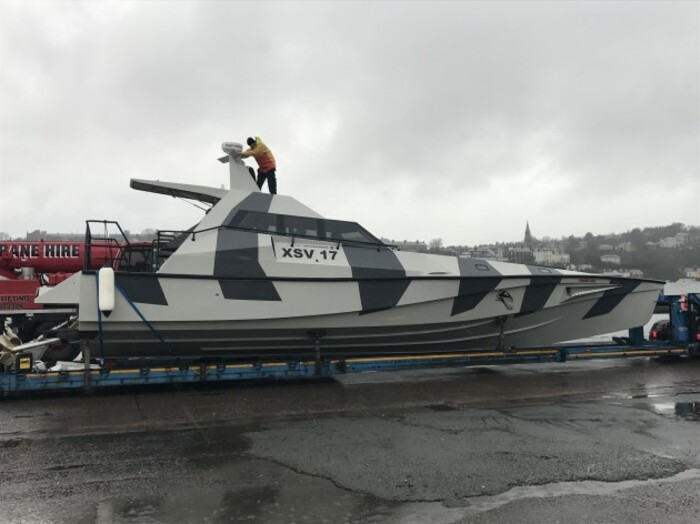 Source: Safehaven Marine
Big deal
Since it was first set up, the company has developed 125 boats at its factory in Cork for clients from 26 countries spanning the Middle East, Asia, Europe and North America.
While Kowalski closely guards the identities of the organisations that purchase his boats, he confirmed that a big deal with a major European nation was on the near horizon.
"It's a difficult and protracted process. We have taken off nearly three years to be able to generate a good military contract and now we're on the cusp of signing a large naval contract," he said.
[embed id="embed_2"]
But Kowalski added there was the possibility Safehaven Marine's boats could also make their way into the hands of the general public with non-military specifications – although the vessels don't come cheap, at around €1 million apiece.
"The design of Thunderchild means it can be built in any format – it could be a pleasure boat with nice accommodation.
"So potentially a rich Arab could come along and order these as a pleasure boat, but we don't see that as a target market for us. Our aim is to make these for law enforcement agencies and navies."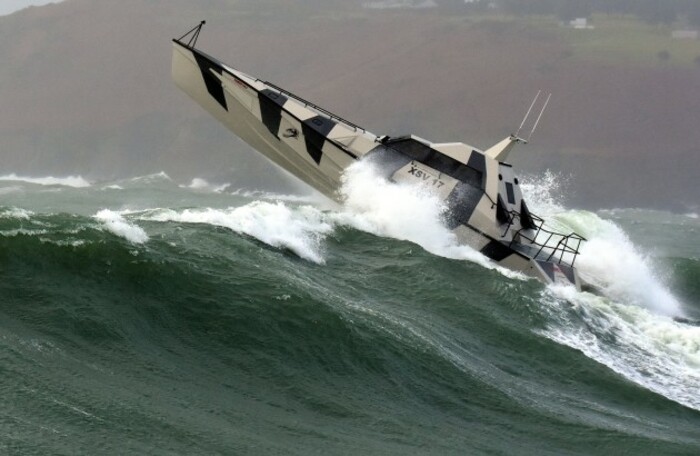 Source: Safehaven Marine
Increasing production
For now, there are no confirmed orders for the Thunderchild, but Kowalski said he expected the record attempt will shine a spotlight on the project.
"There is a lot of interest in Thunderchild. The existing contacts we have made are all watching us carefully to see how it goes.
"But we have to be realistic about what you can achieve, because any contract you do sign is going to involve bankrupting penalty clauses. So you have to be careful you don't take on more than you can deliver."
However, if the firm is successful in securing a large buyer, Kowalski added that it likely to significantly increase its current staff.
"We employ 25 to 30 people and, I suppose, if we were only focused on Thunderchild, we could produce seven or eight of them a year. So if we do get a large contract, we will have to expand by 100% really.
"All the existing work is forecast to stay on because it has proven very successful as a mainstay, so we could hopefully double our production."
read more on