Irish Ryanair pilots have served notice of a strike five days before Christmas
A number of workers, mostly captains, backed industrial action in secret ballots.
RYANAIR PILOTS WHO are members of the Irish Airline Pilots' Association (Ialpa), a branch of Impact trade union, have served company management with notice of a one-day strike on 20 December.
Irish-based, directly-employed pilots – mostly captains – will withdraw their labour in an action that Impact said will "either disrupt flights or generate substantial costs to the airline".
The pilots backed industrial action by a margin of 94% to 6% in secret ballots conducted over the last week.
According to the union, the dispute is "over Ryanair management's refusal to enter direct negotiations with the European Employee Representative Council (EERC) or Ialpa as the sole independent representative body for pilots working in the company".
"The airline has so far refused to recognise the EERC or Ialpa, and insists that any discussion of pay and working conditions be conducted through management-controlled 'employee representative councils.'"
The union has warned of further strike days if agreement is not reached.
"Although the number of employees involved in the strike is fewer than the total number of Irish-based Ryanair pilots, the action will have impact because planes cannot legally or safely fly without a captain," Impact said.
The union said it has has made repeated attempts to open discussions with airline management in recent months.
Impact official Ashley Connolly said Ryanair was the only Irish-based airline that refuses to recognise independent pilot representatives.
The airline has repeatedly stated that it does not engage with third-party unions and that all contract and pay negotiations are dealt with internally through 'employee representative councils'.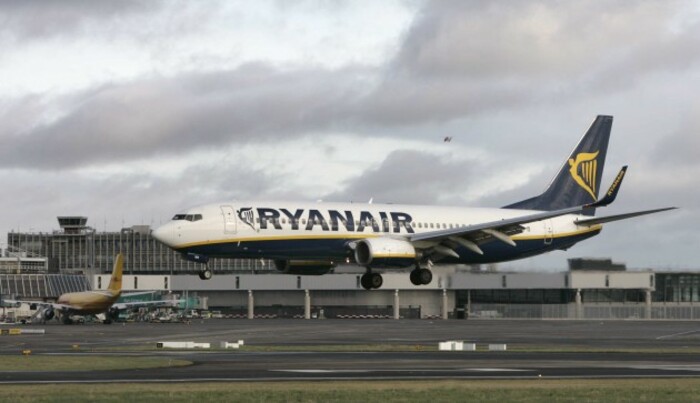 Source: Mark Stedman/RollingNews.ie
Ryanair said that it "welcomes" the notice of industrial action. The company said the threat comes from less than 28% of its pilots and accused what it referred to as an "Aer Lingus pilots union" of using the action to get recognition.
"Ryanair will deal with any such disruptions if, or when they arise, and we apologise sincerely to customers for any upset or worry this threatened action by less than 28% of our Dublin pilots may cause them over the coming days," it said.
While it acknowledged that some disruption may occur, Ryanair said it believes the strike "will largely be confined to a small group of pilots who are working their notice and will shortly leave Ryanair".
It also said that any Dublin pilots who participate in industrial action will lose certain pay benefits and promotion opportunities.
Following on from the airline cancelling 2,100 flights between September and October and a further 18,000 between November and March, there have been widespread reports of discontent among pilots at the airline.
A number of pilots have demanded improved pay and conditions from the airline and the right to have union representation for collective bargaining across all of Europe, which the company has repeatedly rejected.
Pilots at a number of bases – including Dublin, London Stansted and Madrid – previously turned down proposals from management around pay and conditions.
Written by Michelle Hennessy and posted on TheJournal.ie, with additional reporting by Conor McMahon
Note: This article was updated to include a statement from Ryanair
Sign up to our newsletter to receive a regular digest of Fora's top articles delivered to your inbox.
read more on