Ryanair's chief trainer says Ireland should be the capital of the billion-euro student pilot industry
More than 500,000 new 'skippers' are expected to be needed over the next two decades.
IRELAND COULD BECOME a "centre of global excellence" for commercial pilot training with minimal investment, Ryanair's top flight instructor has said.
The budget airline's head of training and deputy chief captain Andy O'Shea told the National Civil Aviation Forum this week that the world's aging pilot population could be a boon for Ireland's aviation skills sector.
O'Shea said that more than a third of the current stock of pilots around the globe will retire within the next decade.
"The conservative estimate that I've researched is that between now and 2026, the world needs 250,000 pilots," he told the gathering of transport execs and students. "Each of those represents a spend of about €100,000 just for the technical qualification."
With the number planes in the sky set to double over the next two decades, aircraft makers Boeing and Airbus have estimated that carriers will need between 560,000 and 617,000 freshly minted pilots by 2035.
Click here to view a larger image
O'Shea said Ireland is already equipped to become a Mecca for teaching that new generation of captains how to fly.
"We have fantastic assets here," he said. "I see all the elements on the table right now where we could assemble a centre of global excellence in airline pilot training with very, very little investment."
He said Ireland has plenty of available airspace to facilitate training.
"The gold that we have to offer," he said, "is that this country and airlines in this country are generating what every student pilot wants at the end of the day, which is a job."
Safety record
Nevertheless, O'Shea added that Ireland only has "a sliver" of the worldwide training market right at present.
There are currently 10 training organisations on the island that are approved by the Irish Aviation Authority (IAA) to prepare students for their commercial pilot licence (CPL) and airline transport pilot licence (ATPL). Half of them are associated with specific airlines.
O'Shea singled out Cork-based Atlantic Flight Training Academy as an example of a school that could be "set up on a national scale" with facilities throughout the country.
"Right now, we have student pilots being imported to Ireland by that academy and they're coming from Turkey, from Libya, from Kazakhstan," he said.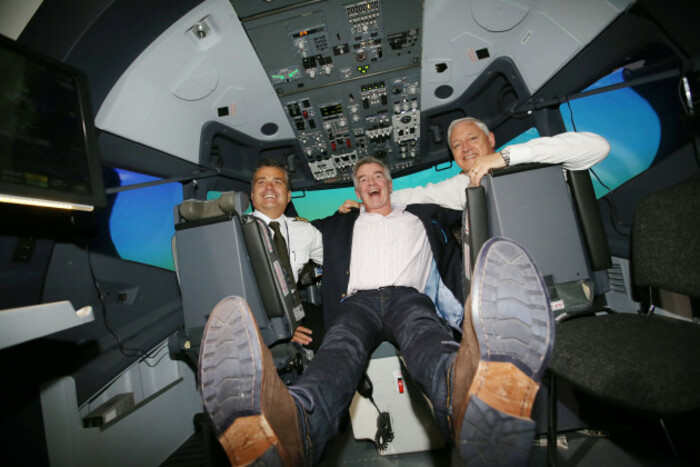 Source: Rollingnews.ie
Ireland's long history of flight and stronghold in the aircraft leasing and financing sectors means the island has demonstrated it has "the experience and the wealth of practical skills"  to lead the way in aviation education.
O'Shea said the IAA, the state's air-safety watchdog, is "regarded as one of the top-five authorities in the world" by the UN's International Civil Aviation Organisation.
"That is an asset because compliance is a very important part" of providing quality training in a sector that relies heavily on maintaining a good safety record, he said.
Ireland could easily become "a standard-bearer of solid, safe pilot training" by hitching a ride on the IAA's wings.
However, a good safety record alone won't cut it.
"There are enough compliant organisations out there in Europe and elsewhere that are producing the type of pilots that Ryanair wouldn't accept," he said, suggesting that the quality of graduates from some schools isn't high enough.
Ireland could prove itself to be a producer of quality pilots by standardising training.
"No matter what simulator or cockpit or classroom you went into in Ireland, you would hear pretty much the same thing. That way, the message would go out that Ireland is producing quality, safe pilots," he said.
"At the end of the day, we still have to have two, well-trained pilots at the front end of each of these aircraft to keep the system going."
read more on