Dublin-based Ryanair pilots have voted in favour of industrial action
The airline has dismissed the ballot taken by a third-party union as 'PR activity'.
A NUMBER OF Irish Ryanair pilots have voted in favour of industrial action, but the airline has dismissed the ballot as "PR activity".
A ballot of Dublin-based pilots was carried out today by the Irish Air Line Pilots' Association (IALPA), which is affiliated with the trade union, Impact.
There were 84 ballot papers issued with 79 respondents voting in favour of industrial action.
The ballot only covered direct employees and not the large number of contractor pilots hired through agencies and individual companies.
Ryanair pilots in Italy already served notice of a four-hour work stoppage due to take place this Friday. Portuguese pilots have also voted in favour of strike action, but have not yet served notice.
In response to a query from Fora, a spokesman for Ryanair said that the airline has received "no notification of industrial action" by Dublin pilots and dismissed the vote as "more PR activity by Aer Lingus pilots group IALPA".
"Now that Ryanair's Cork, Shannon and Belfast bases have agreed 20% pay increases we expect the Dublin pilots to follow this trend," the spokesman said through a statement.
He added that if pilots are "misled" into industrial action, they will "lose their favorable rosters … and remuneration benefits that are specifically linked by agreement to dealing directly with Ryanair".
He said that if industrial action does occur, Ryanair will still not engage with pilots through IALPA.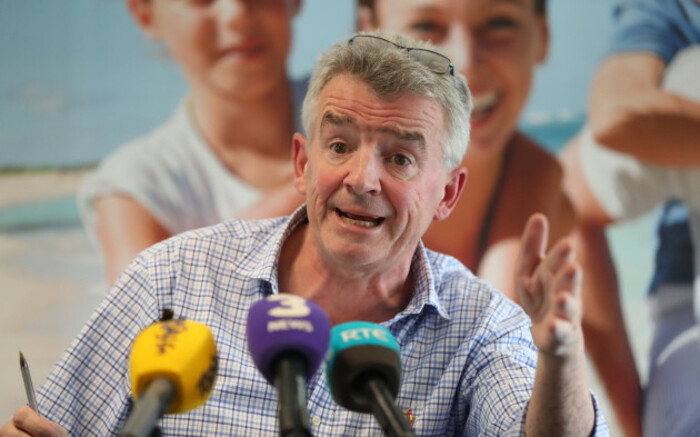 Source: Niall Carson/PA Wire/PA Images
Third-party unions
Ryanair has repeatedly stated that it does not engage with third-party unions and that all contract and pay negotiations are dealt with internally through 'employee representative councils'.
While workers can be members of external unions, the airline does not recognise them when it comes to negotiating pay and conditions.
Following on from Ryanair cancelling 2,100 flights between September and October and a further 18,000 between November and March, there have been widespread reports of discontent among pilots at the airline.
Pilots have demanded improved pay and conditions from the airline and the right to have union representation for collective bargaining across all of Europe, which the company has repeatedly rejected.
Last week, the airline wrote to Dublin pilots warning them not to engage in any strike action and threatened to cut benefits and pay if they did.
Pilots at a number of bases – including Dublin, London Stansted and Madrid – previously turned down proposals from management around pay and conditions.
Written by Garreth MacNamee and posted on TheJournal.ie, with additional reporting by Conor McMahon
Note: This article was updated to include a statement from Ryanair.
Sign up to our newsletter to receive a regular digest of Fora's top articles delivered to your inbox.
read more on