'We own the future of travel – nobody is going to get remotely bloody close to us'
Michael O'Leary claims Ryanair will 'eliminate' Booking.com in the next 10 years.
RYANAIR CHIEF EXECUTIVE Michael O'Leary has said the low-cost carrier is going to try and "eliminate" third-party booking sites like Booking.com over the next decade.
Speaking at the Future Travel Experience conference in Dublin's RDS today, an explosive O'Leary let rip at the platform, describing it as "rapacious" and "useless".
"The future of air travel is that the clever airlines are going to 'own' the customer," he told the gathering of aviation bigwigs.
"It's not going to be owned by some bloody disintermediator. It's going to be owned by the airlines because we are the ones that have the first contact with the customer.
"We own the future of travel. Nobody else is going to come remotely bloody close to us because nobody else is going to get remotely close to either our costs or our fares."
O'Leary said that the vast majority of travellers plan their holidays around the price of an airfare. He said airlines "screw up" by letting passengers get overcharged by third-party sites.
"There's a unique opportunity for the airlines to continue to develop and grab hold of the customer," he said. "The airlines have been historically awful at developing customer relationships.
"In the past, I've made a whole career out of the idea that my ideal customer was somebody with a credit card and a pulse – the pulse without a credit card was more important than the pulse because if you died you still weren't getting a refund."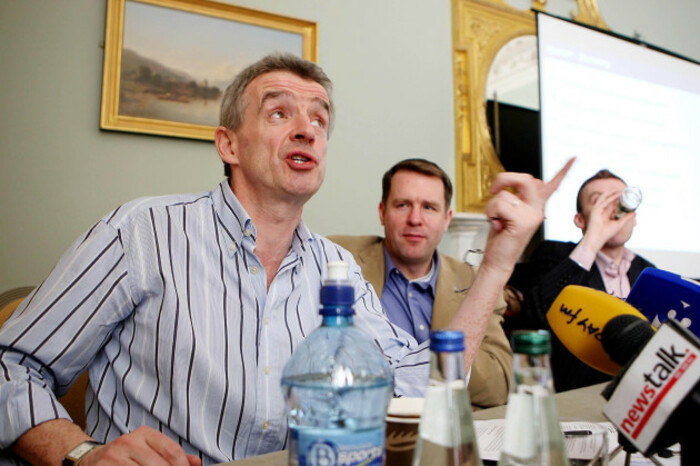 Source: PA Archive/PA Images
Lower commission
As Ryanair fleshes out its mobile app and digital offering, O'Leary said it will squeeze out the likes of Booking.com by advertising hotel providers' rooms for lower commissions.
"We'll offer (hotels) distribution through Ryanair.com for 5% commission," he said, compared to Booking.com's minimum 15% charge. To incentivise customers, Ryanair will shave 5% off the room rate, he added.
"We'll do it (distribution) for nothing. By doing it for nothing, that's how we're going to break the likes of Booking.com."
He also said that the airline will collaborate with airport retailers by letting customers pay for duty-free products for a discount through Ryanair's app.
O'Leary said that would move revenue away from the "greedy claws of the monopoly airports", which he described as "big, fat, dumb bastards".
"We should all be working together to screw the airports because the airports have been screwing us probably since Wilbur and Orville (Wright) first flew," he said. "It's payback time."
Ryanair Labs
On the future of Ryanair, O'Leary said the carrier is looking to beef up the workforce at Ryanair Labs, the airline's digital innovation hub.
He said the carrier currently employs 200 people at Ryanair Labs in Dublin alone, a figure he expects to swell to 800 by 2021. The airline also has digital hubs in Poland and Spain, and is seeking a fourth European location.
"In 10 years time, we'll be a big digital platform with an airline attached," O'Leary said. "Ryanair the airline with 200 million passengers (by 2024) will just be a tit."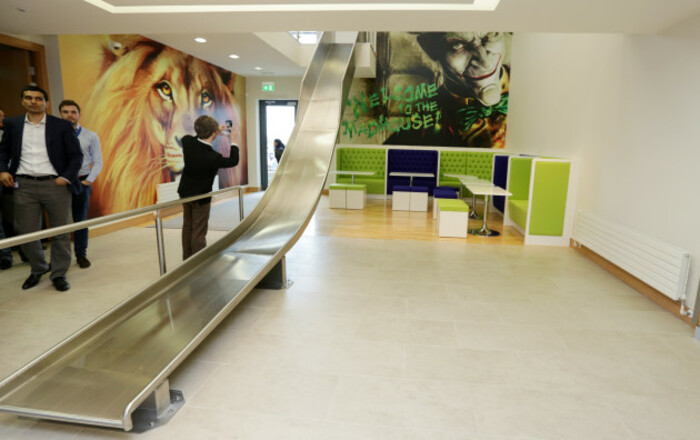 Source: Laura Hutton/Photocall Ireland
O'Leary added the flights side of air travel is "not up for disruption" at the moment.
"Eventually some spotty fucking kid in California or deepest darkest Russia is going to invent the Star Trek of travel," he said. "Then I'm out of a job."
Asked whether there is a tech company that has tickled his fancy, O'Leary said he couldn't think of a technology he would like to buy – unless it was free.
O'Leary described himself as "an old fart, a technology turd" who still doesn't use email or a computer – "I don't have time to be listening to anybody else's gossip".
He said it's his job to keep younger members of Ryanair's executive team from getting overly-excited about what he considers overpriced travel-tech startups.
"Anybody that has 'solutions' in their name, we would not let them inside the building," he said.
Sign up to our newsletter to receive a regular digest of Fora's top articles delivered to your inbox.
read more on