Here's what pundits make of Ryanair's decision to cut back its growth plans
The airline reduced its summer 2020 schedule in light Boeing 737 Max delays.
RYANAIR'S DECISION TO scale back its growth plans for summer 2020 in light of the ongoing grounding of the Boeing 737 Max aircraft has been described as a "mixed bag" by aviation pundits.
The airline told the London Stock Exchange this morning that it is likely to take delivery of 30 new Max aircraft for the summer 2020 schedule instead of 58 as previously expected.
Ryanair CEO Michael O'Leary said that for planning purposes, the low-cost carrier has adjusted its projected summer 2020 growth rate from 7% to 3%, which means that full-year traffic for the 12 months to March 2021 will be cut from 162 million passengers to 157 million.
"We are starting a series of discussions with our airports to determine which of Ryanair's underperforming or loss-making bases should suffer these short-term cuts and/or closures from November 2019," O'Leary said in a statement.
It is unclear when the Boeing 737 Max aircraft will return to airspace following two fatal crashes. Since Ryanair has ordered a variant of the Max aircraft – dubbed the Max 200 – it will require separate certification from US and European aviation regulators.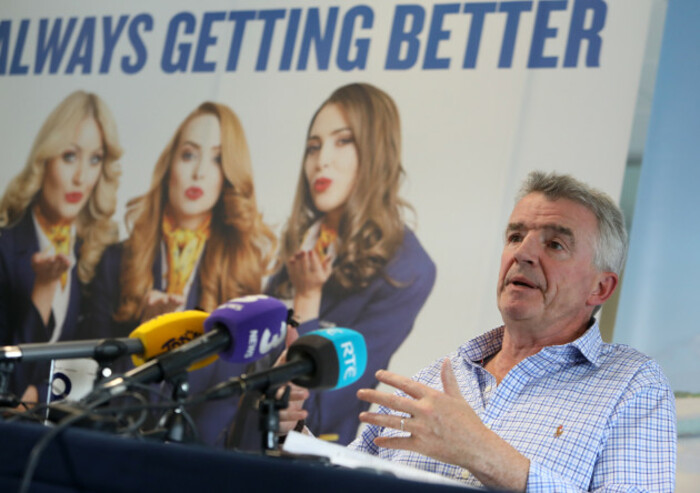 Source: Leah Farrell/Rollingnews.ie
Reaction
Mark Simpson, an analyst at Goodbody stockbrokers, told investors in a briefing note that today's announcement could be considered a "mixed bag".
He noted that Ryanair won't be able to benefit from the reduced fuel costs promised by the more economic 737 Max. It may also have to deal with higher maintenance costs during the winter associated with flying some of its older planes.
However, on the other hand, one of the benefits of scaling back its growth plans is that it provides Ryanair with an opportunity to rationalise some of its bases.
[embed id="embed_2"]
"While this may require some delicate negotiations with unions, there is clearly an opportunity here to improve its cost base," Simpson said.
Davy analysts said they expect the Boeing 737 Max aircraft to "ultimately deliver savings" to airlines like Ryanair and provide opportunities for new deals.
Another industry watcher – Travel Extra editor Eoghan Corry – suggested the delays with the delivery of the aircraft will provide Ryanair with an opportunity to push for better deals with Boeing.
"(Ryanair is) such a big customer that they cannot only give an order that can make a difference to (Boeing's) balance sheet … they can also affect the confidence in the aircraft. What we are seeing at the moment is Ryanair rattling a few cages talking about closing down bases," Corry claimed.
"Lots of other airlines have talked about it, including Norwegian, but this is the first Ryanair have publicised the fact and I suspect that is part of a strategy by Ryanair to get better terms."
 Get our Daily Briefing with the morning's most important headlines for innovative Irish businesses.