Michael O'Leary says Europe's skies could face 'full meltdown' this summer
The Ryanair boss warned staff shortages and strikes at air traffic control may hurt millions of passengers.
RYANAIR HAS WARNED that European air services could experience a "meltdown" this summer in the face of strikes and staff shortages at air traffic controllers.
The low-cost airline has called on the EU Commission and European governments to "arrest the alarming deterioration" of the continent's air traffic control (ATC) services and "prevent a full meltdown" during the peak summer travel season.
In May, the Dublin-headquartered carrier cancelled over 1,100 flights, affecting the travel plans of some 200,000 customers, which it blamed on French ATC strikes and staff shortages among European air traffic controllers.
French workers are due to strike again this Saturday and Sunday, which will result in "hundreds of flights being cancelled," Ryanair chief Michael O'Leary said. Further strikes are scheduled for later this month.
"Many of these flights don't even touch France, yet they will be (disrupted) because French ATC requires airlines to cancel overflights while they protect French domestic routes."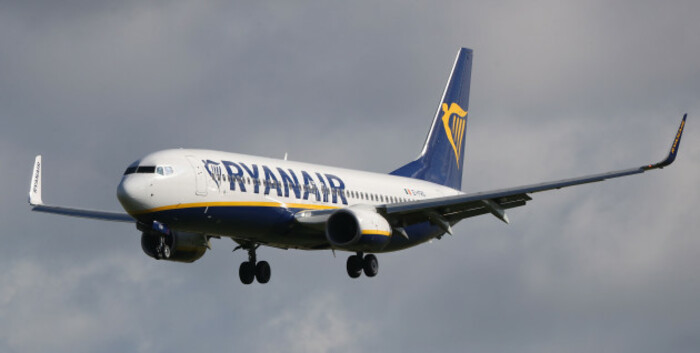 Source: Niall Carson/PA Wire/PA Images
Staff shortages
O'Leary said airlines are experiencing "unacceptable" delays and cancellations because of staff shortages, particularly at German and UK ATC providers.
"Europe's ATC providers are approaching the point of meltdown with hundreds of flights being cancelled daily simply because they don't have enough staff to deal with them," he said.
Ryanair's outspoken boss claimed the situation is worsening on weekends because "British and German ATC providers are hiding behind adverse weather and euphemisms such as 'capacity restrictions' when the truth is they are not rostering enough ATC staff".
O'Leary said the EU and the UK and German governments must take "urgent action" to address the issue, "otherwise thousands more flights and millions of passengers will be disrupted, particularly in the peak months of July and August".
Ryanair's boss is not the only airline chief executive to raise concerns over the ATC situation in Europe.
At the CAPA Airline Leader Summit in Powerscourt, Co Wicklow last month, Willie Walsh, CEO of Aer Lingus owner IAG, told the conference that ATC strikes are one of the biggest pain points for airlines.
"It's killing us in Europe … It's destroying customer experience in Europe and it's getting worse," Walsh said.
Sign up to our newsletter to receive a regular digest of Fora's top articles delivered to your inbox.