A top Ryanair exec wants to give tourists a platform to slag pubs with pricey pints
Kenny Jacobs says tourism bosses need to focus on good value and getting people to revisit Ireland.
RYANAIR'S KENNY JACOBS thinks tourists who visit Ireland should be given a platform to complain about poor-value services in a bid to get more people to make return trips.
The budget airline's marketing chief even proposed a name for the joke app – 'MyIreland', based on the carrier's own MyRyanair offering - at the Annual Tourism Policy Workshop in Dromoland Castle, County Clare.
Jacobs, however, used the gimmick to draw attention to a more serious point – that Ireland's tourism offering was expensive, without delivering 'Premier League' quality.
Ryanair is known for pulling stunts to drive a point home – and the marketing whiz took no prisoners when he addressed the gathering of tourism chiefs and academics.
"We need to get better at getting people back," he said. "One in three tourists that come to Ireland come back again once in their lifetime. That's a fairly poor statistic."
'Too expensive'
"I would give them targeted offers," Jacobs said. "If they were American, I'd give them 25% off Durty Nelly's (pub) because you know that's where they're going to be. I would get feedback from them while they are in Ireland.
"If they do go into a pub and they do get ripped off, we should encourage them to share that socially. We should then publicly berate that pub for being too expensive."
He told the room of tourism bosses and academics that, at the end of the holiday, Ireland would "give them 10% off (their entire holiday) next year. If they come back a third year, I would give them 20% off."
Speaking more sincerely, Jacobs said many tourism businesses in the county were simply too expensive for the quality of service offered.
"I think it plays a bit to our DNA, which is, 'get them here once, get as much out of their pockets as you possibly can and if they come back, they come back'.
"That's not the way you would run a hotel. That's not the way you'd run a restaurant. And that's not the way you would run a country."
Jacobs also argued that poaching visitors back to the island would not be done by traditional marketing.
"You don't just show them a big, lovely TV ad with a voice-over by Liam Neeson saying, 'It's still a beautiful, lush island, you should come back'."
He said a financial incentive is more likely to increase recurring visits and stressed that holidaymakers buy on price.
"That's the way it works in our business (aviation), that's the way it works in the supermarket business, and I think that's something that (tourism businesses) could develop."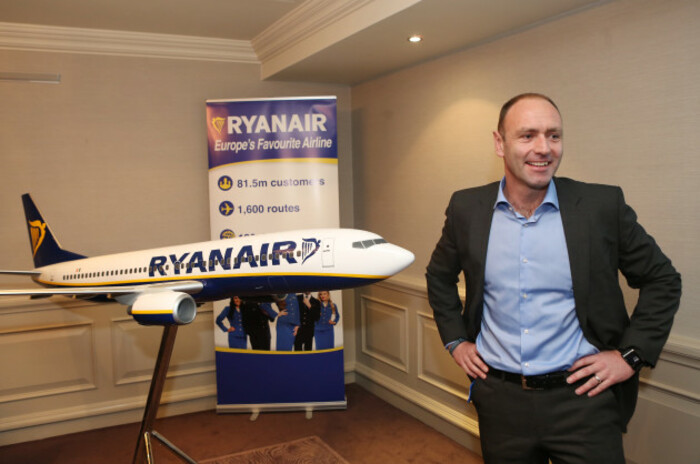 Source: Sam Boal/Rollingnews.ie
Beware Scotland
Ireland's unpredictable weather is a big deterrent for young families in particular, he said, mostly because there is a lack of activities for rainy days.
"We will wax lyrical about the Guinness Storehouse, Titanic Centre, Tayto Park. What's next? There are not enough activities.
"We've done a great job with the Wild Atlantic Way, but it's reaching saturation point now. Ireland's Ancient East is going to be a harder sell because not even Irish people understand it."
Jacobs said that Scotland poses the biggest threat to the travel industry in Ireland, noting that he meets the Scottish tourism authority once or twice a year.
"They have a picture of Ireland as the enemy," he said. "They have the lakes, better golf, céilís, whiskey. They have a lot of those Celtic things that the Americans love. But it's just much cheaper."
read more on