Dustin, Take That and MTV: The animated life of Ronan McCabe
After two decades in Irish television, Ronan McCabe is reintroducing himself as the new CEO of Animation Ireland
"UNIQUE IS THE only word. You couldn't have scripted it," says Ronan McCabe, describing his eventful first week as chief executive of Animation Ireland. 
"I only started the job last week, so I was only in the place when we got that statement from the government on Thursday (about Covid-19). We're having all our meetings online," McCabe says during a call on Monday afternoon. 
"So much of what I do anyway is online, (but) I would like to have been able to visit all the studios and meet all the studio heads. I actually had some stuff scheduled in for Friday, I was going to go down to Kilkenny but we just did it by phone call."
After more than two decades of a career including singing live with Take That and Zig and Zag on UK TV and working with Simon Cowell "before he was famous", working from home shouldn't be too much of a setback for McCabe. 
Animation Ireland is a lobby group for the Irish animation industry and formally came together in 2015 – though it has been around in some guise for longer.
Five years ago it raised funding through member subscriptions and from RTÉ and Screen Ireland. Right now it has 30 members. 
The industry is in the midst of a boom, with investment tripling since 2015 to €180 million annually and employment figures in the sector doubling to about 2,000. 
"I've been involved in Animation Ireland for a few years anyway, so everybody knows me and I know everybody else. But sometimes you want to reintroduce yourself within the new role," he says.
'The eye of the storm'
In the late 1980s, McCabe graduated with a commerce degree from UCD, went into a job at KPMG and qualified as a chartered accountant. He worked there for four years before he realised it wasn't for him and went travelling the world. 
"I came back and I thought I'd really like to do something different. I ended up meeting a guy I used to work with in KPMG, and his brother was Zag from Zig and Zag," McCabe says. 
"He (the brother) looked after them part-time when they were on Irish television, but they were making a move to this TV show (in the UK) called the Big Breakfast. They needed somebody with a bit of a business head on them to help them out," he says. 
"I was only back from travelling, I thought I'd end up going off again. I met the Zig and Zag lads, we hit it off and we ended up working together for 20 years."
As managing director of Double Z Enterprises, along with Ciaran Morrison and Mick O'Hara, McCabe was part of the team responsible for the irreverent puppetry of Podge and Rodge – and national icon Dustin the Turkey. 
"We did many TV shows for RTÉ, TV3, Channel 4, ITV, MTV, BBC. we filmed stuff in the States and all over. we did a whole load of licensing and merchandising. We put on stage shows, pantos, we did DVDs, books – everything," McCabe says. 
"It was absolutely brilliant. I had great fun working with the guys, it was also successful financially. A lot of the characters they created are iconic, aren't they?"
According to McCabe, it was the perfect division of duties, with him looking after the business side and his partners on the creative side. 
"They did the funny, I did the business. It was great because I had negotiated contracts, deals and merchandising with broadcasters and they just kept coming up with the goods, time and time again," he says. 
"It was like being in the eye of the storm."
When Podge and Rodge hit screens in the early 2000s, "it just captured everybody's imagination," McCabe says – and it was the same for Zig and Zag and Dustin. 
"It was being talked about on the Joe Duffy show, it was being condemned by the Archbishop of Dublin and contemporary politicians. It was just so much fun," he adds, laughing.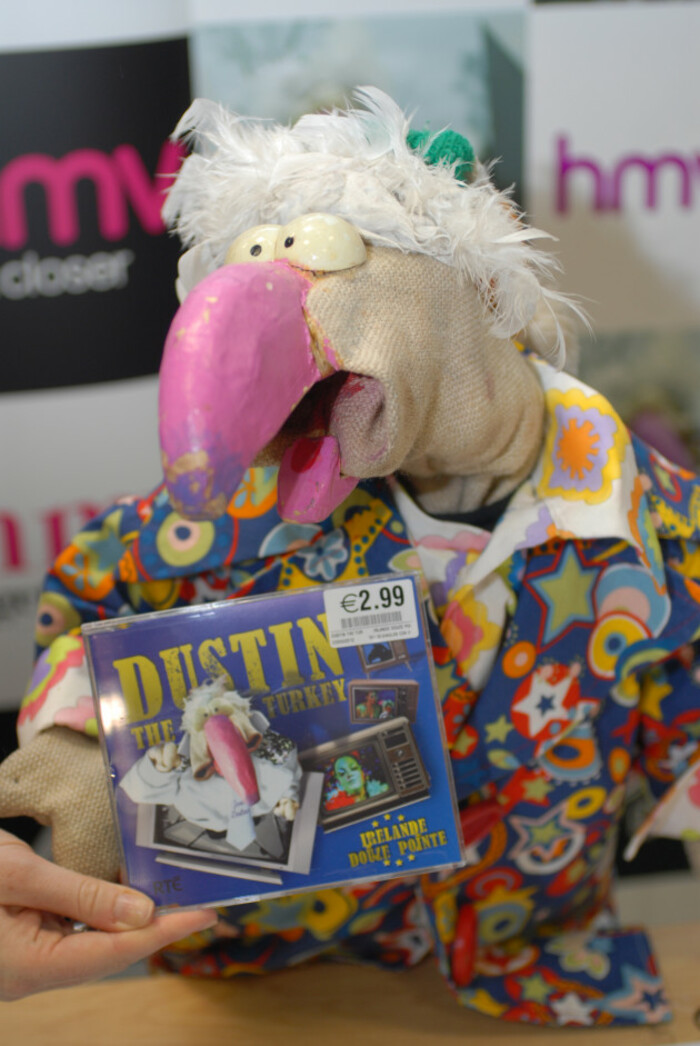 Source: Sasko Lazarov/Photocall Ireland
'A golden era'
McCabe moved on in 2014 when O'Hara and Morrison decided to focus on writing.
Before taking his current job, he worked as a consultant and as a mentor with Enterprise Ireland. In that time, he reckons the main change in the industry over the last 20 years is how content is delivered. 
"Content creation hasn't really changed that much. It's down to smart creative people coming up with good ideas," he says. 
"When we started off, the traditional broadcasters would have been the gatekeepers," he adds. Now, you're more likely to see new content coming out on YouTube and other online media. 
"The jobs that exist now didn't exist 20 years ago. Social media didn't exist 20 years ago. That's had the most effect on distribution."
That change has largely been positive, according to McCabe – as long as you can adapt. 
"You have to make sure you get your content to these new people and channels," he says. 
For Double Z, that meant Dustin releasing new music every year – and keeping in touch with the many Big Breakfast employees who wound up in national broadcasters here and in the UK. 
Online streaming giants have also reshaped the landscape. 
"It's an absolute golden era for animation studios in terms of the demand for content. It's absolutely massive – 20 years ago there were about 70 people working in animation, now there's the guts of 2,000 in Ireland."
As of yet, there's no sign of that tapering off, he says, and there are a lot of opportunities. 
"We punch way above our weight in terms of animation. We're well-regarded, and a lot of other European countries would look to us to see how we have organised ourselves as studios and an industry," he says. 
"The opportunity is the fact that there's so much money out there and so much demand for content," he adds. 
'The prism of other cultures'
As with any booming industry, there are always bumps in the road and aside from the coronavirus, there are other issues McCabe plans to focus on.
The section 481 tax credit – which incentivises TV and film production in Ireland -underpins business in the sector and is an ongoing issue for the industry. McCabe is focusing on making sure it's retained.
There's also education and talent retention. "With this big boom, it's fantastic but you need bodies, people and recruits. That's another big issue," he says. 
Right now, that's a bit of a challenge, but "we're pushing on an open door" when it comes to stakeholders, he adds. 
Bolstering our global reputation as a nation of storytellers, Irish animators are branching out into more international stories such as Cartoon Saloon's 2017 film The Breadwinner, about an Afghan girl providing for her family. 
"They're universal stories told through the prism of other cultures. They're probably more reflective of Ireland now – even back in the 90s we were still monocultural. Now, we're so multicultural, there's so much going on. It's a much more exciting and vibrant place," he says. 
Get our Daily Briefing with the morning's most important headlines for innovative Irish businesses.