A trade union report has called on the government to legislate for a 'right to disconnect'
FSU said that 'employers left to themselves will use technology to reduce costs, to maximise profits'.
THE GOVERNMENT SHOULD mandate a 'right to disconnect' to create a clear line between employees' working and private lives, according to a new trade union report.
The Financial Services Union (FSU) published its report today into technological advances like automation and 'always-on' working culture in the financial services and technology sectors.
It found that workers feel under increasing pressure to be available to answer work calls and emails outside of working hours and are often unpaid to do so.
The findings show that only 7.4% of respondents feel their employer is making efforts to curtail the overuse of technology for work purposes.
Together with the University of Limerick, the FSU conducted a survey of 2,000 workers to inform the report.
"Technology is not by definition a good or a bad thing," Gareth Murphy, head of industrial relations and campaigns, said.
However there is a need to regulate its implementation in the workplace to ensure workers are treated fairly and not overstretched, Murphy added.
"We know that employers left to themselves will use technology to reduce costs, to maximise profits and maximise income," he said.
"We feel that legislation and regulation, that engagement with trade unions, is necessary to ensure that all mutually benefit from the introduction of new technology and that no one is left behind."
'Right to disconnect' legislation has been adopted in countries like France, Spain and Italy in recent years.
The FSU and University of Limerick pointed to these frameworks for guidance on how to implement such legislation in Ireland.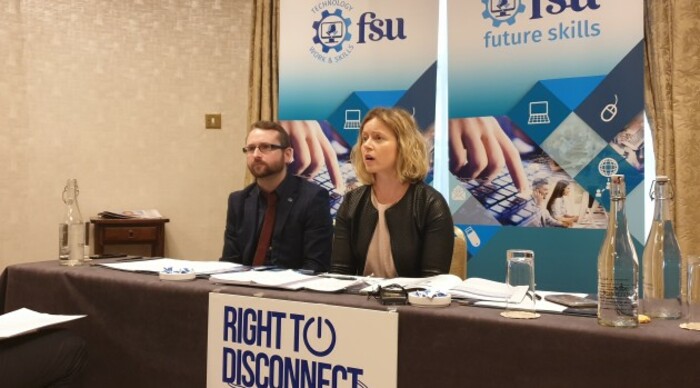 Michelle O'Sullivan of the University of Limerick said that these laws do not specify certain cut-off times for workers to stop taking calls or emails but rather mandate that employers negotiate policies.
"In the legislation that was introduced in France, Italy and Spain in the last two years, they haven't dictated specific measures that companies should undertake," she said.
"Instead what they've emphasised is that companies have to have policies and they have to be negotiated with trade unions and with employees as to what those measures will be.
"There's an obligation on employers that there will be a right to disconnect but how they do it should be negotiated."
Business Minister Heather Humphreys, who was present for the report's launch, said the government has established an interdepartmental group to look at various issues around the evolving state of the workplace and this will consider the 'right to disconnect'.
The group is expected to publish its finding by the end of the year.
The FSU's Murphy said that while its study focused on financial services and technology, these issues are not unique to these sectors.
The report further highlighted the need for employers to invest in re-skilling current employees, and in the mobility of staff within an organisation, in response to tech advances and automation.
It encouraged increased collaboration with educational bodies and bringing more women, foreign talent and older people into the workplace.
Get our Daily Briefing with the morning's most important headlines for innovative Irish businesses.