Pension providers will 'cease to exist' if they don't talk to young workers in the right way
Insurance giants like Aviva are using online gimmicks to get young people to 'engage" with retirement funds.
"IN FUTURE YEARS, our competitors won't be the local insurance companies in Ireland. They will be the Googles and Facebooks of this world and we have to step up."
Ian Tracy, marketing manager of Aviva Ireland's life insurance arm, told Fora the pensions industry is due a shake-up.
Young people that entered the workforce during the recession realise that pension pots are important, but they don't "engage" with them, he said.
That's why the insurance giant is looking to make retirement trendier through an online marketing campaign that talks about the price of a pint in 2045 instead of selling "idealistic visions of elderly people on yachts".
"If we don't start talking in the language that young people are interested in, we will cease to exist," Tracy said. "We'll be seen as this fuddy-duddy insurance company."
He says the pensions industry "has been behind the curve" in terms of educating the market, certainly in comparison to the banking sector.
"People find pensions confusing," he said.
"It doesn't involve buying a financial product. You're investing in the stock market, which scares the bejaysus out of most people because there are always horror stories."
Apps
The multinational's London headquarters recently launched the 'digital garage', a converted warehouse located in the gritty Hoxton district where executives ditch their ties for t-shirts and dream up pension products for the tech-savvy generation.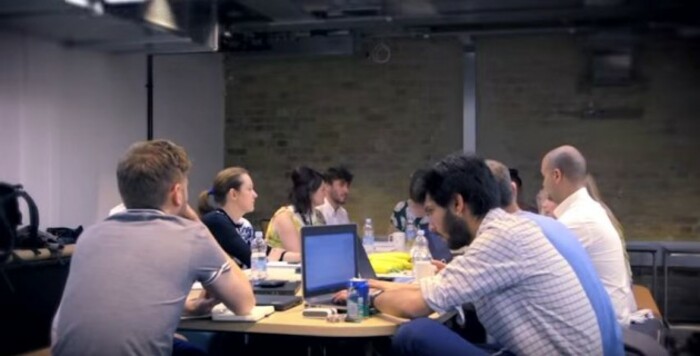 One of the first products to come out of the 'garage' was the Shape My Future app, which shows customers what kind of lifestyle they can afford at retirement age based on their current savings.
A similar tool was launched by Aviva Ireland called Mind The Pensions Gap, which is a website where customers calculate the gap in their retirement fund.
Although Ireland's pensions market is different to the UK's – which is largely driven by auto enrollment – Aviva Ireland is still keeping an eye on what's coming out of the 'garage'.
"Everyone is educated on banking stuff because the banks do a great job of getting people young," Tracy said. "We as an industry don't do that."
The next step, he says, is to re-purpose the UK's policy-managing MyAviva app for Ireland, which is expected to happen in the new year.
[embed id="embed_2"]
Opportunities
Aviva is not the only multinational tinkering with online tools for the smartphone generation.
Most of the main providers have mooched into this space: Zurich Life, for example, launched an app three years ago.
"Tools like our 'Risk Profiler' help people to understand their attitude to risk before making an investment," the company's head of online and digital marketing, Sean Carty, told Fora. "After that, they're in a better position to construct a suitable pension portfolio with their financial advisor.
"Once they're up and running our customers can interact with our client dashboard which keeps them up to date on their investment progress."
However, the true opportunity for new technology to shakeup the pensions sector is not by repackaging policies, but tackling the administrative side of things, according to Peter Oakes, founder of Fintech Ireland.
"The thing about the pensions is that there is a lot of administration behind them, which is really cumbersome," he told Fora. "If you can digitise the administrative piece of the pensions, that's where the real benefit is going to be."
read more on