'I'm actually quite introverted. I have to do a lot of mental preparation for public speaking'
Republic of Work's DC Cahalane tells us about his worst job, bad habits and penchant for gin.
IN THIS NEW Fora series, we ask prominent people in Irish business for a few lesser-known insights into themselves – and their work habits.
For the first installment, DC Cahalane, the head of Cork business hub Republic of Work, tells us about his worst job, bad habits… and penchant for gin, among other things.
Here's what he had to say: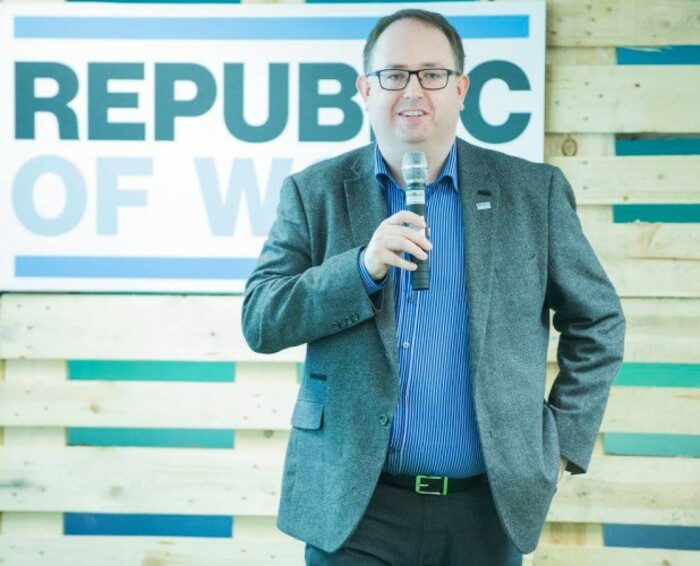 Source: GERARD MCCARTHY
If you weren't doing your current job, what do you think you would be doing instead?
I'd be doing a different startup – I've got a few ideas still squirreled away. If I was going to do something completely different, I think I'd love to take a shot at helping promote people in choosing Ireland for business, maybe working in the IDA or Enterprise Ireland.
What's the worst job/task you ever had to do?
I've been pretty lucky in this department, I've always been a big believer that you stick to your strengths and do what you're good at instead of struggling at things that you're never going to be able to do well.
Years ago I was involved in a catering business, and we used to produce a few thousand sausage rolls by hand every day. They were gourmet sausage rolls with Ballymaloe relish and Clonakility black pudding in them, so they smelt and looked divine.
That might seem like a great thing except, as someone with a serious dairy allergy, I wouldn't dare eat one. I just had to deal with the torture of making them with the gorgeous smell wafting through the premises all day.
What detail about yourself would surprise your staff?
That I'm quite introverted, I really like time by myself. I think because I do a lot of public speaking at events and stuff, people assume that it comes very naturally to me, when in fact I tend to do a lot of mental preparation for it.
What's the best piece of advice you ever received, and who did it come from?
I'm sure the same advice could have come from a whole pile of sources but for me the advice that really changed things came from my old chief at Trustev, Pat Phelan.
Pat is the personification of 'just do it' – without the Nike sponsorship deal – and really showed that attitude of stop driving yourself nuts overthinking and just go out at do something, anything, and see what happens.
You can always fix and tweak things but the most important thing in any task is to get started.
Source: Republic of Work
What bad work, or business habit, have you had to kick?
I don't mind admitting that it has taken me a bit of time to realise the advantages of physical time away from the business.
In the early days spending morning to night in the business, seven days a week, was the norm, but lately I've realised that actually cutting back the hours and creating a bit of mental space is absolutely essential.
Do you read business biographies/management books? What's the best book you've read this year?
The best book I've read in a long time is Business for Punks by the founders of Brewdog. Insanely practical advice and a must-read for anyone getting started in business.
Lately I've started listening to a lot more audiobooks – they just suit my time better. I'm also a huge fan of Blinkist, an app that provides great summaries of business books. It lets you catch the big ideas in a book before you go to the effort of reading the whole thing.
If there was one person in the world you could hire for your board, who would it be and why?
We're really fortunate to have an incredible board of advisors here at Republic of Work. People like Pat Phelan of TransUnion, Dan and Linda Kiely of VoxPro and Ronan Murphy from Smartetch, people who've been through it all and are great sounding blocks.
I guess if we could add anyone to it, it would have to be Richard Branson. I figure he'd be a great guy to problem solve with and develop a big-picture vision for your business.
If you could invest in any Irish company other than your own, which one would it be and why?
Another bias here – given that I used to work there – but there's absolutely no doubt that it would be Teamwork.
What Peter Coppinger and Dan Mackey have built is without equal anywhere in the world – an amazing set of products built by a company focused equally on looking after their customers and making sure that the staff enjoy the whole experience.
The fact that they've done it all without any investment or outside finance means that they've been able to chart their own course at every stage and now have an extremely profitable business that hasn't sold its soul to outside interests.
If you were stranded on a desert island with just one thing, what would you want it to be?
I was going to say a notebook so I could have somewhere to plan everything out but then realised I wouldn't have a pen to write with. So instead, I figure if I'm going to be stranded I may as well lie back and enjoy the peace and quiet.
I'm going to go with a large gin and tonic – Drumshambo Gunpowder Gin, preferably.
Sign up to our newsletter to receive a regular digest of Fora's top articles delivered to your inbox.