How tech companies can win the battle for talent
In a competitive market only companies with the most innovative approach to recruitment will thrive.
The battle for talent is on and it's getting tougher by the day.
According to management consulting firm Korn Ferry, by 2030 there will be a global human talent shortage of more than 85 million people, a number equivalent to the population of Germany.
If this prediction comes to pass, that talent shortage could result in $8.5 trillion in unrealised annual revenues.
We're already seeing the evidence – in 2016, science and technology jobs in the United States outnumbered qualified workers by about 3 million, a gap that started to become a trend in the wider jobs market in the US last year.
In such a hyper-competitive market, only companies with the most innovative approach to recruitment will survive and thrive.
This is something leaders in tech recruitment are cognisant of. Laszlo Bock, former vice president for people operations at Google, describes interviews as a "terrible predictor of performance", based on extensive analysis of the process.
"We looked at tens of thousands of interviews, and everyone who had done the interviews and what they scored the candidate, and how that person ultimately performed in their job. We found zero relationship. It's a complete random mess," he previously told the New York Times.
It's clear that while traditional interviews still have their place, companies need to add more innovative layers to the recruitment process in order to stay relevant and attract the best talent. There are a number of ways to look beyond the traditional approach.  
Get personal
When it comes to hiring for leadership positions, Aisling Hassell, head of global customer experience at Airbnb, advocates an "utterly rigorous" approach.
The right hire will allow you to focus on key tasks and push the company to perform at an optimum level, so it's worth getting to know the candidate beyond what the basic interview allows.
"On a number of occasions, I have seen the wrong candidate hired even after a number of rigorous interviews. My current approach involves going further to find out more, including going out for dinner with the candidate and talking to people they have worked closely with, not just their official references," Hassell wrote in BlitzScale Like a Boss, by Voxpro – powered by TELUS International. 
Walt Bettinger, the chief executive of Charles Schwab, takes candidates out for breakfast and secretly asks the restaurant to mess up their orders on purpose. The insights gleaned from how a candidate reacts to a scenario like this adds more firepower to the decision-making process.
Put Artificial Intelligence (AI) to work
AI-powered talent acquisition software is enabling a faster selection process, less human bias and more accurate predictions of success. Tools like Mya and Ideal automate sourcing, screening and scheduling, saving time and money, and allowing humans to focus on the parts of the process that require far higher levels of cognitive ability and emotional intelligence.
AI can also reduce the human bias that recruiters can apply unconsciously. Blendoor is an app that allows companies to sort through a diverse candidate pool without identifiers that can trigger unconscious bias.
By removing information like names, addresses, gender, photos and ethnicity, candidates are ranked on how well they match the company's needs and nothing more.
HireVue is a video interviewer that predicts job candidates' performance based not only on cognitive ability, but also on facial expressions, tone of voice and vocabulary. The AI gives each video a client-customised score based on more than 250,000 data points, allowing for a data-led view on how the candidate will perform in the role.
A 2017 Deloitte report found 33 percent of survey respondents already use some form of AI in the hiring process and, as the race for talent grows more intense, that number is expected to grow.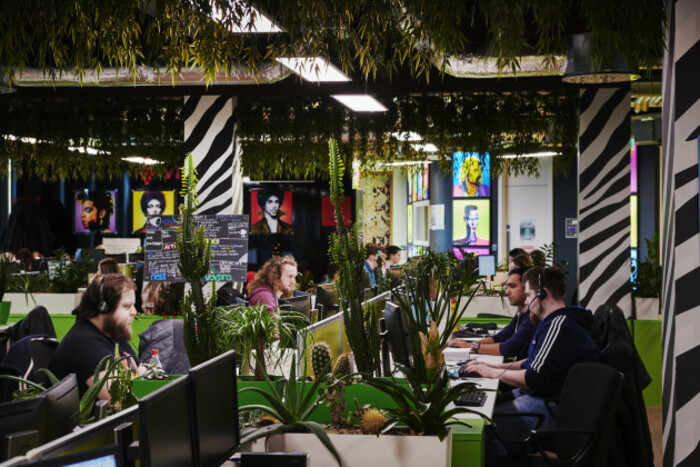 Source: Voxpro
Gamify the recruitment process
When it comes to recruitment at Voxpro, we consider games to be a very effective way to get candidates to reveal more about themselves compared with the traditional competency-based interview.
For example, our recruitment team was recently hiring to fill a very demanding role that would require great agility and speed of decision, so during the interview process we needed to test out the candidates' ability to adapt in certain scenarios.
Voxpro designed a game called "learning and development charades" whereby candidates had to pick one abstract learning objective out of a hat and design the learning experience in 20 minutes. Objectives included 'how to shape a mohawk' and 'how to fly a drone'.
Through this unconventional twist in the process, we were able to reveal some crucial insights into the candidate pool. The ability to take this kind of creative approach to recruitment has helped Voxpro consistently reduce employee attrition rates and boost overall employee engagement.
Deliver an Exceptional Candidate Experience
In a candidate-driven recruitment market, creative and data-driven hiring practices like these are no longer nice-to-haves, they're essential to modern talent acquisition.
However, to be truly successful, every single recruitment innovation must be underpinned by one thing: delivering an exceptional candidate experience.
As vice president of global customer experience and head of EMEA at Dropbox, Adrienne Gormley focuses strongly on this part of the process.
Speaking to the Voxpro Studios podcast, she said; "we spend a lot of time really developing the candidate experience. We want somebody to come in and go through the experience as if they were the crown princess or the crown prince of talent, and we do that for every candidate coming through."
Transparency is something Gormley also believes is critical to finding the right people.
"Sometimes when I have calls with candidates I'll do what I call the 'health warning' and I'll say; 'Hey, we're mad and bad and fast and it's great fun, but here's what the reality is, here's the good, the bad and the ugly', and really be transparent about what we are as a company. That generally excites people, and sometimes people say 'oh, it's not what I'm looking for', and then that's great to know upfront," she said. 
Companies like Dropbox, Airbnb, and Voxpro all have one thing in common when it comes to recruitment: they start with the candidate's needs, not those of the company.
The innovative practices they have put in place are designed to help the candidate reveal the very best of themselves and give an accurate picture of whether they will thrive in the company or not. Only through such a candidate-first approach will organisations find the very best talent in the most competitive era in history.
Aidan O'Shea is CEO of business operations at Voxpro – powered by TELUS International