These are the lessons small businesses can learn from elite teams in the Tour de France
Three key takeaways from this year's 21-day race.
EVERY YEAR I look forward to watching the Tour de France.
Watching the effort teams put in over 21 stages and nearly a month of riding, it makes me think about the combination of sprints and marathons that small business teams go through over the course of their growth as well.
If you think about it, each business rides its own metaphorical tour in the way they seek to grow their businesses.
So here are three ways I believe small business leaders can run their company like this year's high-performing racing teams.
1. Build team culture
Although only one person pulls on the yellow jersey at the end of a race, Le Tour is very much a team sport. Each racing team has about 25 members all with an important, individual role to play.
Behind every Chris Froome or Stephen Roche is a whole support crew of fellow riders, technicians, dietitian, physical therapists and administrators. It's a very similar setup to a small business.
Victory goes to the leader who can envision and plan for success – whilst rallying the team to buy into their strategy. This boils down to establishing a strong vision and company culture where everyone aligns around the same purpose and shares the same core values.
Having a united workforce and a strong culture that instills confidence is also important for when times get tough. Just look at the crash Dan Martin endured during a rapid descent of Mont du Chat during stage nine of this year's race.
Rather than let that affect his performance, his teammates rallied around him. Despite the back injury sustained during this crash, the close-knit support of the team has put Dan on the path to finishing Le Tour as the highest placed Irish rider in two decades.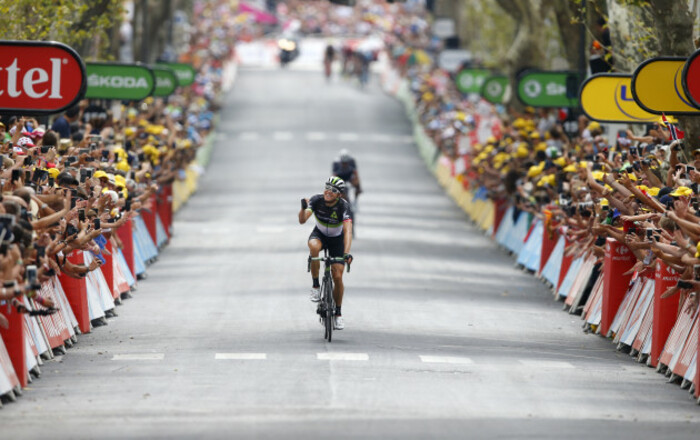 Source: Peter Dejong
2. Use data to drive performance
Riders in Le Tour are analysed for every second of their race. When did they peak? What were their oxygen levels like? How fast was their heart rate in the sprint?
All of this data is scrutinised by the team performance director in order to win the highly coveted yellow jersey.
Businesses are very similar, and small businesses in particular should use the data at their disposal to their advantage. However, to get the most from their data, how the data is captured plays an important role.
It always surprises me to hear how many small businesses still rely on Excel to track their customer data.
When I speak to small business leaders, I find the ones that are moving the fastest are those that deploy a CRM platform from the start in order to capture all their customer data in one place.
3. Choose technology for the future
Then there is the technology. Every racing team tries to get the edge by adopting the latest 'go faster' bikes.
Small businesses have to be the same. The tech they employ has to future proof the business to avoid the growing pains of scaling up.
A classic mistake some SMEs make is buying a specific piece of technology that works for one department, but ends up creating walls within the business.
To be a fast and agile in innovating and serving their customer, growing businesses can't afford to have these silos that make it harder to access the information when and where the customer needs it.
It is a race out there. Whether it's a hill climb to get a long-awaited contract, an endurance race to ensure customer satisfaction, or a sprint to resolve an issue for a customer, you need teamwork, peak performance and the latest technology to get you over the line first – and make your team the race winner.
Sanj Bhayro is the senior vice president for small and medium business at Salesforce.
If you want to share your opinion, advice or story, email opinion@fora.ie.