Why you need seven laptops... and other hacks to pull off a big event
This tech guru delivers a masterclass in avoiding 'technical difficulties' at conferences.
PREPARING A VENUE for a conference or work event can be quite labour-intensive, so there are a couple of things you need to bear in mind from a technical production perspective.
Not every venue has the same level of crew access as the likes of the RDS. That's especially true in Dublin city centre, where a lot of older, listed buildings host events.
When you're scouting a venue for a conference, ask yourself: what's the load-in area like? Is it going to be difficult to get equipment in and out of the place? Is the crew going to have to climb stairs? If so, is there an industrial or goods lift to move their kit?
Technical production companies like ours carry equipment in these big, bulky flight cases, which makes some of our screens and equipment about three times their actual size.
There's almost always a workaround, but it's good to know in advance what the access is like.
The next thing I'd check is the power. The rating on a lot of event production kit these days has gone down significantly. For example, lighting technology is almost all LED-powered these days as opposed to old-fashioned incandescent lamps.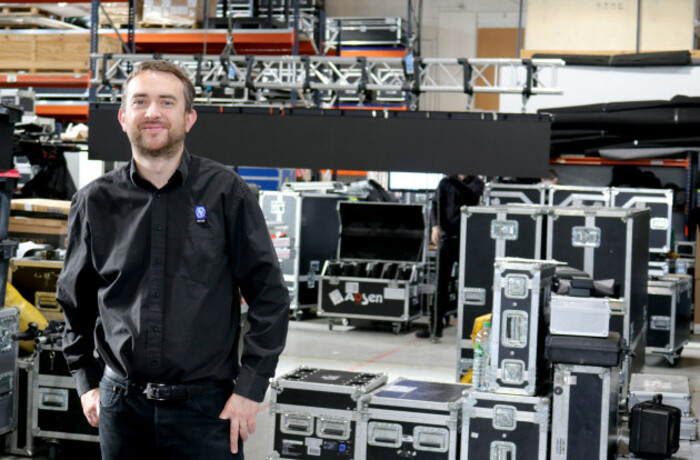 Source: AvTek Solutions
Even so, for a large event you need to have three-phase outlets to distribute your power correctly, so make sure that's on the checklist.
We also now do quite a lot of outdoor events and festivals. At the moment, we're contracted to the OPW's event management unit, so we're involved in a lot of outdoor state-hosted events.
As every Irish person knows, in this country you can be sitting in your T-shirt one minute and the next you're running for cover.
When the weather turns bad at outdoor events, things start to blow over and equipment gets wet, so make sure that all of your suppliers' equipment is rated to work outdoors. It's a major safety hazard if they're not.
Use trusted suppliers
Make sure that when you're picking a supplier, they're able to support your event in the way you'd expect and do the job to a high standard.
You have to be particularly wary of suppliers who stretch themselves too thinly, especially in the really busy months of September, October and November.
I'd definitely recommend that you carry out a couple of background checks on the people you're hiring. Make sure they have the required insurance for the event and that their technicians and crew are trained to the required standards.
In Ireland, there is no specific gold standard for the event industry. We're really hoping that something like that is brought in so that everyone is trained to the same high level.
Make a backup of everything
Some event organisers neglect to build an element of redundancy into their equipment spec.
For a lot of large companies, a conference is the one day where they have the privilege of addressing their entire workforce under one roof. They need to make sure that technical hiccups don't get in the way on the big day.
Ultimately, you can blame whoever you want afterwards of whatever piece of kit, but if the event doesn't go to plan on the day, it's a big waste of time and resources.
The best way to reduce that risk is to have backups. I would always specify that there is a backup projector, laptop, radio mic and other essential equipment just in case something goes wrong. This is a live event – you need to be covered.
Source: Verve, The Live Agency
We work for a lot of big tech companies who set very high standards of audiovisual delivery.
They will specify on their technical rider that there is a show laptop and a backup one running in perfect sync with that machine.
This is the kind of standards we're working to now. I don't know any large conference now that doesn't run on at least six or seven laptops to make sure everything goes seamlessly.
Chase your presenters
You can have the best screens and projectors in the world, but if you haven't got the content to show on them, the entire conference is pointless. The creative part is really important, and it's something we're happy to advise our clients on if they need.
A lot of times, organisers don't put enough pressure on presenters to deliver their content in advance so it can be checked over.
You should really book the conference room a day in advance so you can set up and make sure that you have all the right content from the speakers.
Unfortunately, you're probably going to have to pay extra for the venue if you want to give yourself enough setup time.
I'd recommend hiring the room around midday the day before the event, at a minimum. Although some conferences need two- or three-day builds, depending on the production values.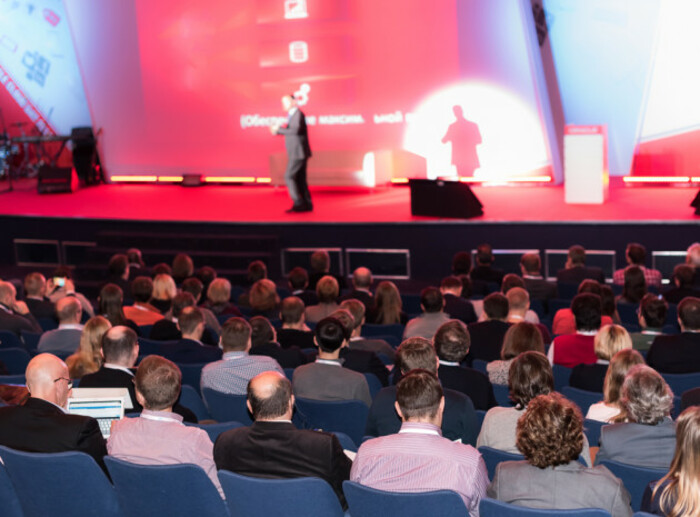 Source: ZinaidaSopina/Shutterstock
If you allow yourself that setup time, you can check that everything is in the right format, that the video files are working, that everything is tested up to the correct resolution for the screen you're using.
It happens so often that someone is left running around at the last minute trying to work out why their video won't play on the big screen.
This is very often the person who handed you a memory stick with their files right before show time with no time to test it in advance!
Ask the speakers to bring a backup USB stick with all the components of their presentation, including the raw video files. Just in case.
There's always a workaround
About four years ago, one of our clients was tasked with launching a major new brewery. The idea was to bring these large, aluminium kettles in which they brew the beer to life with a video projection.
First of all, it's impossible to project onto aluminium with great results. Secondly, it's extremely hot in the brewery – temperatures soared up to 40 degrees Celsius – so we had to run special fans to make sure our equipment didn't overheat.
We worked about four days before the launch. We'd tasked a display company to fabricate this special sock that would fit around the aluminium kettles so the videos could be displayed and mapped to take on the shape of the ketlle.
It was a really tricky project – the technicians had to take breaks every 15 minutes to deal with the heat – but it was really rewarding. The reaction from the delegates at the show was fantastic.
It goes to show that even when you're working within confinements, they're always a workaround with the correct planning and expertise.
Tony Lanigan is technical director at AvTek Solutions. This article was written in conversation with Conor McMahon as part of a series of masterclasses with some of Ireland's most influential business people.
If you want to share your opinion, advice or story, email opinion@fora.ie.
read more on