Want to hunt down customers online? Here's the data to drive your decisions
Social media gives small players a fighting chance of competing with huge brands.
WE ARE IN a golden age for small businesses and startups. So much so that they are sprouting up all over Ireland and many are taking root and growing into sustainable, scalable global businesses.
The internet has created a wide array of new business models, routes to market and means of low-budget marketing. More and more business is migrating online and this is creating huge opportunities to those who are able to embrace digital technologies and outsmart their Luddite competitors.
For SMEs it can seem daunting initially when you start implementing social media campaigns competing against large brands that have much greater resources.
However, creativity on social media can give the small guys a fighting chance. Social media uniquely facilitates three-way conversation between brands, consumers and communities. This love triangle is possible around areas of shared passions like food, music or sport – or anything else you can imagine.
Selling wool and want to find a community of knitting enthusiasts?  No problem, jump online and join 'Stitch and Bitch'! I kid you not.
According to statistics we've compiled, Irish consumers are very advanced and are migrating to new media. Ireland has the highest penetration of mobile internet users anywhere in Europe, North America and South America.
These figures show the huge numbers of people in Ireland using social media:
When it comes to social networking in Ireland, Facebook is still king. Users spend an average time 5 hours and 40 minutes per week on Facebook and 68% of Irish people follow their favourite brands or companies on Facebook.

Click here for a larger version
Twitter is the second-biggest social network, with 835,000 Irish users of which 58% use it as a news source.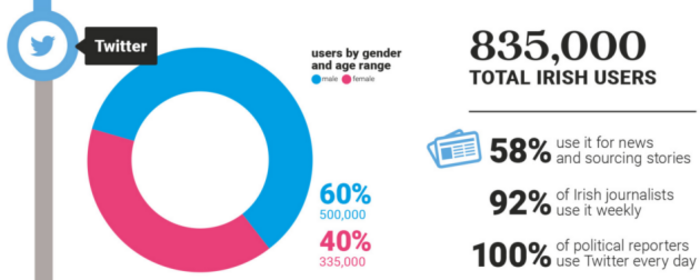 Click here for a larger version
However, Instagram user levels are on the rise and are not far behind Twitter at 782,400. Almost half of its Irish users are on the platform daily.
The most popular interests on Instagram are computers and electronics, accounting for 93%, while shopping and fashion accounts for 91%, fitness and wellness takes the third spot at 86%, and food and drink comprises 84%.
[embed id="embed_2"]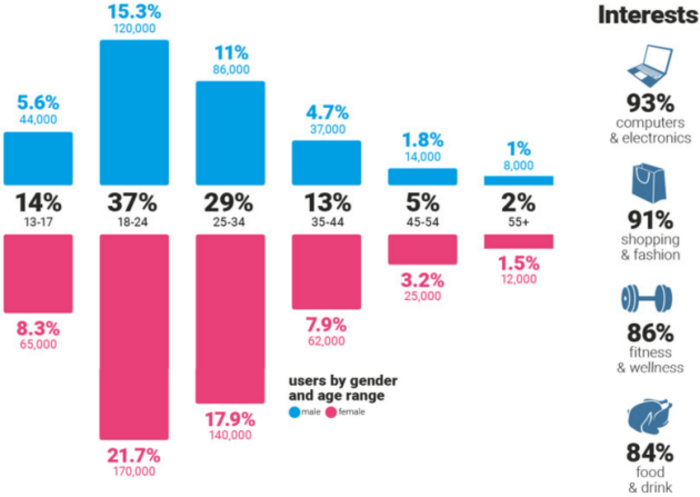 Click here for a larger version
Snapchat is the fourth most-popular social network, used by 590,000 Irish people. User numbers are on the increase with Ireland being one of the top three Snapchat countries at the same percentage of users as the UK and USA. Meanwhile, 28% of Irish people have LinkedIn accounts.

Click here for a larger version
So if you want to build a successful business, you have no choice but follow the audience online. Your first step is to get the data to drive your decisions.
Conor Lynch is CEO of Connector.
If you want to share your opinion, advice or story, contact opinion@fora.ie.
read more on