'I got a call saying the warehouse was on fire. All my stock was gone, it was turned to ash'
After quitting his job to cycle around the world in 2008, Simon Evans came back to a changed Ireland.
TEN YEARS AGO I left Ireland to cycle around the world, and when I came back the place was barely recognisable.
Myself and my best mate Fergal love cycling and did the length of Ireland from Malin Head to Mizen Head and a few other bits.
The world trip started as an idea to do the Silk Road. But when we looked into it, we noticed that no Irish people had ever circumnavigated the globe by bicycle, so we decided why not us. So in 2008, we left and went on our way.
I left my home in Greystones and kept going west for 31,000 km. I had always been relatively fit, but nothing can prepare you for it. But it gives you that stamina to keep on spinning and push through the pain. My legs were solid after it.
The trip brought us through South America over the Andes and then from Shanghai back to Ireland over land.
When we left for that trip it was 2008. I had quit my job as an engineer in Cambridge to spend six months planning, and we raised €25,000 for Aware as well.
But between the time I left my job and departed for the trip, the world economy was getting worse for wear.
I think the day we sent out our sponsorship application forms was the same day Brian Cowen announced we were officially in a recession, so not great timing.
There were moments when I thought, "Crap, should I really have left my comfortable job for this?" When we were on the cycle though, that all washed away. We were in a bubble on our bikes.
When we came back two years later, it was a completely different Ireland to the one we left. I wanted to move back to Ireland, so I did, but it was so competitive for jobs.
I remember going to interviews for roles that were below what I was able to do – there were so many applicants and the pay was low. There wasn't the dynamic economy I was used to before I left, everyone was on the back foot.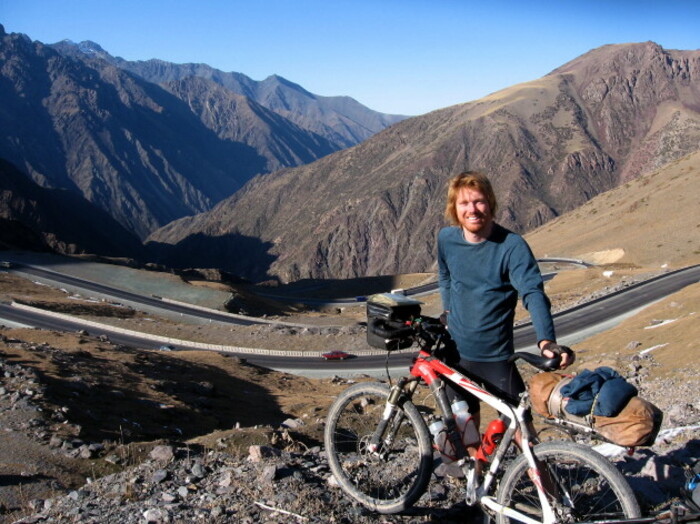 Source: Simon Evans
Making do
In the end, I couldn't find anything that was a right fit, so I ended up working as a mechanic in a new bike shop that opened up in Greystones.
It was literally a move to get some money in and to think of what I was going to do next. One day, I remember seeing all the kids bikes lined up and something clicked in my head.
I saw these pedal-less balance bikes that younger kids took to so much. But the problem was that after a short amount of time parents would need to buy a new pedal bike for their kids as they got older.
It gave me the idea of a new type of bike – one designed to grow with the child. I went back home and hit the drawing board. I kept working in the bike shop but dropped some hours so I could focus on this idea.
Eventually I needed to quit the bike shop so I could really focus on getting prototypes made and getting the final design sorted. I got a hot desk in the Trinity Enterprise Centre and was surrounded by other startup businesses there.
I also got on Enterprise Ireland's Hothouse entrepreneurship development programme and learned about sales, marketing, accounts and the basics of running a business.
As a designer, you might be able to design a great product, but sometimes you need that bit of help to bring it to the next stage.
There are so many inventors who come up with a product. They think it's great, and their mum thinks it's great, but it flops. What you really need to know is if people will buy it and if it has the right price point.
Between coming up with the idea and getting the first shipments through took two and a half years. A lot of it was designing, prototyping and finding a suitable factory.
Along that journey, I'd say the real tipping point for me was seeing the first proper prototype. Before that it was just lines on a screen.
When I saw it I was blown away by how cool it looked with it's curved frame and shiny brushed-alloy finish, and that's when I thought I could really make a business out of this – I could see people buying it.
I knew I wanted to go the direct sales route. When our first few pre-orders included customers in the United States, Brunei, United Arab Emirates, Netherlands and the UK, I knew I was onto something good.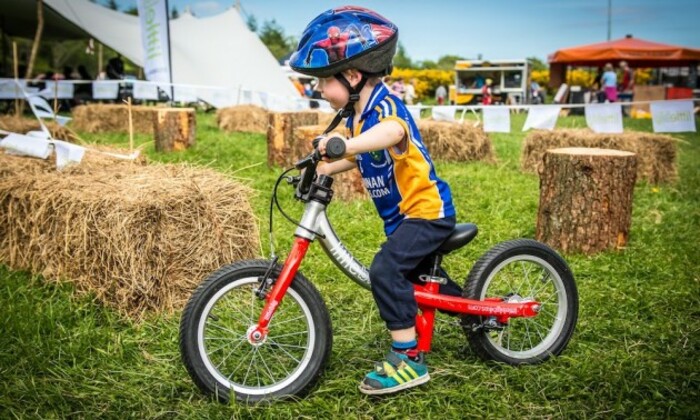 Source: LittleBig Bikes
Tough days
As a business owner, especially one that sells physical products, there are days you are left sweating on deliveries. After launching the business, I had all the pre-sales done and the bikes were due to be shipped from China.
Between one thing and another, the first shipment of bikes didn't arrive on time. They were orders due for Christmas and I kept pushing the factory, which would promise me dates but nothing arrived.
The first shipment of bikes arrived in Dublin Port two weeks before Christmas, which was super-late but I figured we could manage okay.
Then I got a call from my sourcing agent, "I've got good news and bad news. The good news is that the bikes are in Dublin. The bad news is that we're being liquidated, and we can't pay your customs charges and taxes".
To make matters worse, the shipping company they were dealing with was holding my stock as collateral because the sourcing agent owed them money. I tracked down the shipping agent and appealed to him personally.
I explained it would pretty much ruin Christmas for lots of kids and we managed to get them released the following day. In light of their goodwill we continued working with the shipping company, and in April the following year I got another call from him.
"You're out on the M50, right?". "Yes," I said. "You're in one of the shared-warehouse spaces, right?". "Yes," I said. "I'm sorry mate, but it's on fire."
My heart sank. That was all my stock, I had orders ready to go out and now had no idea what I was going to do. I was living in Galway at the time and sure even if I was there, I couldn't have done anything.
I tweeted to Dublin Fire Brigade asking about my bikes. They actually got back to me saying my bikes were OK. The relief washed over me, it was great. I thought I could probably salvage them even if they were a bit smoke-damaged.
Then the following day, I got a call from the fire chief saying, "You're near the reception on the ground floor, aren't you?" I said, "No I'm down the other end on the first floor".
There was silence on the other end, then, "Sorry man, but everything in that end has been turned to ash."
[embed id="embed_2"]
Basically he had seen a couple of my bikes getting ready to be shipped and thought it was all my stock, but all my goods were actually down the other side. It was all gone.
Spring sales had just gone really well, so I was in a real good place. But that whole experience left me gutted; because the fire brigade thought the stock was OK but it wasn't, it felt like I lost everything twice.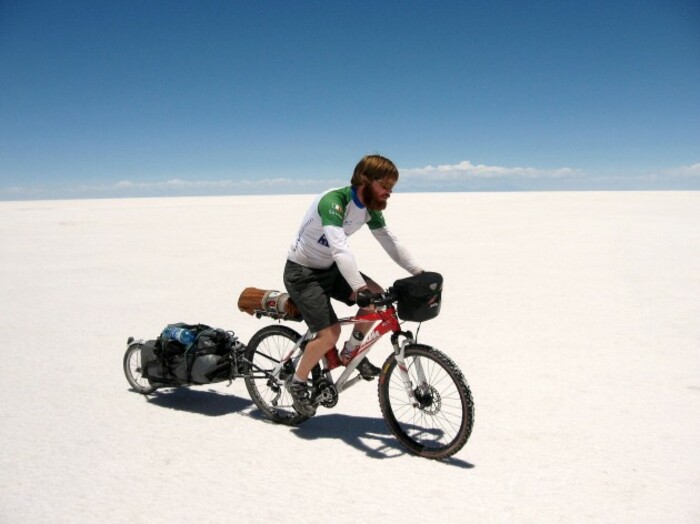 Source: Simon Evans
Powering through
I lost 250-odd bikes. So basically I had no stock for the first summer, which messed everything up for the following year.
That Christmas was challenging because of being on the back foot in terms of cash flow, which was compounded by Storm Desmond, which delayed our shipment by a month.
Christmas was a Friday and the container of bike parts arrived on the Monday. So four days before Christmas, I had 220 pre-sales and it was the first time we were doing assembly in Ireland.
I had 16 people working for me round the clock. We were like little elves trying to build all the bikes in 24 hours to meet shipment deadline, probably the most stressed I've ever been.
We absorbed the cost of DHL express delivery and everything made it in time for Christmas eve, even in far-off places like the USA and Australia.
I kept going through it all because I had put so much effort into getting to that point. The fact there was such interest in my bike showed it wouldn't make sense to stop now.
I drew on my experience from my cycle around the world a lot actually. If shit hits the fan I would find every bit of my inner strength and a way of getting out of it.
We've now worked our way out of those problems and, as a small Wicklow-based business, we have shipped to 55 countries all over the world.
Thankfully we're now in a position that we can order in plenty of time to avoid the experience of the first two Christmases.
The business we've gotten is mostly from referrals, and people seeing our product out and about. We figure if we keep our customers happy, they will pretty much sell the bikes for us.
Next up, I would like to do a follow-up design so people can stay with the brand for longer. What I've designed is an adaptable kid's bike, and it would be great to be able to make something else that keeps scaling up with them as they grow.
But I've no intention of growing the business too big too quickly. That's where I think a lot of people go wrong. I'm happy to build this up slow and steady so I have a sustainable business for the future.
Simon Evans is the founder of LittleBig Bikes. This piece was written in conversation with Killian Woods. This piece was written in conversation with Killian Woods as part of a series on unlikely entrepreneurs.
Sign up to our newsletter to receive a regular digest of Fora's top articles delivered to your inbox.