'We made mistakes when it came to funding. We could've ramped up the business even quicker'
Two years after launching his startup, Sean Murray talks about some of the lessons he has learned so far.
BEFORE I SET up my business, I got a mixture of experience working in both retail and tech – it all kind of lent itself to founding WeBringg, which straddles both industries.
It's not my first business though. When I was in college, I rented football pitches off clubs and ran five-a-side football leagues during the week.
Around the time, YouTube was just after being launched and I knew loads of people who were mad into football, so I decided to try to combine the two.
I hired a load of referees, recorded the matches and did highlight reels of each game. It meant you could watch your goal the next day hundreds of times over.
That worked quite well and it ended up getting me a job in a sports company. It was never going to become a unicorn or anything like that, but during college it was some money in my pocket.
That was my first foray into business. I think a lot of entrepreneurs have those sort of stories of a quirky first venture – sure Alan Hickey who co-founded WeBringg with me was selling mobile phones when he was in school.
Even though I worked for various companies after college, setting up my own business was constantly in the back of my mind. I was always planning to do it but just waiting for the right idea.
In my last day job, I was involved in the development of apps for different retailers and ended up creating an app that involved geolocation. That's where the idea for WeBringg – a same-day delivery service – took hold.
The work I was putting into that app was directly applicable to WeBringg and the technology we've created.
I knew I was going to go into business with my friend Alan because we go way back. We were in primary school together and our two better halves are best friends. We've probably known each other too long.
We would be both similar enough in a sense that we're entrepreneurial and had plans to set up our own business at some stage. We had come up with a few ideas before, but didn't think they were scalable.
We play a lot of golf together as well and would end up talking a lot about startup ideas. Then the idea for WeBringg came up and we both thought there was something in this and went about getting some money together to have a go.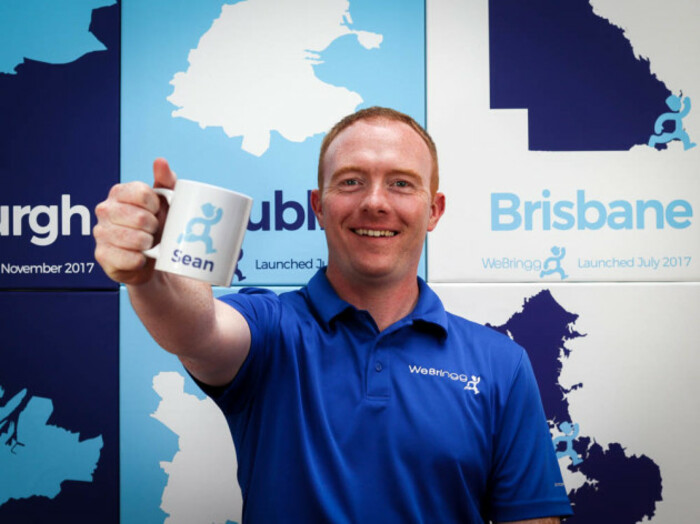 Source: WeBringg
Obsessed
The idea for WeBringg in particular was the first one that I became obsessed with. I couldn't think of anything else. I would wake up in the middle of the night and think to myself, there's another retailer who could use it or that's another revenue stream.
I just started frantically working on a business plan and researching everything. That was in December 2015 and five months later we were up and running.
It was a quick turnaround from idea to being up and running. How did we get it done so quickly? Well, I had a good bit of experience on the development side and knew exactly what we needed to do – that helped.
And then the fact that the business plan was worked on night and day until we were really happy with it helped us hit the ground running. It meant we were super focused on the startup we were trying to create.
We had mentors throwing stones at the plan for the first few months as well and that made us refine it before we got going. We launched knowing what exact milestones we needed to hit over the first six to 12 months.
I would say we also got a good kick-start from the Local Enterprise Office. They gave us a feasibility grant and that early cash definitely helped. Their advice also steered us in the right direction.
They would also poke holes in our plans and tell us what might lead us down a rabbit hole or take a lot of time.
Big obstacles
Every startup has obstacles to deal with, and funding is usually the big one. When I say funding, I mean not finding funding at the right times. That can affect the growth of the business.
For the first six months, we had plenty of cash and then we got to a stage where we were running a little low. It meant we needed to raise some money. The actual process of raising funds can take you completely out of developing the business. It's a catch-22.
You can be at a stage where the business is flying and you're really busy, then you need to go and fundraise. It means the business might level off until you get the next bit of cash in.
Once you have the cash, then business development picks up again. The timing of it all is crucial.
We made mistakes in that area really, and I would hope we've learned from them. I think we could have ramped the business up even quicker if we had our timing right.
The other learning curve for ourselves has been around hiring. I would have been employee number one, so it was just me for the first couple of months. But I had Alan there to bounce ideas off.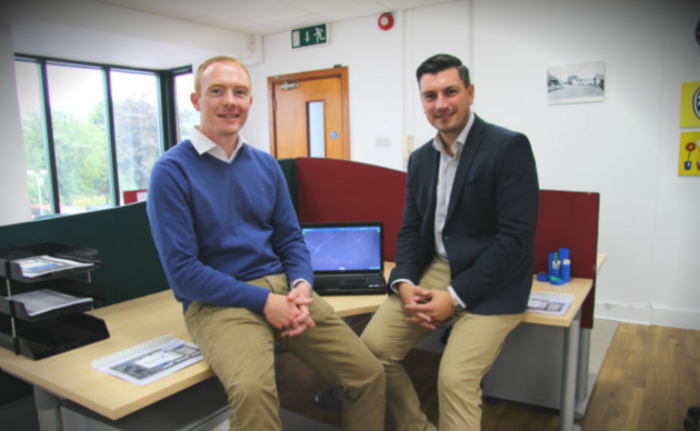 Source: WeBringg
Then we had two or three hires, but for the first 18 months to two years, we didn't get people on early enough. Where we spotted a gap in our finance team, we would say we need to hire a chief financial officer, but it would happen six months later.
That meant – between myself and Alan – we would essentially have been running the finance function. But we really shouldn't have been doing that, it's not where our skill set is.
So we were probably a year late on making some key hires and if I could go back I would be able to time that better. But getting the right hires at the right time can be tricky. They need to fit your culture and that's tough to get right.
You're also competing against bigger companies while hiring – especially on the tech development side. You've got giant companies with deep pockets which can pay double your rate.
We're a startup, so it's organised chaos. You get people applying who are used to a very structured environment and can be really effective in that space. But when they come to a slightly more unstructured setting, they don't have all the supports of the big company.
You also have people applying who may have worked for a big company and felt disillusioned that they couldn't make a change or have any real effect on the business. They come to us and thrive on the freedom of being in a startup.
It's all about trying to find those people to hire, which isn't the easiest thing to do. As time goes on, we try more and more to refine the hiring process, but we don't have the magic formula – no one does.
Future
We are well-funded now for the next 18 months and seeing really good traction in the UK in terms of selling our software.
At the moment, the plan is to ramp up our software sales with a view to increasing our foothold in the US by the end of next year.
That's a good milestone for the business to be even talking about because it was just over two years ago that we were in launch mode.
But you don't get time to reflect or celebrate these moments too much. We're just thinking about what's next.
We've got customers in the US, but we want to significantly increase our presence there. When we're actually talking about opening the office and having lots enterprise customers and SMEs using our service, then it's definitely going to be a proud moment.
I'll admit we've certainly come a long way in a few years, but our eyes are always on the next prize.
Sean Murray is the co-founder of WeBringg. This piece was written in conversation with Killian Woods. This piece was written in conversation with Killian Woods as part of a series on overcoming obstacles when launching a startup. 
Get our NEW Daily Briefing with the morning's most important headlines for innovative Irish businesses.