'When you're unemployed, you don't just lose your job - you become gripped by fear'
Sometimes we have to discover other people's belief in us before we can believe in ourselves.
FROM A YOUNG age I came to the realisation that life doesn't happen to us. Instead we create it, by the decisions we make and our responses to the challenges we face.
I was born with congenital cataracts in both eyes. A form of cloudiness that obstructs the passage of light through the lens, cataracts make it difficult to see clearly.
Back then, there was little understanding of the potentially adverse effects these cataracts would have on a child's learning ability, personality or self-esteem.
Going to school posed major problems for me. Simply trying to keep up with those around me often left me feeling exhausted and there were times when my inability to see the blackboard properly created such a sense of panic in me that I wanted to run away from school and never go back.
Because I couldn't read small print, I read slowly and awkwardly. Extreme sensitivity to light didn't help either.
During my late teens, when I eventually developed the confidence to wear sunglasses, I did so against the backdrop of jeering comments about trying to look cool. As a result, I often ended up enduring the pain of the day's glare rather than deal with those taunts.
Words of encouragement from my fifth-class teacher and then school principal, Tom Gawley, helped boost my confi­dence and change my view of my future.
During a role-playing exercise in class where I wasn't required to read, he noticed a confidence in me that he had not seen before.
At break he called me aside and, in a sympathetic voice, counselled me, saying, "You know, Sean, you have your own unique talents and while you may not be able to keep up with others in some areas, never allow that to defeat your spirit.
"Concentrate instead on your own strengths and if you do that you can achieve anything you want in life as long as you are prepared to work really hard at it."
At the time I didn't fully grasp the significance of his words or the ultimate impact they would have on my life. But I remember leaving the classroom that day feeling more confident than I had ever felt before; proof that sometimes we have to discover other people's belief in us before we can believe in ourselves.
Unemployment
I have long been a supporter of entrepreneurs, largely because they create jobs, and job creation is the only long-term solution to the scourge of unemployment.
You simply cannot understand what it is like to be unemployed unless you have first been unemployed. I got my first taste of what it felt like in 1984.
I had finished agricultural college and was working in the local agricultural co-op by day and in the bar at weekends. I had also just bought a small farm with my father and had stocked it by painting sheds for local farmers, who paid me in calves instead of cash.
Things were going well until I was involved in a car accident that left me with neck and back injuries. These resulted in me being unable to work for most of the following year. Once recovered, I found myself out of work and struggling to get my life back on track.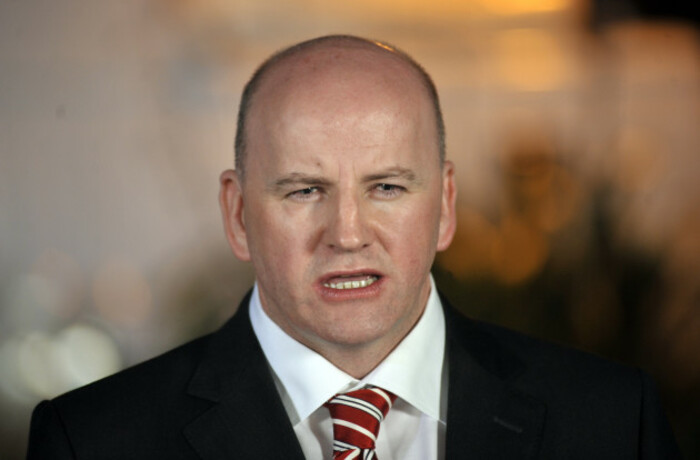 Source: Sasko Lazarov/RollingNews.ie
When you are unemployed, you don't just lose your job, you lose your status and your income. You become withdrawn from the very network that will most likely provide your next opportunity. But more than that, you lose your self-confidence and your self-esteem.
You begin to feel gripped by the fear, real or otherwise, that you might never work again; that you might never get to become the person you know you are capable of becoming.
During this time in my life I took daily sanity walks on the country roads around our village. On one of these walks I was joined by my former teacher Tom Gawley.
Recognising that I was struggling, he wrote Tabula Rasa in the journal I was keeping at the time.
"It's the Latin for 'clean slate,'" Tom said. "It's what you do with it now that counts."
His words helped strangle the negativity that had taken hold in my mind. They became a constant reminder that we are in control of our own destiny. That, irrespective of what has gone before, we are not our past, and that we can at any time begin to write a new future for ourselves.
Smarthomes
In 1997, I met my future business partner, Derek Roddy.
It was a time when house building was on the rise in Ireland and technology was becoming more a part of our daily lives. Both Derek and I had recently bought new houses and were appalled to find that most rooms had not been cabled for access to basic phone, internet or TV services.
Having both gone through the frustration of having to drill holes in our brand new homes in order to bring cables to each room, we developed a central cabling system that could be installed during construction that would future-proof new homes for these services, as well as home office, home cinema systems multi-room audio and security cameras.
Pioneering for its time, our company, named Smarthomes, grew to become Ireland's largest home technology company, scooped multiple awards for innovation and was selected as a finalist in the Ernst & Young Entrepreneur of the Year Awards.
Derek and I experienced some great highs during those years, such as winning the contract to install our technology in thousands of homes in Adamstown, Ireland's largest housing development at the time.
But we also experienced crushing lows, such as when the crash of 2008 left many developers and contractors unable or unwilling to pay us. While difficult, we dug deep, emptied our reserves and managed to survive. Like many other businesses at that time, survival became the new benchmark of success.
We decided to pivot the business and focus instead on developing controls that could be installed in existing homes to enable homeowners to better manage their home heating systems and reduce their energy costs.
When I later exited the business prior to running in the presidential election of 2011, Derek – himself a hugely innovative and talented entrepreneur – took it over and immediately set about creating Climote, an award-winning remote heating control system that is going from strength to strength.
Dragons' Den
A write-up on Smarthomes in a 2008 book by KPMG called That'll Never Work led Larry Bass of ShinaAwiL Productions to approach me about becoming one of the investors on the Irish version of the popular TV show Dragons' Den, which was about to be launched.
The programme provided a platform for entrepreneurs to pitch their business ideas to a panel of five investors, or 'dragons', in an effort to convince us to invest our own money in return for a negotiated percentage equity in their businesses.
A great success, the show did much to increase awareness of entrepreneurship in the country. For me, it resulted in a higher profile and opened the door to a world of speaking opportunities.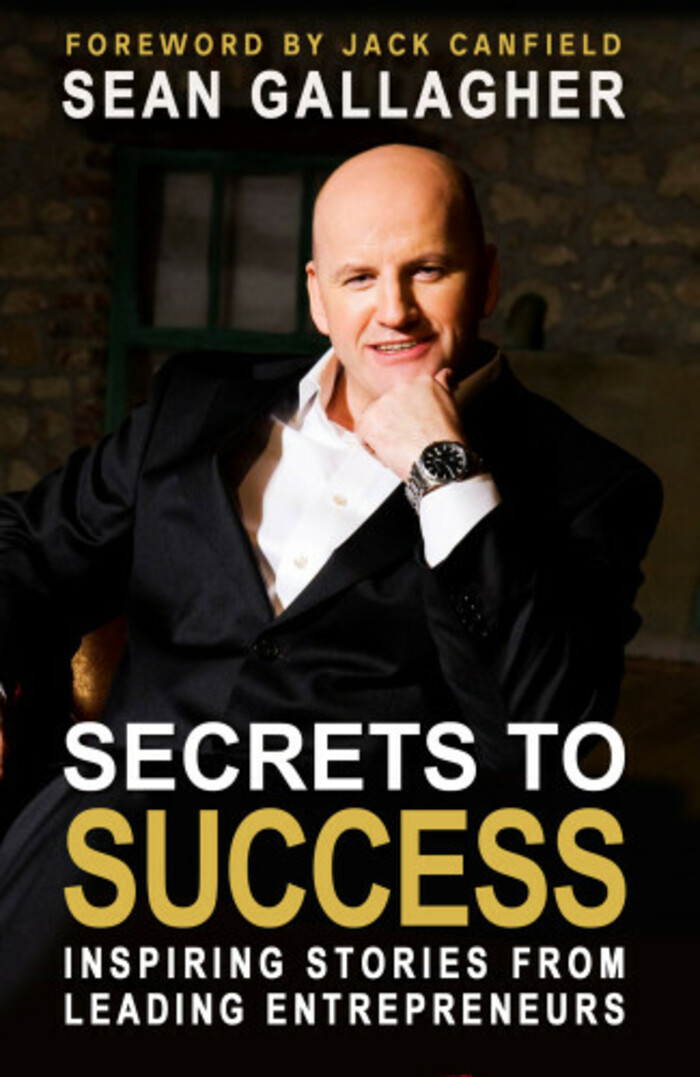 Source: Mercier Press
Increasingly, I was invited to speak in schools and universities throughout the country. Everywhere I went I began to notice a real hunger for hope, positivity and leadership.
With the media choosing to constantly focus on everything that was wrong, a blanket of negativity had fallen like a fog over the country. Fear had percolated into the psyche of the general population and failure became the word on everyone's lips.
Whatever money there was in the country was now being hoarded as a result of this fear, further compounding an already difficult situation.
My head and my heart were screaming that this was the very time that Ireland needed to focus, not on our weaknesses but on our strengths, not on our problems but on possible solutions to those problems.
We could not afford to be constantly pulling against one another; instead we needed to start pulling together. And we certainly could not keep lambasting our nation across the airwaves of the world.
Instead I felt we had to call on all those around the world who loved Ireland to rally in our time of need.
Running for president
The decision to run for president was the toughest decision of my life. To many it came as a surprise. But I knew that if I wanted to change what was happening around me, then it was up to me to step forward. And running for president seemed the right thing to do.
I ran independently of my Fianna Fáil background. Although proud of it, it was not part of my message at the time. I stood as an independent so as to be above and outside party political rivalry. There had been enough of that.
Looking at the change that previous incumbents had brought to the role, and given the economic challenges that Ireland now faced, I felt that the time had come for someone from the world of business to fill the role.
Apart from the significance of this at home, I felt it would also help in projecting a positive image of Ireland abroad as a country that was modern, dynamic and open for business.
Given that the modern media only deals in sound bites, I distilled my many messages into one easy-to-understand mantra – the need to get Ireland back to work, stem the flow of emigration and offer a future to our young people.
Our approach to the election was different to that of the other candidates and parties. We refused to speak negatively of the six other candidates but instead welcomed them into the race.
We didn't waste money on the customary campaign bus nor did we litter the countryside with election posters, relying instead on our volunteer network and an innovative social media strategy. From a rank outsider initially, I rose to top the opinion polls at 40% just three days out from voting.
However, 24 October 2011 changed that.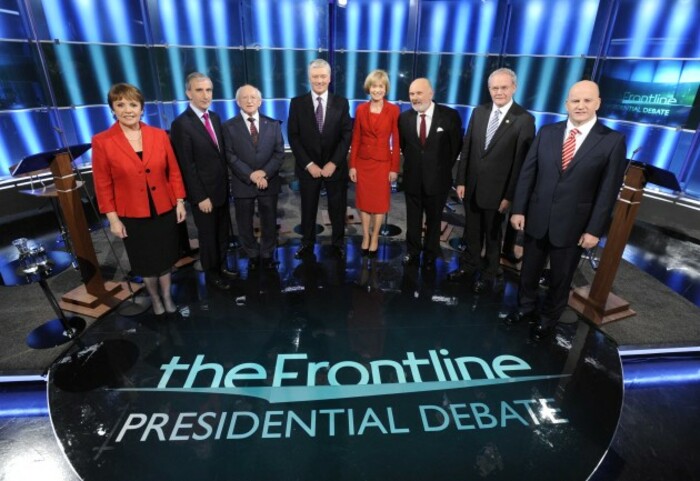 Source: Sasko Lazarov/RollingNews.ie
That evening I took part in the final televised presidential debate on the Frontline programme on RTÉ, an experience that would ultimately cost me the election.
Presenter Pat Kenny put a tweet to me live on air, challenging my re­collection and previous statement about my involvement in a legitimate fundraiser for Fianna Fáil back in 2008.
It would later transpire that this tweet was a hoax and had come from a completely fake account, the source of which had not been verified by RTÉ before being put to me.
Moreover, RTÉ later received a corrective tweet almost 30 minutes before the end of the programme, which clarified that the previous tweet had indeed been a hoax.
This was never made known to the audience in the studio, nor to the almost one million viewers watching the programme at home – even though there was ample time to do so. The matter was further compounded when, during an interview with Pat Kenny the next morning on his show on RTÉ Radio 1, the bogus nature of the tweet was once again not revealed.
This fake tweet and my reaction to it became the headline in all the newspapers and media outlets the following day. And with only 40 hours before an election moratorium on media coverage, there was insufficient time to recover from the fallout.
Ultimately, I went on to receive over 500,000 first preference votes, putting me in second place out of a field of seven candidates. It was an incredible result.
People regularly ask me now, given everything that happened during the final days of the campaign, if I ever regret standing for election. The answer is absolutely not.
Regrets more usually come from wanting to do something but not having the courage to go for it. For me, this had been an amazing journey.
While our campaign has been credited by many as being one of the most dynamic and effective election campaigns in Irish political history, it would not have been possible without the many thousands of people who supported me and canvassed for me in every part of the country.
Court case
It took me quite some time to reconcile myself to the outcome of the election. Not because I hadn't won the election, but because of the nature of the ending.
The impact that Front­line had on the outcome of the election, and RTÉ's total un­willingness to accept that the programme had been unfair, led me to take a case against them to the Broadcasting Authority of Ireland (BAI).
The BAI ruled in my favour, that both the Frontline programme and the following morning's Radio 1 programme had indeed been unfair. I subsequently took a legal case against RTÉ, not just because of the fake tweet but because of a myriad of additional failings in the planning and production of the programme.
Four years later, on 19 December 2017, the case was finally settled. RTÉ read out an apology in the High Court and paid me substantial damages.
In accepting RTÉ's apology, I reiterated, through a statement issued by my solicitor Paul Tweed, that my motivation in taking this case was not just about addressing the unfairness shown to me, but also about ensuring that what happened to me would never be allowed to happen again.
I am satisfied now that this case, challenging as it was, has led to the introduction by RTÉ of a number of very significant changes in policies, procedures and protocols, which will help ensure that every candidate who stands for election in Ireland in the future will be treated with fairness, objectivity and impartiality by the state broadcaster, something that is an essential part of the integrity of the democratic process.
Sean Gallagher is an entrepreneur, writer and public speaker. This article is an extract from his new book, Secrets to Success: Inspiring Stories from Leading Entrepreneurs, published by Mercier Press.
Sign up to our newsletter to receive a regular digest of Fora's top articles delivered to your inbox.