'The most difficult decision was selling my cottage to get enough money to buy the business'
After ditching her life in London for the Burren, Sadie Chowen ended up running her own company.
WHEN I FIRST came to Ireland to visit a friend more than 25 years ago, I had no idea the trip would change my life.
I'm from a design background. My mother was a textile designer and my father was a photographer as well as a businessman.
I was brought up in France, and I studied translating and interpreting at college. But when I lived in London, I got involved in the avant-garde film sector after I fell in love with it.
So I linked together what I learned in college with my work in the arts and started translating avant-garde films.
I hate repeating the story because it sounds like a bit of a cliche, but it was one trip to the west of Ireland that made me pack my bags and leave London.
I'd never been to Ireland before my friend invited me to come over. I flew into Shannon Airport – I remember it all as clear as day. They picked me up and drove me across the Burren.
It was a beautiful spring evening and just as I was coming up past Leamaneh Castle in Clare, I had a strong sense of déjà vu. I stayed in Kinvara for a few weeks and the whole area felt very right.
One day while driving around we stumbled across this house because we were lost. I was map reading and we were trying to figure out where we went wrong when this house came out of nowhere.
It was a ruin of an old building on the other side of Carron in Clare that had been for sale for around 10 years.
My friend had been looking for a house to buy in the area and he asked me what I thought of it. I said it looked great. But he didn't mean for himself, he meant as a house for me.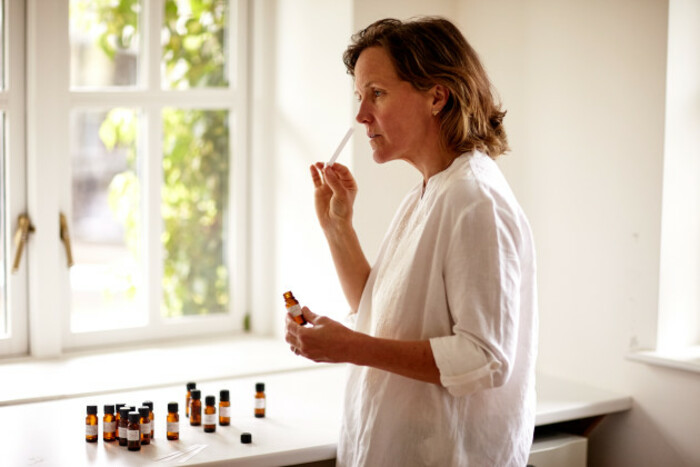 Source: Peter M. Mayr
The big move
I was in the middle of buying a flat in Notting Hill Gate in London at the time, but the idea of buying this old house felt right. So from totally nowhere I was planning to move to Ireland.
I made the decision to move, put the deposit down on the house and that was pretty much it. But I went back to London for a few months to start coming up with the rest of the money for it.
It wasn't a very structured decision. I didn't have any work lined up, but I had quite a lot of freelance translating and interpreting work I could do remotely.
Then a chance meeting with Edward Biggs, who had taken over the Burren Perfumery from its founder Brian Mooney, led me on my next career path – a path that would lead me to eventually buying the business.
Edward asked me if I would work for the perfumery, and by that time I had met my now husband and had a child that was two years old.
So I said I could do a couple of days a week, but I didn't think of myself as a business person – I was still very much involved in the arts. But as I started working in the perfumery, just for three days a week, I realised that business was all about people.
It was such a good fit for me because it was not only about the staff and the customers, it was also about design and making of the perfumes and products – all things I was passionate about.
My very first job was planting the herb garden, and then I started doing the accounts. It makes my husband roar with laughter now when we look back, but I did the accounts perfectly well.
I also did some day-to-day management, keeping the business ticking over. Everyone did everything in the business. We all put our hands to the jobs that needed to be done.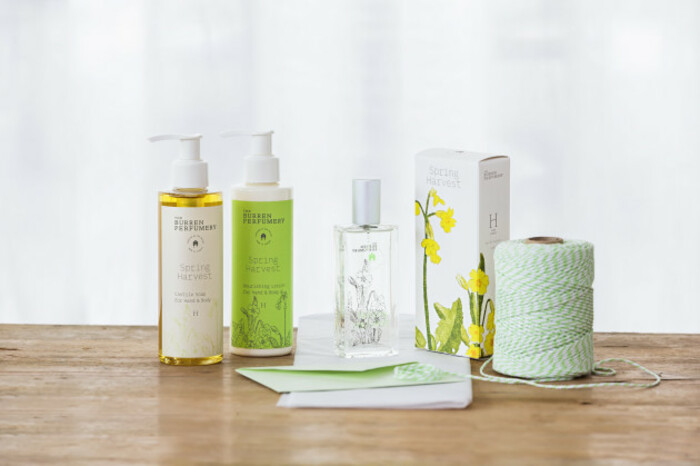 Buying the business
I got more and more involved in the business over the years. A lot of our packaging components come from France – the heart of the perfume industry – and because I spoke French I started dealing directly with them.
But for family reasons, Edward was going to have to leave and he was looking for someone to take it all on. I just knew I had to buy it.
In the end, the perfumery didn't go on the market; instead, myself and Edward came to a financial arrangement in 2001.
The most difficult part of that was selling my beautiful little cottage on the other side of Carron to fund the deal. I had put a lot of effort into doing that place up, so it was hard to let go of it.
I didn't have the kind of money to buy a business like this. But luckily I was able to sell my cottage to a friend of mine from New York. I don't regret selling the house – it was an all-or-nothing move that I had to do.
For a while after, I was left thinking that it wasn't actually a great year to buy a business. Foot-and-mouth disease was paralysing rural Ireland and 9/11 also happened as well.
I thought I had made one of the worst possible mistakes buying the business. I was very confident about it and had a vision, but I hadn't factored in how some big events like these can effect even a perfume business.
It was also quite an overwhelming experience. It's one thing running a business owned by someone else, but it's different when it's all on your head and you have no one to turn to.
In the end, we actually had one of the best years for growth we ever had in 2001. I've been very lucky that the business has grown every year since then.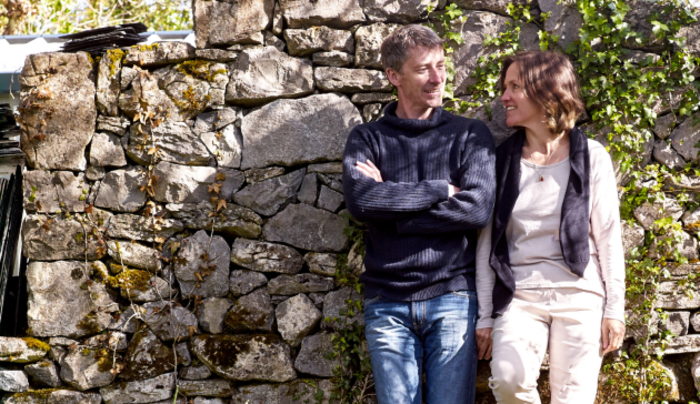 Source: Peter M. Mayr
Always busy
The business is still hands-on, but it used to require even more constant attention.
I started the tea rooms to diversify the business, and I used to be in there a lot making food and serving customers. I am occasionally in during the summer still, but not as much.
[embed id="embed_2"]
There were no staff when I started, just Edward and I and local girls who helped at weekends and the summer. We now have 32 people working for us.
Design and quality has always been very important to me, and I want everything we make to be something I would wish to buy.
And because I had worked in cities like Paris, London and New York, I saw no reason why our products made in rural Ireland couldn't sit beside the best products in top shops.
That mindset wasn't always popular in Ireland. The Irish craft industry used to be a bit shamrocks and leprechauns, and I felt that good design should play a part in selling what we made.
The future
I love the business and it's my passion but one of the downsides is that it's very all-consuming.
There can be a lack of separation between your personal life and the business. You're always responsible and we're open every single day, all-year round.
That's one lesson I learned. If I could change anything, I would try to create more separation between my business and personal life. But I don't know if that's possible as a business owner.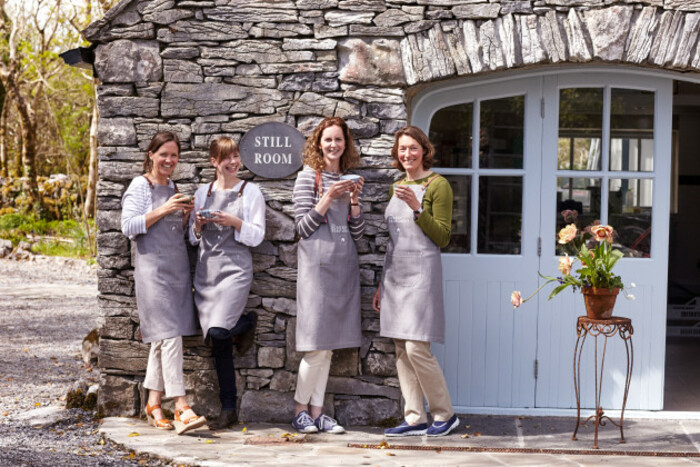 Source: Peter M. Mayr
What we did right was our online approach, and that's in great part due to my husband and his IT background. His expertise allowed us to create a direct-to-consumer model.
A strategic decision we made after the big recession was to move away from the wholesale channel and to focus our resources on sales from our venue in Clare and online.
That was nearly 10 years ago, and it was quite radical then. People struggled to understand why you wouldn't want to be in every shop in every town.
We are deliberately choosing to be more exclusive, because we feel that brands have less value when they are ubiquitous. By maintaining a tighter focus, we can concentrate more energy on building and maintaining the connection to our customers.
We returned to the wholesale market this year with Avoca. They approached us and we felt their brand was a very good match for us, aligned with our current business goal of becoming better known in the domestic market.
We don't want to forget that our core focus is customers' experience at the perfumery in Clare. We want to involve the customer in what we do more because the days of conventional retailing are fading – consumers want to meet the maker.
So I don't think we're going to get seduced by the idea of turning into a massive business. The value of 10,000 loyal followers that one retains for years is far greater than 100,000 customers who buy once and never return.
Sadie Chowen is the co-owner of the Burren Perfumery. This piece was written in conversation with Killian Woods. This article was written in conversation with Killian Woods as part of a series on unlikely entrepreneurs.
If you want to share your opinion, advice or story, email opinion@fora.ie.