'My first business is a haunting reminder of my complete lack of acumen then'
Blue Insurance co-founder Rowan Devereux talks about selling car gadgets and angel investing.
MY FIRST ATTEMPT at a company was when I was in college, and it was a lesson well learned.
Before cars started to have in-built bumper sensors, I had a company called Ultra Sonic Reversing Systems. When I was about 17, my brother did some business in Korea and came back with one of these little units.
Basically you stick it on the back of your bumper and one wire goes to your reversing light to get power and one goes to the speaker. It used to beep away when you were in reverse – it was way ahead of its time in the 1980s.
So I spent my life savings on buying about 1,000 of these units and then spent more money replacing the Korean packaging with English packaging. I had no idea about sales, distribution or marketing – and I had no money left because I spent it all on product.
As a consequence I still have 999 in my loft. So occasionally, when I get the Christmas decorations out, I see the stock up in the attic.
There is no other use for them. They're a haunting reminder of my complete lack of business acumen when I started out in 1987.
That was a lesson well learned. You need to formulate your whole business plan before you dive in with two feet.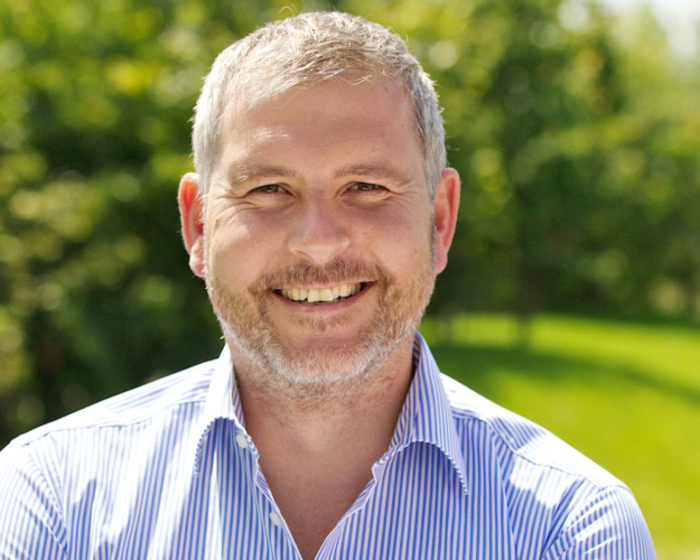 The beginning
My first job was actually selling sports cars to the rich and famous. As a 16-year-old I used to wash and polish Lotus and Ferrari cars. I figured if I can't own one, I'll do the next best thing and clean them.
Then one day, a very impatient man asked me to come over and sell him a car – I was just the cleaner at the time. But I managed to sell him a very expensive sports car, and it made the bosses take note that I might have a bit of sales talent.
So they offered me a new job to sell cars at the weekend while I was still in college. But I decided college wasn't for me and sales were, so to my parents' dismay I quit and went full-time selling cars to earn a fortune.
Well, hardly a fortune. I think my basic annual salary was £2,500 a year and the rest was commission. I got quite good at that, but then the recession hit in the 1980s and I had to look elsewhere for something more robust.
I actually ended up in insurance because I sold a car to someone who owned an insurance company.
He liked the cut of my jib and asked me to come work for him. That was in 1993, and I was the first employee of a startup called InterGroup Insurance Services.
The chap who founded that is a very well-known insurance entrepreneur in the UK called Andrew Blowers. He started InterGroup, which was subsequently sold to Churchill and then he went off and started Swiftcover, which he also exited.
Andrew and I have remained very good friends, and all of my tutelage in the sector occurred under his wing.
My introduction into the Irish market came through InterGroup because they were setting up an overflow call centre in Galway.
I came over to oversee that project because my then girlfriend – now my wife – was Irish and that somehow qualified me to know everything about Ireland.
Our idea
I started an intermediary in Galway in 2000 and that became Blue Insurance when I joined forces with Ciaran Mulligan in 2003. I would love to say there was amazing entrepreneurial foresight involved.
When we first started Blue Insurance, Google was just about on the scene. And what Ciaran and I both noticed was that if your URL said what you were delivering, you would get quite a good page ranking.
So while everyone was out registering their brand as their URL and trying to force users to type in Axa for car insurance, we set up websites like Cheap Travel Insurance and Annual Travel Insurance. It made people much more likely to find us through Google.
We started as a wholesale insurance broker supplying travel insurance to the likes of Budget Travel, USIT and Sunway – we were very much behind the scenes.
As a consequence, we didn't have control of our own destiny. We realised we needed to start selling directly, which is why in 2004 we made the transition to sell policies direct to the public under the various domain names.
We set up multitrip.com, annualtravelinsurance.com, Wedding Insurance, Pet Insurance and further down the line we set up gadgetinsurance.com.
Slowly over the next few years, our business changed from 80% wholesale to 85% direct sales when I sold out of the business in 2013.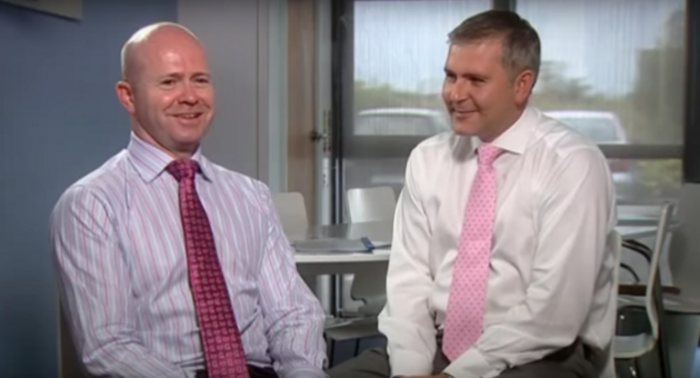 Starting up
Ciaran and I both took a considerable risk when we personally funded the launch of Blue Insurance.
In our first year of business, we won travel insurance provider of the year, which was a huge endorsement of what we achieved in 12 months.
But in insurance you have to deal with a lot of regulation. Since the internet overtook everything, we had to do a lot of work making sure we were still 100% compliant with the regulator in a very fast-moving industry.
Also, when the recession struck, an awful lot of big travel companies hit the wall and a number of those were clients of ours, so it was a big test for us to weather.
Luckily, we had no legacy systems because we were relatively new to the Irish market. We didn't have huge numbers of staff or massive call centres, so we were able to roll with the punches.
We never overextended ourselves when we were building it up, and I'm glad we didn't now because the temptation is to grow as quickly as possible.
Both Ciaran and I grew it organically from our own income and what the company was making. I was hugely proud of that.
When I stood up to tell my startup journey as an EY entrepreneur of the year finalist in 2011, half applauded but the other half thought I was crazy. They said, "Why didn't you take money on and get there five years quicker?"
I think the question on that will never be answered. Do you take money on and achieve your goals quicker but give away a bit of the prize, or do you grow organically and keep the lot?
It's a question a lot of startups wrestle with. It's different for every company, and I don't regret not taking on investment.
Post sale
We weathered the recession, then in 2013 the chance to exit came up and I sold my share in the business to Ciaran. It wasn't a decision I took lightly, there was a lot of soul-searching and deliberation.
For me, personally, I had run my journey in terms of what I could contribute. So I felt I was ready for another challenge.
The trouble is, once you've been successful in one business, I think you suffer from a well-known condition called 'entrepreneuritis' – you automatically think anything you touch will turn to gold.
So although I had no immediate plans after Blue Insurance, on the side I had been an angel investor for a few years and found the process really rewarding.
When I left Blue Insurance, I got more into the angel scene in Ireland and further afield, making a number of investments in technology startups and continued doing that ever since.
It's not necessarily the risk that I enjoy. I find I learn so much doing it, and I'm keen to share what I've learned to help other companies not make the same mistakes that I made.
It's hugely rewarding to mentor young companies and there are incredibly talented startups in the Irish tech scene.
I also got involved with launching some new startups like the Enterprise Ireland-backed FanFootage, and I also co-founded a SaaS company called Complyfile with a friend of mine which is heading in the right direction.
Advice
I quickly learned as an angel investor that either you do a few investments and give them all of your attention, or you're just the money and stay remote.
Time is the most precious commodity, and I realised I didn't have much of it – even though I was supposed to be semi-retired. So I have stepped back a bit with some of my new investments that just need the money, meeting with them once a quarter to catch up.
But it's only the early ones where I mistakenly installed myself as the executive and found myself saying, "I've kind of done my own startup journey, I don't want to go again."
I was a lone wolf in the angel scene for many years, and it's quite a solitary existence. You have to do all your own due diligence and you have no one to bounce ideas off.
So I reached out to the Halo Business Angel Network (HBAN) and the Bloom Equity Syndicate and became a member. It was nice to have other like-minded individuals and more comfort in numbers.
That's why I stuck with Bloom for a few years and now have been made chairman of it. So I sit down with HBAN and talk to the companies that want to pitch for investment.
It's not too much work. I just need to keep the meetings on time and make sure people show up.
Despite all the investing, the entrepreneuritis is still in my bones, and I just spent a couple of weeks in San Francisco being an entrepreneur-in-residence for a Google accelerator called Blackbox.
And I shared at that accelerator the piece of advice I give to every startup – always leave space in your 'cap table' for key hires. There are lots of presentations I see where they haven't given any thought about how they will attract talent.
Don't be precious about equity, because a fully involved management team with shares will be much more effective than any employee.
You need to make sure your cap table is clean. You can't have a hundred people earning 1% – it's hugely unattractive to investors. So the only bit of advice I have for startups is to make sure you've thought about that.
Rowan Devereux is the co-founder of Blue Insurance and chairman of the Bloom Equity investment syndicate. This article was written in conversation with Killian Woods as part of a series on business mistakes and what can be learned from them.
If you want to share your opinion, advice or story, email opinion@fora.ie.
read more on