'I thought it'd be great to be in Dublin, but there's a lot of noise. Everyone's selling something'
Setting up in Waterford proved to be the right approach for this startup founder.
I STUDIED BUSINESS information systems in Cork and, since it would have been a natural progression, I figured I would end up working in one of the big consultancy firms.
But in final year, I started going to some startup workshops and networking events run by the local community and entrepreneurial society in my college, and I met some of the characters from the Irish and Cork startup scenes.
I found the guys I was meeting at these events, like Liam Casey of PCH, Teamwork's Peter Coppinger and Pat Phelan, who co-founded Trustev, really interesting, and I was really engaged by the stories they were telling. I wanted to have those kind of stories of my own, and it changed my mind about going into a standard nine-to-five job.
So Startup Weekend came around and myself and my co-founder, John Hegarty, decided to enter an idea we had for an on-demand, pay-as-you-go waste disposal service called Kollect. That's where we got our first foot forward. People liked the idea and thought there was a need for it, so it gave us a bit of validation.
Before Startup Weekend, I had interviewed for a consultancy firm and they rang me to tell me I had the position, but it wasn't the only opportunity on the table anymore.
My gut was telling me not to take the job because I felt Kollect was something I had to do. It wasn't the only sacrifice I've made along the way: I also canceled my J1 because I felt we had to get to work straight away.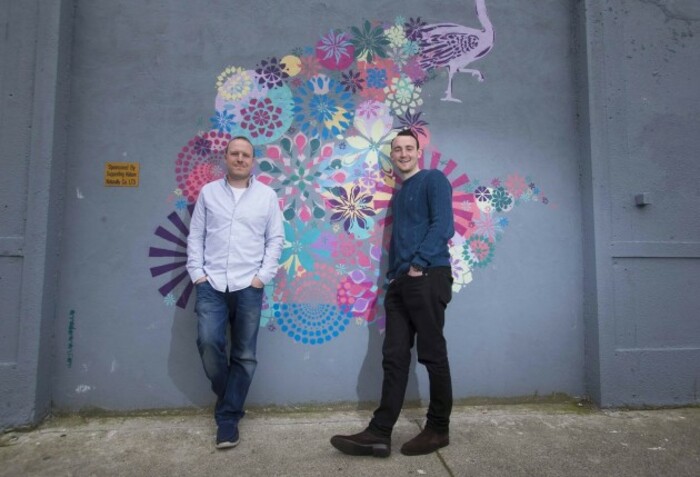 Source: Patrick Browne
Setting up shop
It was really tough to get the company off the ground at first because it involved convincing third-party waste disposal companies to partner with us. The way Kollect works is that it's on-demand, so customers say they want one bin collected and we sub-contract that job out to a waste disposal company passing their home.
It's been all go since I finished college and I haven't really had a chance to catch my breath, but that's the kind of sacrifice you have to make if you want your company to take off.
It was right after college that I first moved to Dublin for another on-demand services startup I co-founded called UpChore and at the time I thought it would be great.
I'd get to work on my startup, be closer to my a lot of my friends who were in Dublin and be in a city where there is an active startup community, but there were too many distractions. I found there's a lot of noise in Dublin and everyone seems to be selling something.
When Kollect started to really take off, I had to make my way to Waterford, so I can be here full-time to work on the business and be in and around the office. I live on my own in Waterford and don't have any friends here, so it is non-stop work – but it's great in a way.
I have zero distractions down here, and it allows me to focus for the whole five-day working week, while at the weekend I can come back to Dublin to have my social life.
It's so fast paced and some weeks will beat you up more than others, but you can't let that overwhelm you. I've found the key is to look back over the week at what I've achieved and count the milestones.
Our weekly reflection isn't a standardised session yet, but as co-founders, we sometimes have a call at 11pm on a Friday to remind each other that, even though the week may have been a tough slog, we achieved these five, six or seven things.
To Waterford
One of my co-founders is from Waterford and has a family here, but there are a number of other reasons why this is the best place for Kollect.
We have the right kind of relationship with the waste providers who want to work with us down here, there's not as many services being pushed down people's throats, rent is cheaper and personally I like having fewer distractions.
People down here also seem to have a real urge to support local, and because of the fact we're based in Waterford, they really get behind us. We've made the most of Waterford, so I decided to give a bit back to the community.
When I came down here there wasn't much going on, startup-wise. For instance, there wasn't any sort of entrepreneurs' meetup, so I decided to start organising one called Founder Friday where startups can come and meet one another to share experiences.
It's by no means all down to me, but there is a small startup resurgence going on in Waterford at the moment. We're probably about 18 months behind the likes of Galway and Limerick in terms of setting up a startup ecosystem down here, but we're getting there.
So, even though we're outside of Dublin, we don't feel the disconnect. Sure there is a lot going on up there in terms of the startup scene and events, but it can be a bit of overwhelming. We have to carefully choose when we leave the office because it will all count as time away from focusing purely on the business and customers.
No regrets
I turned down the chance to go with the consultancy line of work at 22 with the notion that if my startup doesn't go anywhere, it's not hampering my career. Two years later and some tough lessons later, I definitely don't regret it.
There's still no doubt in my mind that this is something I needed to go for when I had the chance, despite the tough times when we weren't making sales and messing around with ideas to get a live product.
I have piled pressure on myself to make it work after looking at all my friends who have gone into more traditional jobs. They have competitive and reliable salaries, which is something you forgo as a founder, and are going to company events with free bars and subsidised weekend trips.
But then again, there are thrills I get as a founder. For example, we recently hired some people to work in customer service and develop the product, and it hit home: I'm 24 and have employees to think about, which is a phenomenal experience.
It does scare the shit out of you sometimes and can be a bit overwhelming, but those hard days and having your back to the wall are the days where you gain the most. You look back on them and feel proud about what you've overcome. And they're the stories worth telling.
Robbie Skuse is co-founder of Kollect and runs the event Founder Fridays in Waterford. This article was written in conversation with Killian Woods as part of a series on unlikely entrepreneurs.
If you want to share your opinion, advice or story, email opinion@fora.ie.
read more on