We're spending €3m refreshing our brand. Here are the key takeaways for other businesses
Planning a major marketing campaign is exciting, but requires a lot of thought.
WE RECENTLY ANNOUNCED that we are investing €3 million in a new national marketing campaign for Energia.
Like most businesses and organisations, we frequently undertake campaigns aimed at various audiences across our target markets.
However, this campaign – entitled 'Power Behind Your Power' – is different and has been a valuable learning experience in terms of understanding who we are, what the public thinks of us and how we communicate with them; insights that are important for any business.
This year marks our 20th anniversary. Conscious of this significant milestone, we wanted to develop a campaign that reflected both our journey as a company, the services we provide and the public we serve.
As such, we undertook research to understand public perceptions around the brand, an important activity for any business to benchmark itself within the market.
The research yielded one important general key insight: people were not aware of the actual scale of the company as an electricity and gas supplier, our history or our presence across the island of Ireland.
This knowledge formed the basis of the subsequent planning process and overall delivery of the campaign; a campaign that we hope will ultimately move our business from a competitor brand focused on acquisition to one that is viewed as a mature, trusted supplier that retains customers in a market where customer loyalty is not a given.
This activity applies to any business as the route to overall strategic success will be guided by an understanding of your market standing.
Working with our agency partners across creative, production, advertising, media buying and PR, we endeavoured to develop a strategic vision that would ultimately be underpinned by a national TV, radio, print and digital advertising and marketing campaign.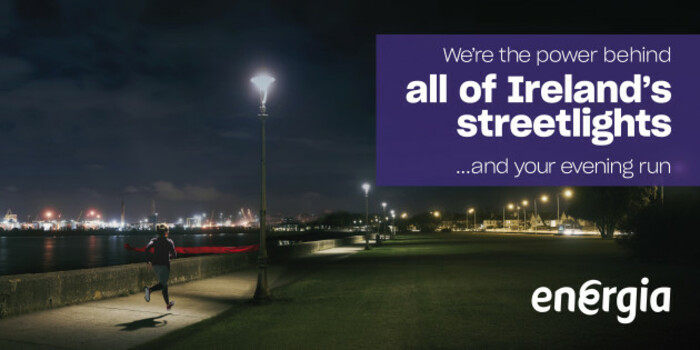 Source: Energia
Key pillars
As with any company or brand undertaking such an activity, considerations such as our overall objectives, target audiences, timings and budget were cornerstones of the planning process. 
The planning and development process consisted of several phases, broadly categorised as briefing; idea and creative development' asset production; and media planning.
With our consumer research underpinning the planning process, we moved through the various stages of development ensuring alignment and regular reporting so that we stayed on track with our overall goal. 
As we worked through the brief with our partners, we needed to ensure we were agile and receptive to new creative ideas but also external factors such as production considerations and ensuring that our overall timeline and budget were adhered to.
We also had to consider the overall tone of the campaign to ensure it would resonate with our audience and avoid any sort of negativity in our overall message.
These are important considerations for a company when undertaking marketing and were pivotal in the development of our three pillars that underpinned the 'Power Behind Your Power' concept.
The first pillar was 'scale', whereby Energia is bigger then people realise and supplies the power for all of Ireland's streetlights as well as maternity hospitals, Dublin Bus, An Garda Síochána and thousands of classrooms and businesses of all sizes.
The second was 'commitment' and demonstrating that to date we have invested €1 billion in the Irish energy market.
Finally, we focused on the 'value' we provide to customers.
Throughout this process, we were able to develop a tactical communications campaign at a local, regional and national level that encapsulates these messages and reaches our audiences with impact.
Lessons
The planning of the campaign was an exciting process and based on these learnings and my experience over the years, I would offer the following advice to any business or organisation looking to develop or refresh their brand:
1. Invest in market research
This will inform the overall strategic approach and subsequent media channels you use. Knowing who you are targeting and what you should be saying to them is crucial. 
2. Develop a brief
This must be informed by stakeholders from across your business, one that is easily defined and targets your core audience, as well as the broader public.
The brief will guide all subsequent activity so ensuring there is buy-in across the organisation and is representative will help to keep it on track through the planning and development stages, while also allowing you to react to unforeseen occurrences.
3. Have a timeline
This is an important point to ensure that the campaign is delivered at the right time. For example, if your brand specialises in stationery, you should ensure you have outreach planned for August to target the back-to-school market.
Also, a time frame will ensure you have the time to properly go through the creative and development process.
In my experience, developing a large-scale campaign will take between six and 12 months. The time frame will depend on factors such as the campaign objectives, number of copy executions, breadth of media options, scale and investment.
4. Understand how to reach your audience
When it comes to rolling out your marketing campaign, it is crucial that you understand what media your target audience consumes and how to reach to them.
For example, if they are a younger demographic, you may need to focus most of your resources on online and social media marketing. This is very important when budgeting and being able to measure overall success with clear metrics.
Overall, I would encourage people to be creative and don't be afraid to take risks. If you look at the Energia marketing over the past 10 years, you will see we have evolved in line with our business.
Just because something worked well previously does not necessarily mean you should do it again, so encourage your business to be brave and have an open, collaborative relationship with agencies to allow for creativity and innovation. 
Geoff Codd is head of marketing and retail development at Energia.
Get our NEW Daily Briefing with the morning's most important headlines for innovative Irish businesses.