'I had to change job three times in six months when Uber came to London – I needed to leave'
After losing his job in the cab industry, Nik Mehta moved to Ireland and now runs a nut store in Dublin.
WHEN I MOVED to Ireland two years ago, I didn't know what I was going to do.
I was working in the cab industry in London as an operations manager for one of those call-a-cab agencies before I moved over. I oversaw four guys on phones taking calls every minute of the day and controlled about 150 taxis.
All this is before Uber came in and turned the whole sector upside down. Now Uber does my job automatically, which was bad news for me.
When the ride-sharing service launched in London a few years ago, all of a sudden anyone could give people lifts. The cab industry was hit and I had to leave the company I worked for.
I went to another company that was just starting off in the sector doing taxi insurance and helped start the business, but it didn't work out.
Within six months I changed jobs three times, the cabs offices were all closing and I was running out of options.
We were considering a move to Germany because I thought it would be a good place to start a career in IT, which is what I studied in college. I started studying German, but then the option of coming to Ireland came up.
Source: Fora.ie
Moving to Ireland
I started to plan the move to Germany in 2015, but also asked some friends who live in different places for advice. I got in contact with a few friends who live in Ireland and it sounded like a much more preferable place, mainly because it is an English-speaking country.
Myself and my wife moved to Dublin in April 2016, but had nothing planned. We wanted to just relax for a while, see what Ireland had to offer and then make a decision about what we could do.
I thought I would stick to what I knew and work in the cab industry again. So whenever I was in a taxi, I'd ask the driver loads of questions about the Irish industry to learn about it – but it's so different here compared to the UK.
So I looked for a few jobs and also thought about maybe setting up my own business with my business partner Manisha Patel, but nothing really felt right. Then one day I was on a day tour around Dublin and came across George's Street Arcade.
It looked very 'London' to me because of all the Victorian architecture. Of course we walked in and then saw an empty space and were curious about it.
I asked the arcade manager about it and he said the people selling wool out of it closed down and he wanted another business in. That got me thinking.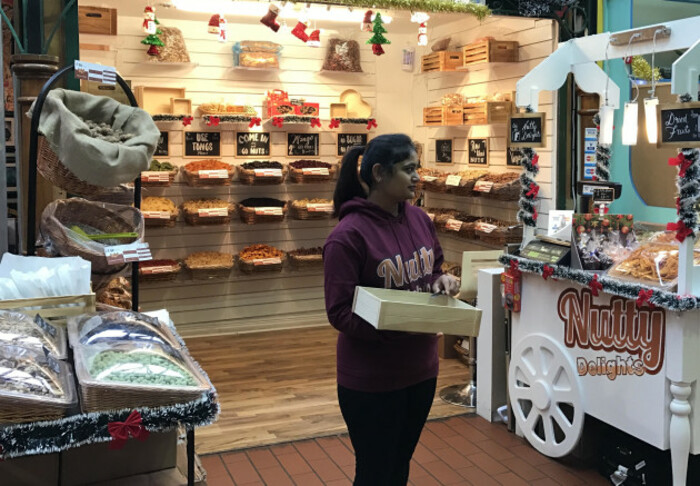 Source: Nutty Delights
Appetite for nuts
I wasn't so sure what sort of business myself and Manisha could launch in the space, so I suggested a gift store. I thought of the nut store but didn't know if it would work. But the arcade manager told me they weren't looking for a gift store, they wanted a dried foods outlet.
Mistakenly, I heard dried fruits and started looking up what I could do to cater for what he envisaged for the spot and came up with the idea for Nutty Delights.
Where I used to live in Harrow, there was a nut place and I loved going there. Nuts are just part of a normal diet for people where I'm from in India, so I would always go to Harrow to buy some. I fell in love with the smell of the place because the nuts were roasted in the back of the shop.
When I moved here, I looked around Dublin for a similar place, but I couldn't find one. I searched "nut store" in Google and would find The Cracked Nut on Camden Street. It was the number one result, but they don't even do nuts, they do coffee.
Since there wasn't anything like this, the first question I had was, would people accept it? Are people interested in nuts? People might like peanuts, but maybe flavoured nuts was a step too far.
But business is all about taking those risks. If you can't take a risk, you won't make it.
So I went back to the arcade manager with the idea for Nutty Delights and within a month we were open. I remember I met with him on 23 June and by 29 July we opened.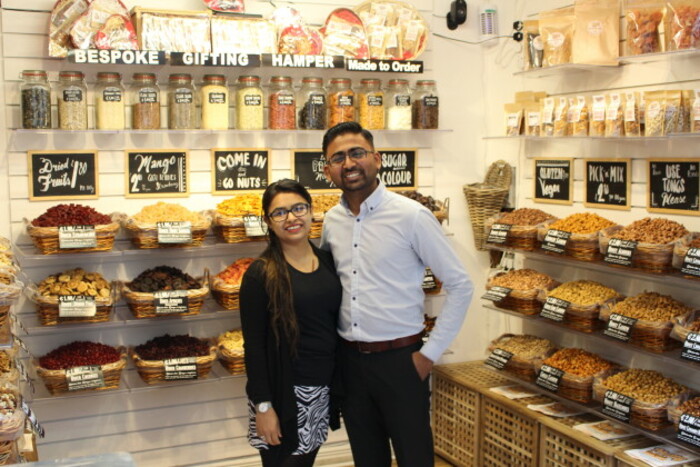 Source: Fora.ie
Slowly building
The business was slow to start, but there was a great response from people who liked what we did because it was so new to Dublin.
Of course there was the passing trade and tourists who would stop in and buy some nuts as a snack, but then a lot of those people have turned into regulars. They come in, pick up a bag and know exactly what they want.
We're a family business and like to see those regulars as part of our little community. We might tell them we're taking this weekend off and they would come in and ask what we did, where we went and all that.
They come to our store and have seen us from the beginning up to now, so they know how it was all set up.
Then there is our family in George's Street Arcade. Everyone looks out for each other in here. Next door we have Man of Aran Fudge and Milo is a great guy and the manager of the arcade, Joe, is great too.
The businesses like BlindEye barbershop across the way, the owner Sean always comes across and asks if we need any help. He's not always around, but when he is he would stop by and that's very motivating.
So everyone helps each other out. Even the new pizza shop that opened recently; I passed on some advice to them about payment solutions based on what I learned from setting up Nutty Delights.
It's a happy family in here. And we would watch each other's shops, which I don't think would happen in a big shopping mall in the same way.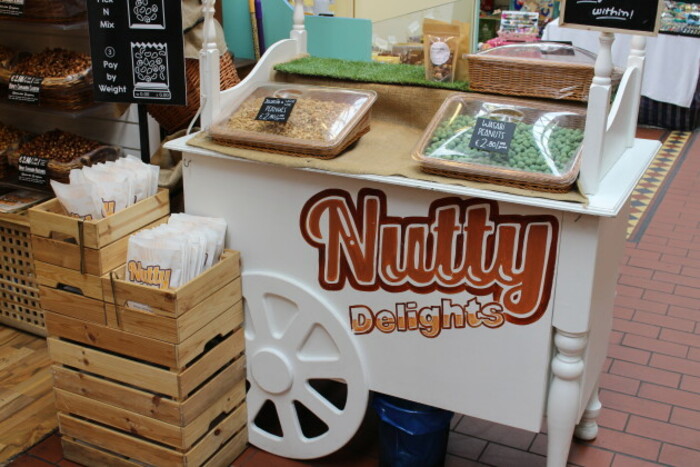 Source: Fora.ie
The best days
It's an obvious answer, but the first day we opened the stall was probably the best moment in the business.
Even when we hadn't opened up yet, people were looking inside to see what was about to open. I remember one woman was there bright and early and wanted to buy some nuts, but we were still half-closed.
We were a little late opening on the first day and the lady came up and asked, "Can I buy some nuts?" We said, "We're not ready quite yet, please come back a little bit later." The till wasn't connected and a guy had to come in and set it up.
Later that day, she came back and bought some nuts. I thought she would go to the supermarket and get a packet of nuts or something, but she didn't, she came back.
Moments like that in the business stand out for me. It's not a massive moment, but to me those are the things I remember. The rest of it all is just material and changes every year.
I'm not saying the numbers behind the business and finances aren't important. We are responsible and track how the business is performing, but that's not the happy moments in the business.
Happy moments are when families come in and kids are asking for this and that nut or when I hire someone and they look after their family from working for my shop. But tough moments crop up now and then when running a business – it's to be expected.
The hard times for us are when a supplier mightn't have the stock we're looking for or prices for certain nuts soar high because they're harder to source.
Like the price of the Brazil nut was so high for a while because there was no crop in Bolivia. We still carried it, but we had to increase the price a little bit, but then as the price went down, our prices have gone back to normal.
Those tough moments are for the day, they don't carry, and I'd look back now and wonder why I worried. Time heals a lot of the issues and you have to move on because there are probably more problems waiting for you.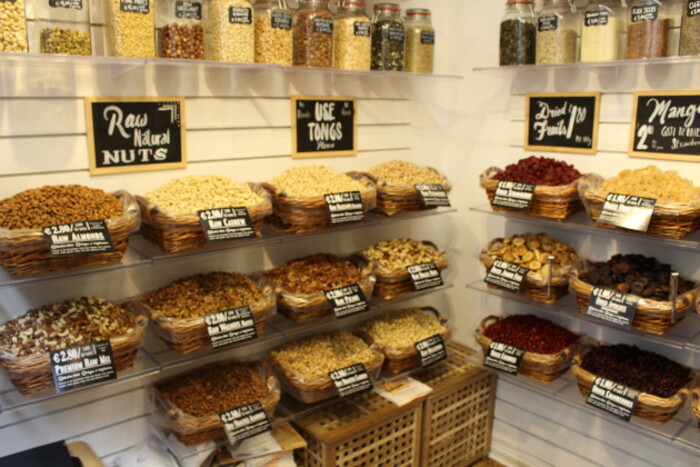 Source: Fora.ie
Our next steps
I care about my business. I like my business to be nicely branded and clean, but I like to keep the family business touch to it all as well. I could sell in bulk, like a lot of people have suggested, but it's not for me.
If I sold in bulk, I could do double the product, but I don't want to do that. I'd rather run it like a traditional business with the nuts in the baskets.
Our place in George's Street Arcade is our main shop right now and we sell about 150kg every week. That's only from our small shop and doesn't even include the wholesale that we do.
We have one pop-up in Dollard and Co on the quays as well, which is working out really well and the online delivery is also driving a lot of business.
The next plan is to find a new place, maybe a kiosk, in a shopping mall. We need a space like a kiosk to get the passing trade and impulse buyers.
That place needs to be in the city centre because I need to be able to go between the two shops quickly if I need to.
If it all goes to plan, hopefully we will have that little kiosk open by the end of the year.
Nik Mehta is the co-founder of Nutty Delights. This piece was written in conversation with Killian Woods as part of a series on unlikely entrepreneurs.
Sign up to our newsletter to receive a regular digest of Fora's top articles delivered to your inbox.