How to be better at networking... and get rid of someone who chews your ear off
Network Ireland president Rebecca Harrison delivers a masterclass in mingling.
WE'VE ALL BEEN in that situation where you walk into a networking event and it feels like everybody else already knows each other. But the likelihood of that actually being the case is very slim.
If you're nervous about approaching strangers, remind yourself that everyone is there for the same reason. Sometimes you have to just bite the bullet and say hello to people. They aren't as scary as you think they are.
Of course if you're very shy, you can always ask the event organisers to introduce you to people. They'll be only delighted to do that for you.
You can also ask for the attendee list in advance so you can make a call and prepare yourself a little bit.
When you're introducing yourself, always repeat your name, "My name is Rebecca. Rebecca Harrison." It sounds a bit 'James Bond', but that will make it easier for the other person to remember you.
Likewise, it will be easier for you to memorise their name if you repeat it when you're exchanging pleasantries. How many times have you chatted to someone for 10 minutes before realising you've completely forgotten their name?
If looking for things to say, an easy opener is to talk about the event's keynote speaker or ask whether the other person is enjoying the event.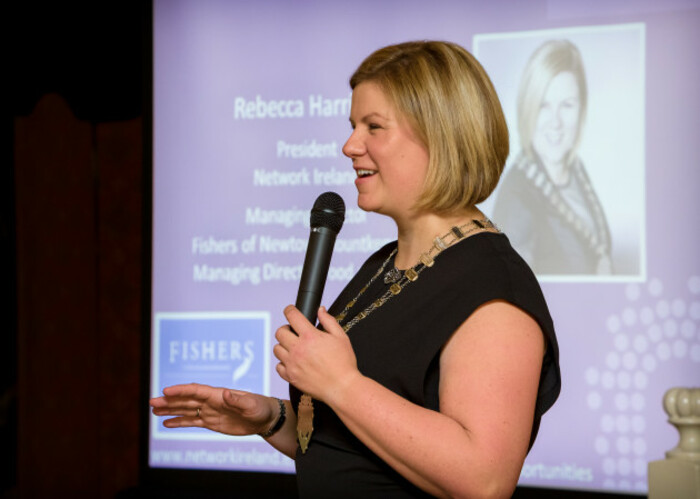 Source: Garrett FitzGerald
Be human
One of the big things when it comes to networking is to be human about it. It's not about the quick sell and flashing business cards. It's a conversation, so ask lots of open questions that will give you an insight into the other person's interests.
I don't think anybody likes to be sold to, so when you're chatting about work, touch on topics that are accessible. The more questions you ask, the easier it is to tailor your answers.
For example, I run a clothes business. If I was speaking to someone who told me they had an interest in fashion, I'd talk in more general terms about styles and colours that are in season. If they liked hillwalking, I'd talk about these new hiking boots that are all the rage.
The point is to share insider tips with the other person and offer rough advice around their interests – not to blatantly push your product.
The other thing I often do when I'm networking is try and connect other people with colleagues. If I'm talking to someone who's never going to be interested in my business, I'd mention a friend who might be a bit more relevant.
I have a colleague in Network Ireland's Kildare branch who has an engineering company, so if I was speaking to the head of a construction firm, I'd mention her. When you share those contacts, the favour is usually returned.
Of course, people love talking about non-work stuff as well. There's that old adage, never talk about politics or religion, but I wouldn't hold to that. Just use common sense – if you reckon something will cause a fight, don't talk about it.
There's never a one-size-fits-all approach to conversation topics. Someone from Kilkenny isn't guaranteed to be enthusiastic about hurling. The more questions you ask, the easier it will be to read your audience.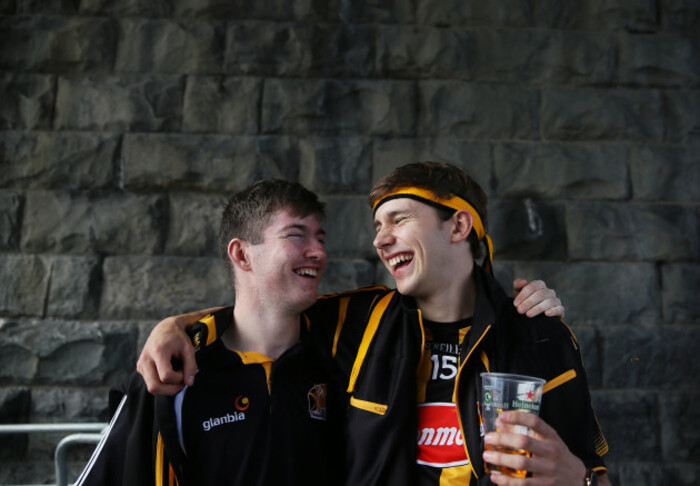 Source: Brian Lawless/PA Archive/PA Images
Dread
I obviously do a lot of networking events, but sometimes even I don't feel like going to them.
When I'm not in the mood to go to something after a long day's work, the worst part is the thought of going. But once I'm there, the buzz in the room is enough to make me game-face ready. When you're meeting with other entrepreneurs who are motivated and enthusiastic about what they do, that energy is infectious.
Of course there's nothing wrong with bringing a friend with you for some moral support, but make sure the two of you are not huddled in a corner.
If you assume an open stance, make eye contact with other people and smile at them, you'll come across as more approachable.
You should always be polite and welcoming, even when you're unfortunate enough to find yourself cornered by someone who doesn't stop talking.
If you find yourself in that situation, give them a reasonable amount of time to talk about themselves, but then make your excuses. "It was really nice talking to you, but I just see someone I'd like to say hello to."
Of course there are two sides to that scenario. Other people might not be interested in what you have to say. Don't take offence to that.
If they're looking over their shoulders and not really listening, excuse yourself and move on.
Congruence
My final tip comes from Barbara Moynihan of On Your Feet. She does all sorts of training around public speaking.
One of her big lessons is to be congruent. That means when you're talking, your actually engaged in the conversation. Your facial expression should match what you're saying.
If you're talking about something sad and have a big grin on your face, then it doesn't hold true and will turn people off.
Barbara also recommends that if you want people to remember you, your clothes should be consistent with what you do.
If you're nervous, actually highlight yourself a little bit more in what you wear. For example, one of our members is a photographer who specialises in portraits of animals. She's kind of arty and quirky. If she rocked up to an event wearing a suit would look odd.
When you get those basic rights before you arrive, the rest is easier.
Rebecca Harrison is president of Network Ireland, an organisation that supports women in business, and managing director of Wicklow department store Fishers of Newtownmountkennedy. This article was written in conversation with Conor McMahon as part of a series of masterclasses with some of Ireland's most influential business people.
If you want to share your opinion, advice or story, email opinion@fora.ie.
read more on