'I had to get my name out there without much funding - so I created this character'
Before Michael Flynn unleashed Mattress Mick on the world, his last business collapsed. This is how he rebuilt.
I HAVE BEEN in the furniture business all my life, and at one stage I had five shops all over Dublin, but in 2012 I was left with no choice but to liquidate my business.
In 2007 and 2008 things took a serious dive. I had stores in the Northside Shopping Centre and Donaghmede Shopping Centre. I could not keep going with the service charge and the rents that we were paying, and I was locked into a lease that still had a long time to run.
I just couldn't keep going. The business wasn't there, staff costs were very high, rents were very high – I had to liquidate. It wasn't an easy decision to make after being in business on my own for all my life.
I didn't just walk away, I had a creditors' meeting and liquidated Northside Furniture in an orderly way. It was the only way to get out of my leases.
Looking back, I actually left it too long. I kept putting it off, thinking things would turn around – and that was a mistake. I should have liquidated a year earlier, in 2011, or even 2010. I just had a lot of pride in what I had built over 25 years.
I think a lot of people who are self-employed will always try to hold on. You build up a business all of your life and then suddenly something outside your control destroys it.
It was a whopper recession that hammered a lot better people than myself. All in all, thank God I wasn't in property.
Moving on
Despite all this, I still had to make a living. So I looked at my business and found that mattresses and beds were the main products that I was selling, and there wasn't a dedicated mattress shop in Dublin.
I had been eyeing up this idea for a while. Before I had liquidated Northside Furniture, I was slowly introducing Mattress Mick into the public domain.
I was quietly testing the market to see if it would work. It was my little bit of comfort. I wanted to prove to myself it would work before I decided to call it a day with Northside Furniture. But I didn't go hard at it until I had closed my other business.
I had a unit out in Coolock which I retained and was in my own name so not part of the liquidation. So I kept it and opened it as a bed store.
Guerilla marketing
I had very little funding after going into liquidation and I needed to get my name out there without using a lot of advertising capital, so I decided to create this character. At the time I had no idea whether it would be Mattress Mick, Mick's Mattresses or Mattress Mike, but I eventually settled on Mattress Mick.
Rather than use an actor or a cartoon character, I said I'd use myself to promote my own business. I'm a bit different looking. I wear glasses, I have long hair and an outgoing personality.
So with very little funding, I made posters of myself and stuck them all over Dublin without permission and they got noticed and business began to take off.
I still knew very little about social media and how it can be used for marketing, but I happened to bump into a guy called Paul Kelly I had met many years ago and he knew all about it. So we put plan together to market Mattress Mick through social media.
He did our first video in the store in Coolock and put it up on YouTube. Between the video and the guerrilla marketing, we got more and more attention. We ended up doing new videos every two weeks, got more creative and the hits on the videos just kept going up and up.
I don't rehearse any of the videos, I just get up and speak from my head. I just take it as the moment that's there and it works. The ads aren't professional – they are a little bit amateurish, but people can relate and respond to that.
The whole idea is to sell mattresses and not necessarily to be in showbiz. And it worked. The sales went up and up and the confidence in our store was built up by all the exposure we were getting on television and radio.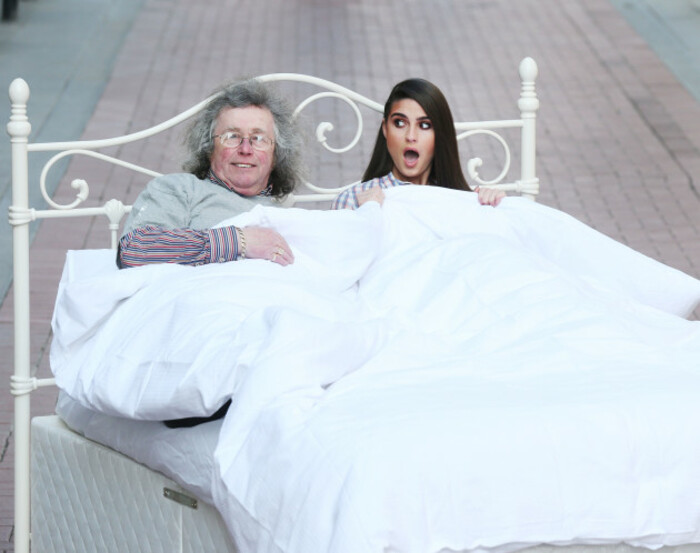 Source: Leon Farrell/RollingNews.ie
Back with a bang
As business picked up, I had a little bit more money to spend on marketing, so we went with some of the more traditional routes and started taking out newspaper and radio ads, but we still did everything ourselves.
We then decided we would do a video called 'back with a bang'. It was a video with a rap song about mattresses we made over a weekend and that has nearly 100,000 views.
It got a lot of attention at the time and a Dublin-based film company called El Zorrero Films took notice. They liked what we were doing and wanted to do a documentary about how a guy fought back in the recession after going into liquidation and how you get back on your feet again with very little funding.
The documentary was filmed over a period of three years by the team, with funding from the Irish Film Board. It basically tells the story of how I got back on track and built Mattress Mick.
The film was released at the Hot Docs festival in Toronto last month and is being showed in Sheffield Film Festival in a few weeks. We're also hoping it will go on general release in Ireland sometime in September or October.
Long slog
It took three years to completely bounce back and get Mattress Mick off the ground. We created it all with a character as the backbone of the business and it didn't happen overnight.
People respond to Mattress Mick so well because I'm available. I'm not sitting in an office all the time. I interact with my customers. I'm approachable.
During the first few years business did increase, but not at the rate I would have liked since the country was still in recession. Everyone was still on their knees and things were difficult, but I knew in the back of my head I was getting ready for when the country came out of the doldrums.
That has happened in the last 12 to 15 months and our business has improved significantly in that time. I took a three-to-five-year view on Mattress Mick being a success. It wasn't like you open up a McDonald's and you get instant sales. You've got to build up a new brand.
My whole intention is this… when people think of mattresses, I want them to think of Mattress Mick.
Michael Flynn is the owner of Mattress Mick. This article was written in conversation with Killian Woods as part of a series on business mistakes and what can be learned from them.
If you want to share your opinion, advice or story, email opinion@fora.ie.
read more on