What a homeless charity can teach you about effective ads
Havas Dublin managing director Bob Coggins delivers a masterclass in better marketing.
A GREAT AD is always guided by great insight. It doesn't matter how much of a creative genius you are, you can't come up with a beautiful idea without being challenged by a problem or a constraint, and to solve that you must gain insight into the issue at hand.
There's a process we use at Havas called 'the creative business idea'. It basically means that we look at how we can best arm ourselves with information before coming up with an idea.
If we're working on a campaign for a consumer brand, we'd collect as much data as possible on their target audience, usually by conducting surveys, studying its competitors and reading as much research on their sector as possible.
We take that information, distill it down to a core learning point, and then turn that into a really good, creative idea.
I'll give you an example. Two of our young creatives won a competition to go to the Cannes Lions festival last year, representing the Irish advertising industry.
To win the competition, they had to devise an advertising strategy for the Peter McVerry Trust that would increase donations to the charity to allow them to continue housing the homeless.
The insight developed by our team focused not on taking pity on the homeless, but understanding the sense of fear or panic you would feel yourself if you didn't have a place to live.
With that in mind, the team focused on the item that gives you access to a home – your keys.
While pitching the idea to the judging panel, the guys recreated the sense of panic you feel when you can't find your keys. They played out the scenarios you go through in your mind when you can't find them.
The cinema ad they based around this – called These Little Things – ended with a shot of a homeless person who never has his keys, and therefore always lives with that fear and panic.
As part of the campaign, we ran a key-cutting service at cinema screenings, where punters could buy a spare Peter McVerry key for their house. All the funds raised went to the charity.
This goes to show that you can only truly get to the nub of what you're trying to resolve by understanding what the actual problem is and who you are trying to help.
Let the ad people do their job
I should mention at this point that insights will only really help you find the creative base to develop an idea. You're not going to truly know whether a campaign will work or not until it's actually out there.
You can obviously test an ad with a sample audience, but you're never fully going to know whether it will perform well until it's put in front of consumers.
A lot of the success of a campaign boils down to trusting the ad people and letting them go ahead with their idea.
I understand it's a constant challenge for marketers to let go of the reins. When they approach an ad agency with a job, they have to keep four or five other people happy back at HQ.
The sales guy will want a piece of the action, the merchandise team want to show off the best of the product, the financial officer wants to make sure it's all done cheaply – and the managing director wants to be famous.
One of the challenges in advertising is always the creative tension and what mandatory items have to be included.
My advice to any marketer or business owner who has commissioned work to an ad agency is to forget the very last comment you heard in the office.
The sales guys, the merch guy, the MD all have a vested interest in the project. If you listen too closely to what they have to say, you'll miss what your target audience really wants.
Work to constraints
There's a great business book that I often refer to in my work called A Beautiful Constraint.
It's by these two branding gurus called Adam Morgan and Mark Barden, and it basically teaches you that your most creative ideas can come from your limitations.
Constraints are a big thing in advertising – especially when it comes to budgets. That's an issue across the board, from tiny, family-owned firms to global brands.
That said, with production values going up and costs going down, it's not that hard any more for even small firms to give the big guys a run for their money.
Look at Mattress Mick. He has turned himself into a lovable idiot, mostly to get around the fact that he never really had a marketing budget. His constraints created the opportunity for him to develop this character that has been really successful.
[embed id="embed_3"]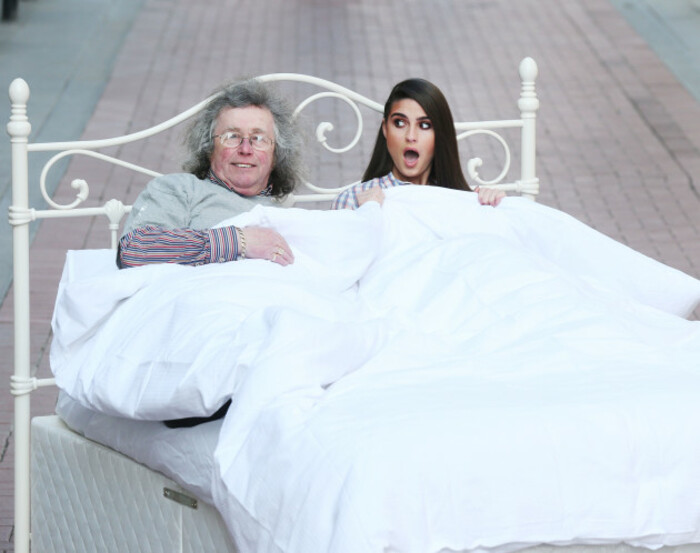 Source: Leon Farrell/Photocall Ireland
Of course it's not just the likes of Mattress Mick that have to stretch their budgets as efficiently as possible.
There was a BMW ad out about two years ago that serves as a good case study for how constraints can aid compelling storytelling.
Shooting a car ad is one of the most expensive things you can do. It's hard to get the lighting right, you're shooting on the road and it usually takes several vehicles to capture enough footage.
Usually there's a global video featuring a left-hand drive vehicle that's distributed across multiple markets with localised pricing and voiceovers.
But this BMW ad just showed a boy coming into his teenage years running down a jetty into a still lake.
As he gets to the end, you can see his dad in the water waiting for him, as if he's there as a safe guard. It's clearly the young lad's first time jumping into a lake.
As he jumps, it cuts to slow motion and you see him plunging into the lake from a couple of different angles. Then the voice over comes on and makes you think about the first time you did something really exhilarating and exciting.
It essentially compares the first time you did something that caused you to have a huge adrenaline rush to the first time you bought a BMW.
I thought it was a beautiful way of executing an ad that would have otherwise cost a lot, but captures the sentiment really nicely.
Bob Coggins is managing director of Havas Dublin. This article was written in conversation with Conor McMahon as part of a series of masterclasses with some of Ireland's most influential business people.
If you want to share your opinion, advice or story, email opinion@fora.ie.
read more on