'When I started out, everyone said "no, you'll be getting married" or "we don't have ladies toilets"'
This tradeswoman navigated a male-dominated industry to launch two businesses.
I COULDN'T WAIT to leave school, but I always loved woodwork classes. I got to do hands-on work and make things, which is what I love to do.
So it made sense to me that I should try and turn that passion into a job. Even though the industry can be very male-dominated, I've had a good crack at it over the past 19 years.
I first started in the industry when I was 15. I went into fifth year and felt like I was ready to finish up, but I said I'd give it a go. So I went to school, but after about a month I got itchy feet and left without even telling my parents.
Even though I was only a teenager, I got work renovating a cottage out in Termonfeckin. Every day, I would go off to school on my bike in my uniform and have my working clothes in my bag.
About a month into that, I was off on my way to work one morning and my mother asked me where I was going. I said, "I'm off to school", and she said, "You haven't been in school for a month, what's going on?"
I explained to her that I was helping out with the renovation of a cottage and she said to me, "You have to get a proper job or you're going back to school."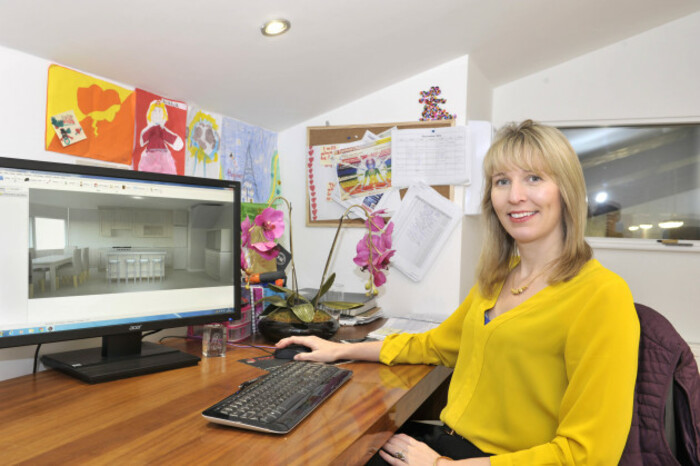 Source: Eric O Neill
Working world
I went around on my bike looking for a job and remember going into a sewing factory. They asked me to fill out a form. It was very powerful, because aside from the regular name, address, phone number sections, it asked, "What is your ambition in life?"
I had to ask what that meant, and I was told to put down what job I wanted to have in the future. I told her, "I'd like to work with wood." So that's what I went for and cycled down the road to Alpine Furniture in Drogheda and applied for a job there.
I went in with a lot of confidence. At the end of the interview I even said, "So I'll start on Monday, will I?" They told me they were interviewing other people at the time as well, but the following Monday they called to say I got the job. It was the power of pen to paper, I wrote down what I wanted and it was delivered.
Alpine Furniture gave me a good start in life. One day, the owner, Ken, told me to write down where you want to be in five years time – I was only 16 at the time. My husband found that note recently and it said, "I want to be a qualified cabinet maker, very successful in what I do and people to know me for being successful."
Ken couldn't give me an apprenticeship, but he did help me get one. But I still had to find an employer, so I was back on my bike, looking around Drogheda.
Everyone said "sorry" and, "No, you'll be getting married". Some said, "You'll be having babies", others said, "We don't have ladies toilets". Finally I met the right boss, Dessie Boylan, out of town in Termonfeckin.
Taking the jump
I worked for lots of lovely people over the years, and I finally found myself in a big company in Dublin when the recession hit.
I was on holidays, and when I came back to work in January 2009 I went to the boss and asked for a rise. He put it very bluntly and told me I was crazy because the country was on its knees. I was running the business well but sales were slipping.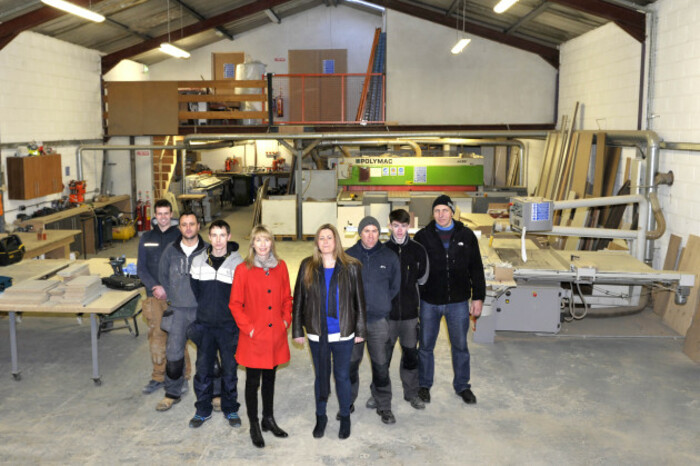 Source: Eric O Neill
That year I had also booked a trip to New York. I was going on the Friday and the Monday before that the boss broke to me that he was going to have to close everything.
When I rang my husband, I was in tears. I was there three and a half years and looked after it like a baby. He said to me, "That's the last person that's ever going to make you cry. You're going to open your own company." With that, my whole attitude changed and I set up CTR Manufacturing.
I went off that week, found the premises and found the machinery. I sat on the plane with a few of cans of Heineken and said to my friend, "That's it, I'm going to open up the company", and she replied, "Let's get another few cans."
My own business
By April 2009, I was doing up the 5000 sq ft factory I had rented. I had decided I was going to make kitchen cabinets, worktops and wardrobes, supplying nationwide.
There was no money for advertising, so we had no idea how we were going to let people know we were open for business, but by a stroke of luck we ended up getting nationwide coverage.
My sister, who had just come to work for me after being unemployed since December, was picked for Winning Streak. RTÉ came down, filmed the factory and she gave a big spiel about the business. That was aired on Saturday, and on Monday morning the phone didn't stop ringing – we were inundated with orders for a month.
So we had an excellent year when a lot of businesses around us were closing. The second year of business went very well too. But by 2011, there was a big dip.
We needed to do something to kickstart the business, so we decided to open up a company called Grand Designs Kitchen & Bedrooms and get more business by going direct to the customers.
The trade had started to change – our bread-and-butter customers weren't there any more. We needed a shopfront, but I couldn't afford a main-street lease. So I convinced a local business, Connect Flooring, to let me go half-and-half with the rent on a shop in Drogheda.
I pitched it that I would bring business to him and he would bring it to me. They might come in to buy a kitchen, but they'll leave with flooring as well.
That shared shop went quite well, but no matter how successful you end up being, you've got to keep thinking about how you can change things up because you'll never be able to rest on your laurels. Businesses don't always work out.
I opened a second office in Dublin and I paid the man up front for the year thinking we would get Dublin business. It was a risk and we got a little bit of business but not enough.
You've just got to watch your back in business sometimes because you can get caught out. When I opened the office in Dublin, a guy who came and worked for me was very keen to get on board. I took him back to the factory and office in Drogheda, and I created a job for him.
In the end, he came in one Monday, left on the Friday and opened another company down the road from me. So it doesn't always pan out, but you have to take risks.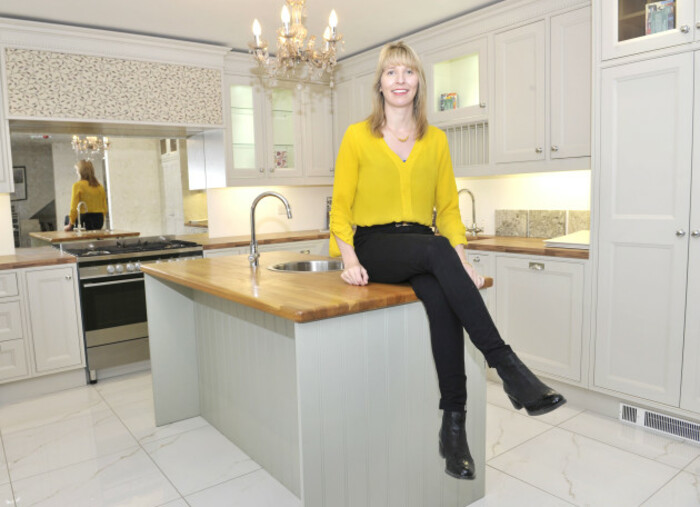 Source: Eric O Neill
A blessing in disguise
Unfortunately, our landlord in Drogheda passed away and we had to leave the location as it was being sold off. We spoke about buying new premises, so we went out and did just that.
I found a location that used to house a furniture company many years ago, so it was already in people's minds as a place to buy furniture. For the first time, I pulled a wage from Grand Designs that year.
I had to convince four different bank managers that it was the right move and would save us money. By not taking 'no' for an answer, they eventually gave it to me. I was thinking about closing the business before that, but looking back, it was the best move I ever made.
Margaret Reilly is the owner of Grand Designs and CTR Manufacturing. This article was written in conversation with Killian Woods as part of a series on business mistakes and what can be learned from them.
If you want to share your opinion, advice or story, email opinion@fora.ie.
read more on