'I lost my marriage, my car and my home, but I kept going. Failure wasn't an option'
This real estate auctioneer talks about how she battled through the recession.
I CAME FROM a home where we worked for everything we had and everyone was expected to pull their weight.
My dad was a successful entrepreneur who had a petrol station and was involved in supermarkets, so since the age of nine I was serving in the shop, washing cars and getting hands on.
The reason my dad was successful was because of the important role my mum played in the family.
My mum knew my dad could run a successful business, and because he had my mother as the foundation at home it meant he could go out and look after the business.
My dad and my mum probably ingrained into me the idea of being my own boss and also the line of work I went into. I graduated with a marketing degree from DIT but still wasn't too sure what I wanted to do. I just knew I loved business, marketing and people.
My mum and dad always loved property and they were wheeling and dealing since I was young. So that's where I got an interest in buildings and property myself.
I bought my first house when I was 22 years old and sold it about a year and a half later – doubling my money.
I thought this is an easy job, easy money and short hours. Now, I've learned since that it's none of those three things – it's the complete opposite.
It's hard work, long hours and there is a craft to it that you need in order to survive and thrive regardless of the market conditions.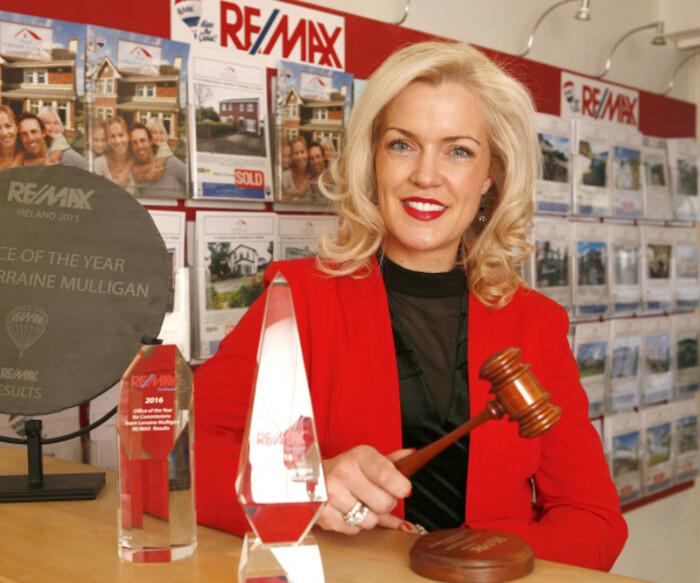 Source: Silver Image
Getting starting
It was selling that first house that gave me the appetite for the real estate business. I love interior, people, design, gardens and especially the fact you can feel and touch what you sell.
So I was dying to get into the property market. My ex-husband researched all the franchises at the time in Ireland, and he came across this company called Remax.
I arranged to meet with the director of the brand in Ireland and fell in love with the work after doing two years with them in Naas. By the second year, Remax gave me the opportunity to buy the franchise here in Celbridge.
I was living in Enfield at the time because, when I got married, we couldn't afford a house closer to Dublin. I found it very hard to settle in Enfield as I had lived in Booterstown before.
When I started in real estate, the local people in Enfield gave me loads of business which I will never forget them for.
When I eventually started in Celbridge on my own, I just had this overwhelming belief that I was going to succeed.
Not that I was cocky, I just had a belief in my heart that I was going to make it.
The office I bought on the main street in Celbridge used to be a video shop, but I didn't have the funds to do it up. So my dad and I painted it together and did what we could to get it off the ground.
When we were doing that, a man knocked in and asked my dad, "What's opening here?" My dad proudly said, "My daughter is opening up an auctioneer office." The man looked at him, shook his head and said, "She'll never last."
I was there at the time painting in a white boiler suit, but I didn't mind it to be honest. That's the sort of stuff that drives you on. You can walk away from that saying, "I'm going to show you." We did that, one customer at a time.
The crash
People in Celbridge were great to us too and we got a huge amount of referral business there. The team I built is amazing. They're all mums, a great bunch of people and we're all very supportive of each other.
We were flying for a few years, but then the property crash came. The first sign I saw of it turning was when we had a big house in Celbridge and it went for €50,000 to €60,000 over the guide price.
The bank said, "This is a crazy price you have achieved on this property and we cannot lend this money. This house is not worth the sale agreed price." It just spiralled unbelievably after that.
I didn't really know where it was going to hit, and if we were going to end up like the people in Iceland who went to an ATM looking to withdraw cash to find there was no money left.
Was I frightened? Yes. Did I know I was going to get through? Yes. But it was very tough mentally.
I saw a lot of my competitors go part-time and even close down. But I said to the girls in the office, "Someone has to do this job, so let's step up and go for it." And that's exactly what we did.
The media didn't say this, but in the recession people still sell property, it's just messier.
There is still business to be done, it's just more of a head wreck because you're going into places where the banks are about to take people's homes and you're trying to do everything to stop this happening.
So I threw myself into the business during the downturn. At the time I was also going through a marriage break up, which left me absolutely devastated.
I never realised until then that a marriage breakup is worse than a death. My heart goes out to anyone who has gone through it; however, I will say that eventually the skies become blue again.
During this awful time I knew I could go one way or the other. I went to the gym and started getting healthy in every way I could imagine – mentally, physically and emotionally.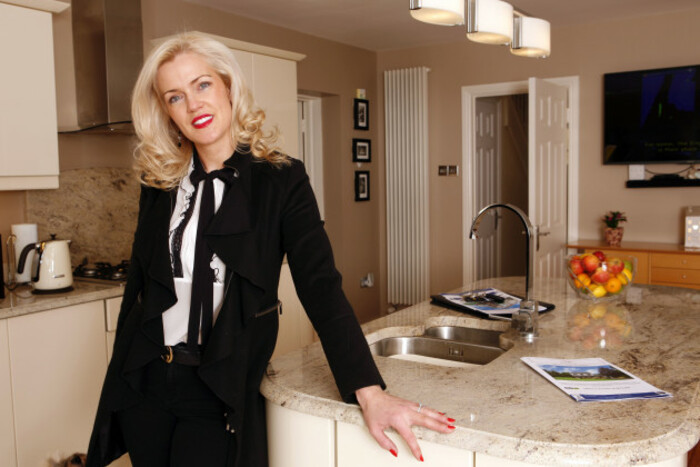 Source: Silver Image
Debt
Since I was in real estate, the recession also came along with a mountain of debt. But I had a little boy relying on me, and if my business fell apart I honestly didn't know how I was going to survive.
Then the house I was living in was robbed and they took every valuable I had. I wasn't there at the time, but they came back again three weeks later, smashed down my front door and came up the stairs after me for the keys of my car.
I thought they were coming back to kill me. The way I saw it, there wasn't anything valuable left in the place. There were four lads in black balaclavas and thank God they found the keys themselves and just took off. I never saw the car again.
I couldn't sleep at night after that, so I sold the house in the recession for half nothing because I needed to get out of it for my sanity.
Some people said to me, "You must feel like the world is against you." But on my travels I meet a lot of people with sick children or fighting for their own life. No matter how bad your story is, there are people who have it far worse out there.
I had my health and used that to try to stay positive, although there were some really bad days.
I had lost my marriage, a chance of becoming a mother again, the few valuables I had, the car I drove, my home and there was debt to repay as a result of the recession. It was a really difficult time, but I kept positive and kept driving on. Failure was not an option.
Next plans
My recession started in 2007, and it lasted until 2014. It seems like a long time, but we were just taking each day one day at a time.
You get into this frame of mind where you think, "Thanks be to God we got through today", and you deal with tomorrow when it comes.
Even though times were tough, I didn't stop enjoying what I do and managed to pay whatever outstanding money was owed back in full.
At first the debt was so suffocating to think about. I remember the relief of the day when we finally paid it back.
After the recession, one of Ireland's largest auctioneers' groups offered me a role as a director and to lease my building. It was a great honour to be asked, but I turned their offer down.
The price didn't reflect the true value of my company, but I also turned it down because I felt I had more to achieve and my company was really only starting to seriously 'hum' again.
I've been a Remax agent for the past 18 years, and last year we were in the top-five selling agents in Europe out of 18,000, so I still want to grow my own personal brand more.
I've got lots of goals for 2018 – I think it's the first time in my life I'm really organised and have timelines set out for what I want to achieve.
My dream is to be like the Fergal Quinn of auctioneers. I don't want to be like any of my competitors, and I'm not trying to run anyone down when I say that. I just want myself and my team to be better than everyone else.
Lorraine Mulligan owns Remax real estate auctioneers offices in Celbridge and Lucan. This article was written in conversation with Killian Woods as part of a series on business mistakes and what can be learned from them.
Sign up to our newsletter to receive a regular digest of Fora's top articles delivered to your inbox.