'We try to promote a relaxed workplace. We're not doing surgery, it's not life and death'
This designer talks about how pro bono work can benefit creative people.
BEFORE I STARTED working as a graphic designer, I spent the guts of 20 years as a graffiti artist.
For a decade, I was doing it commercially, getting commissions from ad agencies, teaching it and exhibiting work in galleries.
After a year out travelling the world, I went to study visual communication at DIT. Moving from graffiti into design just put a bit of a shape on all of that creative sentiment I had.
I enjoy the different structure of graphic communication. Graffiti is mostly outdoor public art, so it's more limiting in what you can do. After graduating, I worked for different studios and agencies in Dublin while I was living in Dundalk.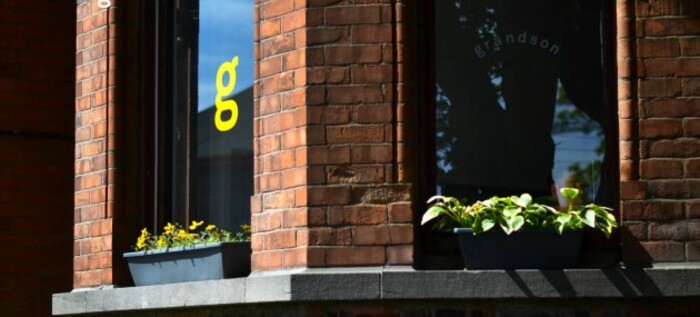 Source: Killian Walsh/Grandson
About four years ago, I decided to set up my own studio in the town – the daily commute to the capital was a bit of a killer.
I called the company Grandson because my grandfather had once run an accountancy and bookkeeping firm in the building I first set up in.
I thought there was a nice synergy – I'm ninth generation Dundalk, and I was plying my trade in the same building as my grandfather. There are four of us altogether now working in a different space.
There are a fair few design companies in Dundalk, but nobody's really stepping on each other's toes. We try to pick jobs that we feel most strongly about and that we think are going to have the most interesting design outcome.
Pro bono work
We take on a pro bono project every year. There's a lot of bread and butter work that we do, so the voluntary gigs are a nice way to offset the commercial side of the business. You have a lot more creative control over those voluntary jobs.
I'm from a seaside village called Blackrock in Louth, which is about 10 minutes from Dundalk town.
We took on a job for the local non-profit tourism and development committee. They wanted to create a brand for Blackrock that could be used for events and promotions with the national tourism board.
It's been kind of an ongoing project. We researched the history of the village, back to the mid-18th century.
We studied the geology and geography of the area and came up with a brand identity that's based on the rocks and the beach. That's one of the projects I'm most proud of.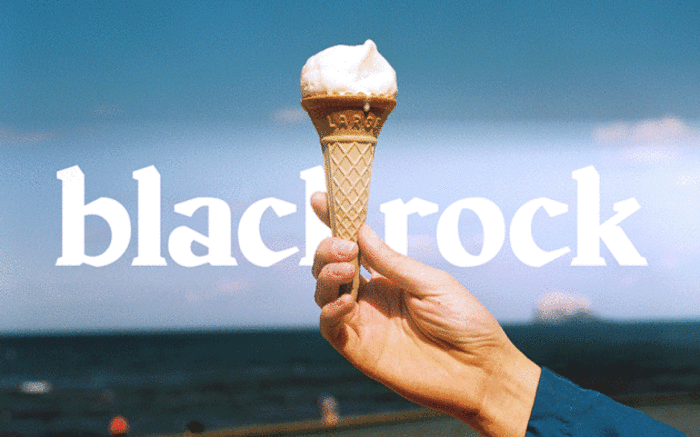 Source: Killian Walsh/Grandson
There's an added benefit to taking on that kind of work. While it's a good way to promote Grandson, I think it's also good for our wellbeing.
At the end of the day, when you're a creative, you don't just want to think about deadlines and budgets. You've picked a career that you're lucky to be in because you're creating something tangible – you get to see your work online, the side of a bus, in print.
You should enjoy it rather than look at it as a pay cheque. You shouldn't just try to climb this corporate ladder to try which only leads to more stress and headaches.
Managing mental wellbeing
I think anyone running a small business is going to have a certain amount of stress. Added with the typical financial pressure that comes with running a business, it can take its toll on your mental health.
We're always professional, but we work at a pace that doesn't involve any last-minute deadlines. I don't take on jobs that have high-pressure turnarounds.
We work in a regimented way. The team works to a certain pace and output which allows us to handle our business within working hours without the need to take it home.
Sometimes I have to put in early starts or take calls outside normal working hours, but's that all part of being the business owner who's dealing with different clients.
We try to promote a more relaxed workplace culture in here. We're not performing surgery – it's not a matter of life and death.
We work diligently and we take our jobs seriously, but it should be enjoyable as well. When you love what you do, it translates into your design output.
We take on those pro bono jobs to help offset stress. We also encourage each other to take field trips, visit exhibitions. I suppose, we just try to break the regimented way of working.
The team I work with is free to take a half day, go somewhere, view something. We'd also work in a flexible way. Sometimes I'd work from home because I have kids. The guys can work from home themselves.
Being based in Dundalk helps as well. I just prefer the pace up here. It suits how we work.
We do miss out on some gigs, of course, but then again, we're producing work as good as anyone else in Ireland. Even though we're in a provincial town, we still have clients in Dublin, Belfast and across the UK.
My aim as well is to promote design in the local area and have our studio as a place where people can learn about the trade.
Killian Walsh is the founder of Grandson design studio. This article was written in conversation with Conor McMahon as part of a series for the IDI's Mind Over Matter mental health campaign, which features Fora as media partner.
To raise money for the initiative, businesses can book one-hour consultations with some of Ireland's brightest design minds for €60, all of which goes to Aware. Mind Over Matter is taking place nationwide on 2 November.
read more on