'I sold my business for €14m, but the retirement plans didn't work out. I needed a new job quickly'
Karl Llewellyn sold two companies and now owns an app giving people travelling access to gyms.
MY DAD RAN his own business for years and had an entrepreneurial flair, so I've always had that arrogance of youth of thinking I could be my own boss as well.
I started my career in business when I dropped out of college in first year to go full-time with the job that was paying for my studies. It was a business that made number plates for doors. I got the franchise for it and ran it from 1989 to 1992, when I sold it.
I didn't get a lot of money for it, about £2,000, but it was enough to finance me to go to backpacking around Australia.
So there was no fortune made from the sale, but it gave me my initial foundation of what it was like to run a business. And seeing the pressures of running a business first hand after that experience of being my own boss definitely didn't scare me off the idea.
I never considered a civil servant job – I didn't come from a family with that background. Neither of my parents went to college; in fact, when I dropped out my dad said, "Better off for you, the school of life is the best."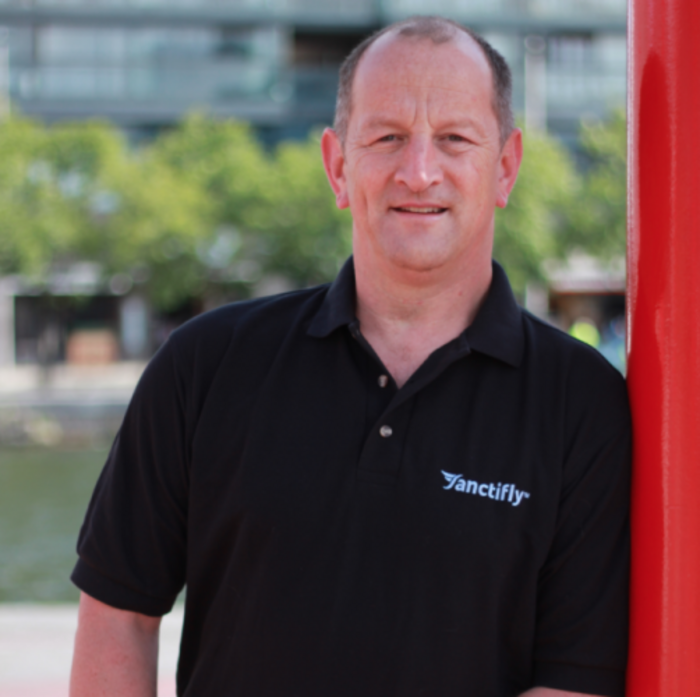 Source: Sanctifly
My second company 
I came back from my backpacking trip and worked in a regular job selling insurance for a while before I went away to the US to work.
I got a job in a call centre in Menlo Park and it was the first time I had worked somewhere with efficient sales where email was part of the process.
Prior to that, I had done sales and customers would say "post me out the information" or "fax me the details". I was used to a 28-day sales process, but email made it very quick and I loved the idea.
That took me up to 1995 when I came back to Ireland and set up my own contact centre in Ireland called Phonenet. It wasn't a tech giant like Yahoo, but it was pretty successful.
We grew to be one of the biggest contact centres in the country with 450 staff, then I sold that business in 2006 for €14.5 million.
That was a great time to sell a company, but it was also a bad time to get shares in other people's businesses. So my retirement plans didn't quite work out as planned.
I took some time out, but I couldn't take much time off. At that period, there was a huge erosion of wealth, so I had to very quickly look at getting a job or doing something myself again.
But the problem was I didn't have the finance, so I had to take a regular job and went to Cork company Voxpro, which was a similar business.
I joined as a commercial director; it was relatively small back then, with only about 150 people. I had a very successful innings with them. The team grew to over 500 people and we won a number of major accounts.
But I wanted to be part of a company ownership structure again. While I could see the success path the company was on, it wasn't for me.
Finding the idea 
While I was thinking of going out on my own, I actually had the idea for Sanctifly – a members' club for business travellers that gives them access to gyms during layovers.
But I got approached to join a management consultancy firm called Pathfinder. I put my own plans on hold and spent two years there, but ultimately this desire to go out and work for myself gripped me.
I was worried if I stayed at Pathfinder any longer I would lose first-mover advantage. Every time I travelled, I would say to myself, "I can't believe this still isn't here."
I couldn't believe airports are just shipping burgers, beers and lounges. Everyone was talking about being fitter and better, yet an airport experience revolved around alcohol and shopping and there was nothing for someone who wanted to do an hour in the gym.
Mind you, I'm glad I didn't do the idea when I first thought of it because the original idea was to build gyms at airports. Then, as I thought about it more, I saw that all these gyms are already here in airport hotels and they're underutilised. So that became the model.
I look back now and think I'm lucky I didn't do the initial idea of setting up gyms because it would have been far too capital-intensive and demanded much more management.
I was fortunate that Pathfinder allowed me to work part-time as I got Sanctifly going, then after six months I knew I had to focus solely on the new business.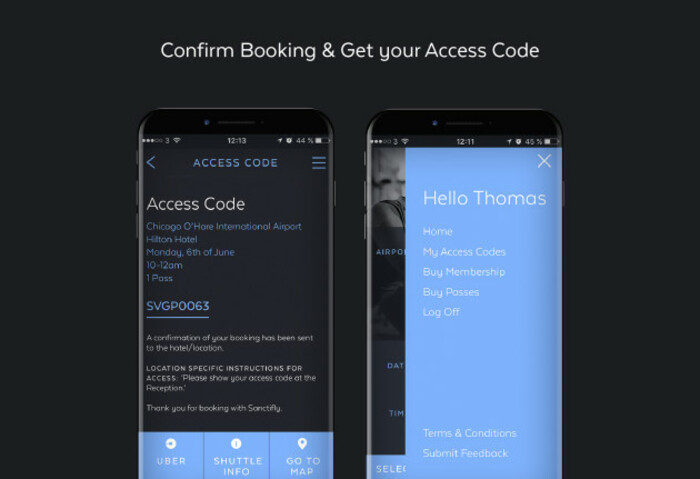 Source: Sanctifly
The launch  
I thought I had enough money saved to go out on my own, but you can never have enough. You certainly miss wages being paid every month when you start a business, who wouldn't? But I knew a lot of these things I was getting myself in for.
I had thought that Sanctifly would hit a run of form quicker than it did, but let's be honest, these things take time.
We launched the idea in several locations, Heathrow, Boston, New York, San Francisco, Los Angeles, Stansted, Gatwick and Dublin. I thought those would be our starter airports and would be enough to test the product and win members.
But it wasn't enough. Members demanded we were in more places and wanted to know we were in San Diego, even if they were never flying there. They wanted to see the product was robust and everywhere before they committed to it and downloaded the app.
That was a pivotal learning point. I've found that people buy into the concept really quickly – they want better things to do at airports – but it needs to be everywhere.
So when we launched in January of last year, we started with about 500 members, took the learnings from them and stopped selling for six months to improve the offering.
Then we relaunched in September last year in 30 airports and got a much more solid uptake. Since then, we've grown even more and are at 90 airports, so I feel it's really got momentum now.
We get members joining all the time, I get an alert every time someone joins, which is very satisfying to watch go up and up.
Challenges
Like any young business, we're starved of cash for long periods. You want to do things at a certain pace, but you're curtailed.
It doesn't get me down – well, not every day. Being an entrepreneur, every so often you do ask yourself, "Why am I doing this?" Probably about once a month.
But that's what drives you as well. Similarly, you might be raising money and someone turns around and says, "I'm not going to invest in you." Every time I hear that, I just think, "I can't wait to see you when this works."
You've got to go through a lot of rejection to meet the guys who love your product and want in.
Any startup founder will tell you it's about being able to survive these low moments. But it's also about weathering the times when you try something that proves a waste of time.
You might go down a road and it turns out to be a mistake. The companies that survive are the ones that can quickly pivot to try something new. But you only get to do that a few times.
The most relevant example for me has been setting our price points. A lot of the time, people will put a product out and compare themselves to the market leader, but as a new product we can't do that.
We're competing for budgets and people aren't buying something that already fits the mould of what we do. That means fixing the price point is very difficult because people have different opinions of value.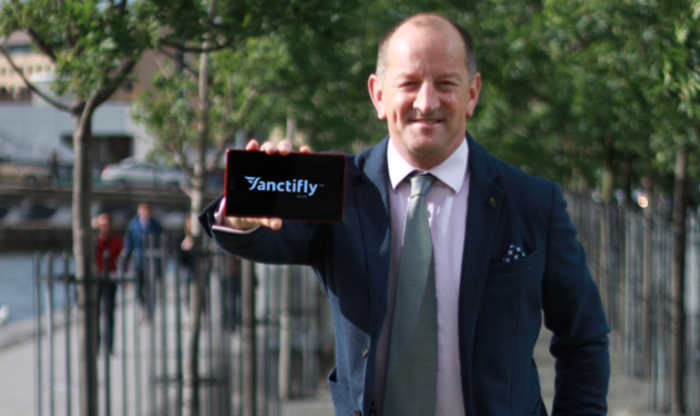 Source: Sanctifly
This time last year, we looked at our membership model as being a once-off annual fee and I'm pretty sure it was about €350.
We went to market with that and had a few sales, but we've revised that to €25 a month and you can cancel any time. That seems to be working and people are comfortable with that price point.
I couldn't have known which price point would have worked in January of last year. If you had said, "Karl, offer it at €25 a month," I wouldn't have thought it's too cheap, too risky. But actually, when we tested it, we found out it works very well at that cost level.
Future
I'm a non-tech chief executive, so I don't write code. Every bit of change to the app is a big project. It's a new challenge for me that can lead to some frustration.
Sanctifly is a new product, so it iterates very quickly. We're designing with something in mind. but it's not proven – that means you might make mistakes. Then if it doesn't work, you want to change it quickly, but if you can't do that yourself you incur cost and delays.
But it's very satisfying being a non-tech CEO and having an app that is entirely your concept and seeing people use it.
The big moments for us have been getting some very big accounts, one of which is Vodafone in Ireland. They loved the concept of how this fed into wellness for staff and customers.
This year, they will be offering Sanctifly memberships to 5,000 customers, which is a big win for us. I don't see 2018 as the year we will break the market big time, but it will provide the foundation for doing it in 2019, getting north of 100,000 users.
My goal is to create a single place for travel wellness options used by everyone who travels on business. I want people to break bad travel habits by making it easier to do what is good for you. That's a vision worth the effort and the growing pains.
Karl Llewellyn is the founder of Sanctifly. This article was written in conversation with Killian Woods as part of a series on business mistakes and what can be learned from them.
Sign up to our newsletter to receive a regular digest of Fora's top articles delivered to your inbox.