The gentle art of making an event a social media success
From trending on Twitter to sentiment analysis, these are the key things you need to know.
CREATING EVENTS CAN be a valuable way for businesses and organisations to directly engage with their target audiences and develop relationships with potential future customers, clients or even colleagues.
While organising events remains a time-consuming exercise, social media and free registration tools are making some aspects of the task a whole lot easier.
Used well, these tools can make the difference between running a mediocre event and delivering a successful, smooth-running and engaging experience that can lead to tangible growth in business and increased brand awareness.
Analytical tools such as HootSuite can be very useful for this work and can help inform an evidence-based approach to social media popularity.
The task of trending
Sage's Beatrice Whelan recently used social media-monitoring tools to crack the algorithm behind getting a topic to trend on Twitter. What she found was that approximately 600 tweets about your event or topic can lead to your event trending in Ireland on a Friday night, whereas in the US it usually takes about 10,000 to 20,000 tweets.
Armed with this kind of knowledge, it is up to event organisers and community managers to craft tweets that will maximise the chance of strong engagement and hopefully help to get your event trending.
Twitter data scientist Douglas Mason carried out a study of over two million tweets to unlock the secrets of successfully using the network back in 2014. The following stats emerged with regard to increasing the chance of being retweeted:
Photos average a 35% increase in retweets

Videos lead to a 28% boost in retweets

Quotes get a 19% boost in retweets

Including a number leads to a 17% increase in retweets

Hashtags leads to a 16% boost in retweets
The process of building a successful event can be broken down into three stages – pre-, during and post-event – and social media can be used to complement the aims of each of these stages in the following ways:
1. Pre-event: Pick the right channel, build buzz and drive registrations
It's really important that business owners, marketeers and event organisers think about the audience they are trying to engage from the outset and use the most appropriate social channels to reach that group.
If the target audience is C-Suite professionals between the ages of 45 and 60, then Snapchat probably isn't the most effective way to connect with them. But if the target group is recent graduates between 21 and 30 then Snapchat, in combination with Facebook and Twitter, is the way to go.
Bearing in mind the target audience and the most suitable channels, the pre-event social media strategy can involve elements like publishing about the event on Facebook, posting information and blogs from guest speakers to a dedicated group or your organisation page on LinkedIn, or planning out Twitter, Instagram or Snapchat chatter with your event speakers.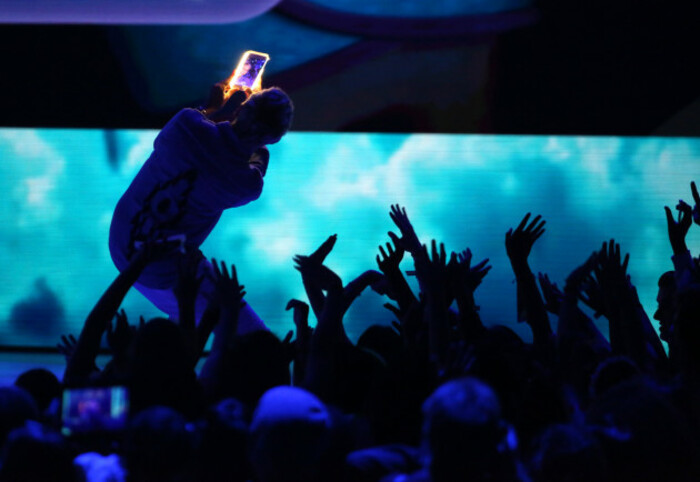 Source: Matt Sayles/Invision/AP
2. During the event: Enable and encourage social media use
During the event itself, however, the approach needs to be somewhat different. It's not possible for attendees to read a 1,500-word blog post and listen to speakers at the same time, so this stage is all about real-time micro content like tweets and native video.
By sharing these bite-sized nuggets of content, you are allowing attendees to easily share content outlining key messages with their own social networks, while also extending the reach of your event beyond the physical event space to those monitoring it virtually.
Throughout all of these stages, social media can play a valuable role in measuring the success of your event, informing social media strategy and gauging what people are saying about you and your organisation and the event itself.
[embed id="embed_2"]
3. Post event: Continue the conversation, measure success
Once your event is done and dusted, social media can be used to continue the conversation with your recently engaged audience. This can be done by sharing wrap-up blogs from either your organisation representative or one of the event speakers across LinkedIn, Facebook, Twitter and Instagram.
Sharing photos and video content from the event itself on relevant social channels also allows attendees to tag themselves or their employers on their own social profiles to extend the reach even further.
When it comes to measuring success post-event, the science of sentiment analysis can be applied to analyse posts for keywords, in order to gauge how someone feels.
As a general rule of thumb, the advice would be not to get tied up in one metric of engagement but rather to aim for a holistic approach including tracking whether your event is trending, measuring sentiment and pulling out lighter content such as 'the most retweeted attendee' to provide post-event analysis for your own reporting and also for engagement with attendees.
Social media is there to help but make it work for you by using it to inform, enhance and measure the success of your event.
Marino Fresch is the marketing director for Ireland and the UK at Eventbrite.
If you want to share your opinion, advice or story, contact opinion@fora.ie.
read more on